Another round of jaw-dropping scandals only days ahead of Nov. 8 has Americans wondering, "will Hillary Clinton win the election?"
Can she, after an election season full of leaked emails, highly publicized investigations, and gaffes that has systematically taken a toll on the Democratic candidate's shot at the presidency?
Yes, Hillary Clinton still has a chance -- and a very good one at that...
In fact, the polls show that Clinton and Trump are neck and neck in the race for the Oval Office just six days before the vote.
For example, today's Real Clear Politics poll puts Clinton ahead of Trump by 1.7 points, based on average data pooled from sources such as FOX News, CNBC, ABC News Tracking, and Reuters.
Meanwhile, the latest ABC News/Washington Post poll has Donald Trump at just under a one-point lead (0.07%) over Clinton.
There's no doubt that this is going to be a close race -- but history is on Clinton's side...
Will Hillary Clinton Win the Election? History Is on Her Side
A landslide is simply not possible in this election because of the Electoral College, which in 2016 is closely split between Democratic and Republican votes.
While it might not be a big win, Clinton can still count on the historical voting practices of 18 states, including the District of Columbia, which collectively have 242 votes. These states have voted Democrat in the past four election cycles. GOP presidential candidate Donald Trump can realistically count on 22 states that have voted Republican since 2000 -- but collectively only have 180 votes.
While history may be on Clinton's side, it's the present that's caused her greatest weakness...
Will Hillary Clinton Win the Election? She's Got a Scandal Problem
Since Oct. 7, WikiLeaks has released over 40,000 emails from Clinton campaign manager John Podesta. As a result, the public became aware of:
The Clinton Foundation's "pay to play" initiatives
President Obama's knowledge of Clinton's private server well before his initial admittance. His original claim was that he became aware of the server "the same time everybody else learned it, through new reports"
Clinton's plan to secretly intervene in Syria as told to Goldman Sachs chief executive Lloyd C. Blankfein
Her controversial stance on needing a "public and private position" in one of her highly paid Wall Street speeches
Donna Brazile's favoritism of the Democratic nominee when she leaked a question from the second debate to Clinton's campaign
The list goes on and on...
Don't Miss: Double Your Money as This Company Takes the Fight to America's Enemies
But let's not forget about the most recent addition to Clinton's scandal rap sheet: FBI Director James Comey's announcement Friday that the bureau would reopen the investigation into Clinton's use of a private email server during her time as secretary of state. This is based upon discovery of new evidence that links back to disgraced former New York Congressman Anthony Weiner.
Many would think these recent events would cause a plunge in the polls for the former secretary of state, but the numbers say otherwise...
Will Hillary Clinton Win the Election? The Poll Story
In the first ABC News/Washington Post daily tracking poll since Comey's announcement, Clinton and Trump are at a near tie. This wasn't a huge loss for Clinton, who was leading by just one point in the days leading up to the announcement. Adversely, Trump's average didn't skyrocket. The Republican candidate gained only one point after the news broke: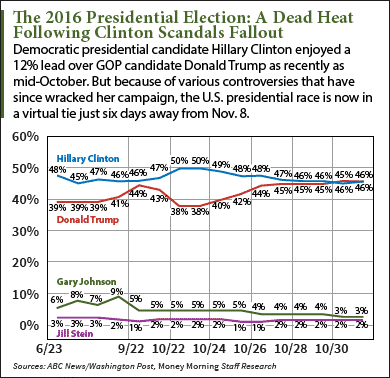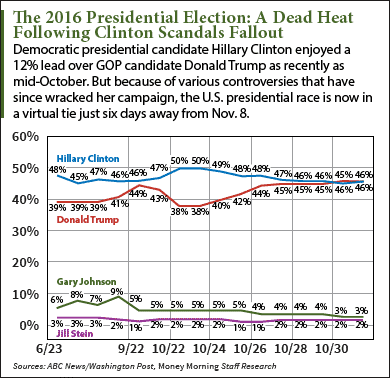 While the polls continue to shift over the next six days leading up to the election, a Hillary Clinton presidency is still expected...
The New York Times suggests that Clinton is favored to win even though a Trump presidency is clearly not off the table, writing on Nov. 2, "Mrs. Clinton's chance of losing is about the same as the probability that an NFL player misses a 35-yard field goal."
How about those odds?
Next Up: The real reason Congress gets nothing done isn't partisan gridlock. It's that the primary duty of our elected representatives is no longer making laws - it's this...
Tell us about your prediction for the outcome of the 2016 presidential election on Twitter @moneymorning or Facebook.
You may also like...
No Matter Who Wins on Tuesday, This Newly Talked About Wealth Play Is Here to Stay
Is the FBI Sitting on a Massive October Surprise for Donald Trump?