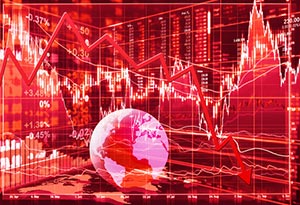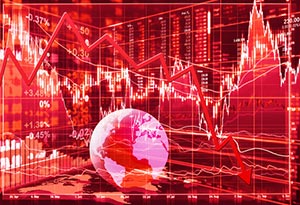 Every investor needs to be prepared for a worst-case scenario, and we have some great stock market crash ETFs to help protect your money during a financial crisis.
There are a few reasons we like these stock market crash ETFs instead of individual stocks.
First, they offer broad exposure to the market. During a stock market crash, trying to predict which individual stock will perform well is risky. It's better to have a stake in the market you know will perform well.
Second, ETFs can be traded as easily as individual stocks. If you are interested in purchasing gold, for example, the physical metal is not nearly as easily traded as the stock market crash ETF we like.
We'll show you two of our favorite stock market crash ETFs to protect your money during a crash.
But first, these are the key indicators Money Morning believes could cause a 2016 stock market crash…
Stock Market Crash Indicator No. 1: Overvalued Stock Markets
Major markets have been hitting record highs recently.
In August, the S&P 500, Dow Jones Industrial Average, and the Nasdaq Composite each hit their all-time highs on the same day. That might look like good news for stock market investors, but it's actually a sign a stock market crash could be on the way.
The current bull market run is seven years old. That's a long time. And all bull markets eventually come to an end.
The other issue is the stock market shows signs of being overvalued. Like the housing bubble that burst in 2007, setting off the global financial crisis, such high stock prices are unsustainable.
Don't Miss: How to Prepare for the Market's Super Crash
There are several other measures that show the stock market is overvalued.
The first is the price/earnings (P/E) ratio. The P/E value is calculated by dividing the price of a stock by its earnings. The current P/E ratio for the S&P 500, for example, is roughly 60% above its historical average.
The second measure is the Q ratio. The Q ratio is calculated by dividing the stock market's current price by the hypothetical cost of replacing every company from the ground up. The market is considered overvalued when the Q ratio rises above 40. The current Q ratio is 52.
And it's not just an overvaluation that can cause a stock market crash. Economic growth is dangerously weak…
Stock Market Crash Indicator No. 2: A Weak Economy
A bull market might seem like a sign of strong economic growth. However, that's not the case right now.
Corporate earnings have been dropping for more than a year.
FactSet reports S&P 500 corporate earnings fell over 3% in the second quarter of 2016. And commercial bankruptcies also rose by 33% in June.
Other key measures of economic health are showing negative signs.
GDP growth was only 1.4% in the second quarter of this year. The average quarterly GDP growth for the last 20 years is over 5%.
Wages are also stagnant. Wage growth has fallen in 2016 from year-prior levels.
Growth worldwide is sluggish as well. According to the World Trade Organization, global trade is expected to be just 1.7% in 2016, revised down from a 2.8% previous forecast.
If economic growth is not propping up the soaring stock market, something else must be. Our third stock market crash indicator is historically low interest rates…
Stock Market Crash Indicator No. 3: The Fed's Policymaking
U.S. interest rates are at historic lows.
The federal funds rate is now 0.50% and has been below 1% since 2008. Central banks in other countries have even adopted negative interest rates.
There are several reasons such low interest rates could lead to a stock market crash.
First, low and negative interest rates do not make sovereign debt attractive to investors. Instead, investors turn to the stock market to get decent returns. That has the effect of artificially driving up the stock market.
Don't Miss: Here Are Three More of the Best Gold Stocks to Buy in 2016
Second, a period of extended low rates means the economy is weak. When businesses are reluctant to invest and expand, bankers try to entice them with lower interest rates. And interest rates can't get much lower.
Third, when interest rates are raised, stock markets can react with sharp pullbacks. Last December, the Fed raised rates by 0.25% and the markets fell 10% to 15% over the next six weeks.
The Fed has indicated it plans to raise rates at least once before 2016 ends.
With these warning signs pointing toward a stock market crash, now is the time to protect your wealth.
Next, we'll show you our favorite stock market crash ETFs that can protect your money and even help you profit during the next economic collapse…
The Best Stock Market Crash ETFs to Protect Your Money
One of our favorite stock market crash ETFs to buy returned a 40% gain during the financial crisis of 2008.
Money Morning Capital Wave Strategist Shah Gilani likes ProShares Short S&P 500 ETF (NYSE Arca: SH). SH shorts the S&P 500, so when the index goes down, SH's returns go up. Buying into SH before a stock market crash is a great way to profit from one.
Investors should take heed that SH is not a buy-and-hold stock. If the S&P 500 starts to rise again after a crash, SH will go down. This also means it should only make up small percentage of any portfolio. But the profits can be very substantial for investors who buy and sell at the right time.
SH shares currently sell at $39.08, down over 6% on the year, coinciding with the S&P 500's rise.
The second stock market crash ETF to buy is gold-based.
Gold is a classic safe haven during a stock market crash. Michael E. Lewitt, Money Morning's Global Credit Strategist, recommends that investors have 10% to 20% of their portfolios in gold to protect against market volatility.
Lewitt's top pick is the SPDR Gold Trust ETF (NYSE Arca: GLD). At $123.76, GLD has returned 22% to investors so far this year.
Want to Know More About Gold? Read on to see why it's time to go big on gold…
Follow Money Morning on Facebook and Twitter.