(Kitco News) – European and Asian stock markets were mostly weaker in subdued trading Friday. Traders and investors are awaiting what is arguably the most important U.S. economic report of the month today: the employment report from the Labor Department. The key non-farm payrolls figure is expected to come in at up 170,000 in October. Look for active trading in the aftermath of the 8:30 a.m. EDT report. U.S. stock indexes were slightly lower in overnight trading.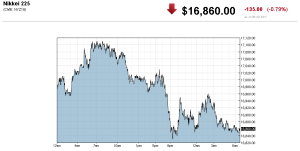 Gold prices are trading slightly lower on more downside corrective activity following good gains seen earlier this week.
In overnight news, the Euro zone producer price index was reported up 0.1%, month-on-month and up 1.5%, year-on-year. The numbers were mostly in line with market expectations.
The U.S. presidential election that is now just a few days away is drawing more and more attention from the world marketplace. Recent polls show Donald Trump has made good gains against Hillary Clinton. The specter of a U.S. President Trump is causing uneasiness in many world markets. That has benefitted the safe-haven gold market but has put downside pressure on world equity markets. Look for more risk aversion in the world marketplace heading into next Tuesday's U.S. election.
Falling crude oil prices recently are also lending selling pressure to world stock markets and it's also a bearish element for the raw commodity sector, including the precious metals. Nymex crude oil prices have dropped to a five-week low of $44.29 Friday. Prices have dropped over $8.00 a barrel since mid-October. The other key outside market sees the U.S. dollar index trading slightly higher early Friday morning. The greenback has seen keen selling interest this week after hitting an 8.5-month high last week.
Other U.S. economic data due for release Friday includes the global services PMI, and the international trade in goods and services report.
Overnight spot gold, tracked onKitco.com, hovered around the $1,300 an ounce level, with resistance at $1,303.30 an ounce and support at $1,294.30 an ounce.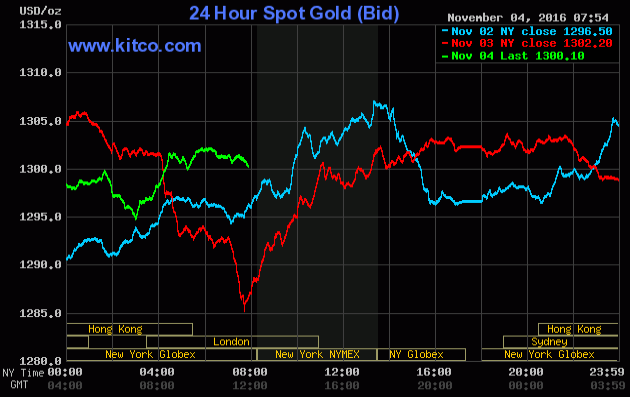 By Jim Wyckoff, contributing to Kitco News; jwyckoff@kitco.com
Follow Jim Wyckoff — @jimwyckoff — for breaking market news