Stocks surged this morning. The rally followed news that the FBI found no reason to charge Democratic presidential candidate Hillary Clinton for her use of a personal email server as secretary of state.
The Dow jumped over 300 points.
The S&P 500 gained more than 40 points.
The Nasdaq climbed over 115 points.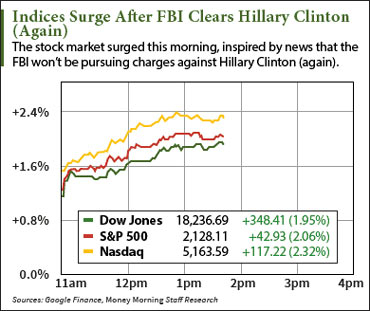 This cumulative rise in the markets is known as a "relief rally" – an uptick in market price that happens because an anticipated negative event did not happen.
And this particular relief rally seems to be calming uncertainty over a potential Donald Trump win in the U.S. presidential election.
Don't Miss: Double Your Money as This Company Takes the Fight to America's Enemies
But in a note to investors today later acquired by Bloomberg, co-founder of the global finance advisory firm Fundstrat, Tom Lee, made a few points that counter this morning's rally…
Lee said that although there would be a stronger rally if Clinton wins, stocks would still rise if Donald Trump becomes the next president of the United States.
He gave Bloomberg eight hard-to-argue-with reasons to back up his claim – one of which includes the inevitable (and profitable) repeal of a landmark Obama administration law:
8 Reasons Why a Trump Win Could Make the Market Rally