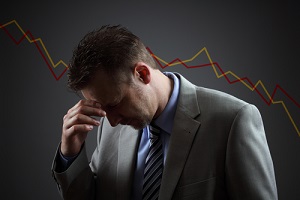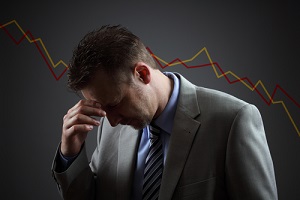 Between the uncertainty of Election Day and weak economic indicators, now is a time every investor should have a stock market crash protection plan.
With such a volatile market, the election could be the tipping point for a stock market crash. Money Morning Global Credit Strategist Michael Lewitt warns "there is a distinct possibility of a sell-off… no matter who wins" the election.
And it's not just the election causing uncertainty. Many indicators show the market is not as strong as it seems, despite stocks hitting all-time highs this year.
Here's why a stock market crash could happen and how you can protect your investments with our stock market crash protection strategies…
The Historic Warning Signs of a Stock Market Crash in 2016
 Right now, we're seeing some of the same warning signs we saw ahead of other major stock market crashes.
The stock market crash of 1929 was fueled by speculation in the railroad sector. Speculators flooded a soaring stock market with more money as they expected it to continue to rise. The crash that followed sank the country into the Great Depression. The recovery lasted decades.
Speculation and an overvalued stock market were also the culprits of the infamous stock market crash of 2008.
Housing prices peaked in 2006 due to a speculatory boom in real estate. As prices rose, more people wanted in on the gains.
But when the housing bubble burst and home prices sank, many borrowers defaulted on their loans. The mortgage delinquency rate skyrocketed during the heart of the crisis, rising nearly 400% between 2006 and 2009.
The housing market collapse led to the financial crisis of 2008. More than $16 trillion in household net worth was destroyed during the collapse.
In 2016, we are seeing similar signs of speculation and an overvalued market.
Don't Miss: Get the Best Investing Research Today to Grow Your Money
The S&P 500 is up over 5% since the start of the year and hit its all-time high in August. Both the Dow and Nasdaq also hit record highs in August.
However, this market performance is not sustainable.
The Fed's low interest rates have driven investors to buy stocks in an effort to generate positive returns. This has boosted stock prices beyond their true value. When the Fed eventually increases rates, which it will, the market is bound to drop.
Another effect of low interest rates is that companies have been borrowing money to finance stock buybacks. This boosts stock prices but is unsustainable. The next Fed meeting is in December, where it is likely it will raise interest rates.
These warning signs show the stock market is being driven up by speculation instead of economic growth.
With these indicators pointing toward a possible stock market crash in 2016, we have three proven stock market crash protection strategies to safeguard your money…
Stock Market Crash Protection Strategy No. 1: Invest in Gold
Gold is always a safe-haven investment during a financial crisis.
Lewitt recommends investors allocate as much as 10% to 20% of their portfolio to gold.
There are several options when it comes to buying gold. Buying physical gold is popular, but it requires secure storage and often additional shipping expenses. For those who would rather avoid this, there are other ways to invest in gold.
Gold ETFs are traded similar to stocks and are tied to the gold market.
A popular gold ETF is the SPDR Gold Trust (NYSE Arca: GLD), which is currently trading at $121.78 and is up almost 20% year to date (YTD).
Another option is to invest in gold mining companies, such as Goldcorp Inc. (NYSE: GG). This Money Morning top pick is trading at $14.82, with shares up 28.2% YTD.
More on Gold: Our Newest Gold Price Prediction Indicates Triple-Digit Returns by 2020
While gold is a safe haven, it isn't the only stock market crash protection strategy…
Stock Market Crash Protection Strategy No. 2: Short the Market
Reverse ETFs are funds are set up to profit from a decline in a particular index.
The reverse ETF recommended by Money Morning Capital Wave Strategist Shah Gilani is the ProShares Short S&P 500 ETF (NYSE Arca: SH). Gilani recommends that investors pick up shares of this ETF before a stock market crash in 2016. If the market drops, then profits will rise.
If investors had purchased shares of SH in September 2008, they would have realized gains of 40% by November of the same year. Even this year, shares of SH produced gains of more than 15% when the S&P 500 dropped between January and mid-February.
SH isn't a "buy-and-hold" stock. This is an investment to make before an economic collapse. If the market continues to rise, SH loses value.
Stock Market Crash Protection Strategy No. 3: Invest in Must-Have Stocks
A stock market crash in 2016 doesn't mean every stock will suffer. Well-run, profitable companies in key sectors are going to do well in any market condition.
Money Morning Chief Investment Strategist Keith Fitz-Gerald recently listed just three stocks that meet these standards. Fitz-Gerald's must-have stocks are…
Raytheon Co. (NYSE: RTN): Raytheon is one of Money Morning's top stocks to watch. The defense giant not only has its hand in vital weapons systems, but also has become a key player in the cybersecurity sector, where it has just been awarded a billion-dollar contract with the Department of Defense. Even if there is a financial collapse, the need for defense doesn't go away.
RTN stock is trading at $136.69, with gains slightly over 10% YTD. The company's earnings are growing by over 40% each year, and it pays a dividend of more than 2% to shareholders.
Becton, Dickinson and Co. (NYSE: BDX): This New Jersey-based medical company manufactures and sells single-use medical supplies that are used for medication management and patient safety. Medicine and healthcare are also necessities whether the market is down or not.
For its most recent quarter, the company reported an earnings per share of $2.35, beating analysts' consensus by $0.15. BDX showed revenue gains of 2.5% year over year in 2016.
BDX is trading at $179.22, up 19% since the start of the year. It also has a dividend yield of 1.57%.
American Water Works Co. Inc. (NYSE: AWK): American Water Works produces a must-have product, and the bonus is that it's a well-run company. This New Jersey-based public utility has operations in both the United States and Canada. It serves millions of households, and its stock remains unaffected by market trends.
AWK is trading at $72.53, with shares up 21.39% YTD. The company has a 2.07% dividend yield, and its stock is currently trading at four times sales, making it a bargain buy compared to competitors.
Election Day Uncertainty: Read How to Profit No Matter Who Wins Today!
Follow Money Morning on Facebook and Twitter.