Update: On Aug. 2, 2017, the Trump team launched a "real news" program on Facebook. The program was hosted by Trump's daughter-in-law, Lara Trump.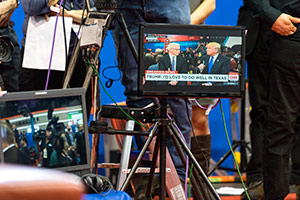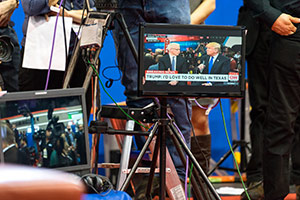 President Donald Trump may already be working on his next business venture.
Exactly what is Trump TV?
Let's take a look…
What Is Trump TV?
Ever since Mr. Trump teamed up with former chairman and CEO of FOX News, Roger Ailes, and chairman of Breitbart News, Stephen Bannon, there has been speculation that a Trump-centered media outlet is in the works.  
"Trump is indeed considering creating his own media business, built on the audience that has supported him thus far in his bid to become the next president of the United States," Contributing Editor Sarah Ellison of Vanity Fair reported on June 16.
This media business has already begun to emerge from the woodwork, starting with Trump's Facebook Live event after the final presidential debate on Oct. 19…
"Like Trump, 55% of Americans think the media is biased, according to the Quinnipiac University poll released on Oct. 19."
"If you're tired of biased, mainstream media reporting (otherwise known as Crooked Hillary's super PAC), tune into my Facebook Live broadcast," the message read. The broadcast featured commentary from retired Lt. Gen. Michael Flynn and former Arizona Gov. Jan Brewer. The two hosts often discussed how "the mainstream media was against Trump," and one even went as far as to describe the debate as "the greatest Republican debate performance since Abraham Lincoln." Notably, the event also featured pro-Trump ads in place of commercials.
BREAKING: New Legislation Could Turn Tiny Pot Stocks into Millions. Click Here…
Trump's campaign said it was broadcasting to take its message "straight to the people and bypassing the corrupt mainstream media." The event looked strikingly similar to a professional news broadcast and included original programming and analysis.
Could this have been an initial test run for Trump TV?
The broadcast was curiously released just a few weeks after Jared Kushner, who is married to Trump's eldest daughter, Ivanka, held discussions with Aryeh B. Burkoff. Burkoff is the chief executive of LionTree Advisors, a boutique investment bank that specializes in media deals…
But this isn't the only telling clue that Trump TV is in the works…
Two months prior to Trump's Facebook Live event, The New York Times reported that Kushner had expressed interest in either creating a media enterprise or acquiring one. Nearly one year ago, according to Businessweek, Kushner crafted the original idea for a post-election network aimed at Trump supporters after growing impatient with the coverage his father-in-law was receiving on right-leaning cable networks such as FOX News.
"Trump supporters really don't have a media outlet where they feel they're represented… What we found is that our people have organized incredibly well on the web. Growing the digital footprint has really allowed us to take his message directly to the people," a source close to the campaign reported to The New York Times on Oct. 27.
It's no secret that Mr. Trump is entirely anti-mainstream media. Media outlets, in general, tend to strike a nerve with the GOP candidate.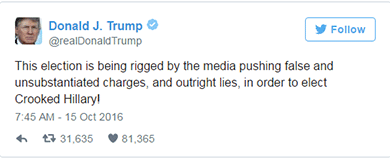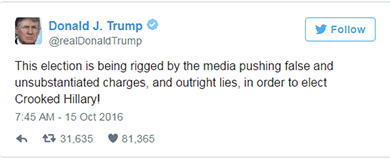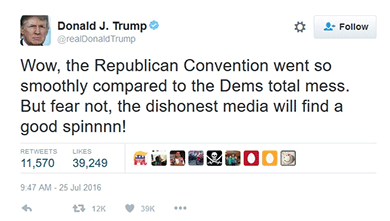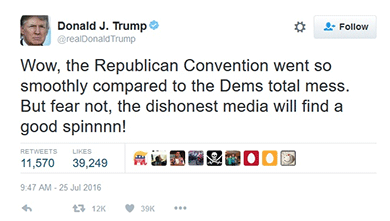 Trump's hostility toward the mass media paired with his team of experienced media moguls makes for a logical transition into his own network. There's no doubt that his loyal followers would make for a wide viewer base. As of Nov. 7, Trump has 44.3% of voter support, according to Real Clear Politics poll averages. And like Trump, 55% of Americans think the media is biased, according to the Quinnipiac University poll released on Oct. 19.
Donald Trump and his team have yet to release a statement about whether or not Trump TV will officially launch after the election. When asked about the media venture by CNN on Oct. 19, Steve Bannon did not deny talk of Trump TV, but rather said, "Trump is an entrepreneur," and discussed his loyal following on social media. "Look at the engagement. It's incredible," he said.
Must See: What do billionaires Peter Lynch, President Trump, and a retired cop from Northridge have in common? They've all benefited enormously from a curious Great Depression-era "program." And even though most have no idea this exists, it could be worth $68,870 or more to the average American. Continue reading…
Follow Money Morning on Twitter @moneymorning or Facebook.
You may also like…
How to Profit No Matter Who Wins Today
Will Donald Trump Win the Election?
5 Donald Trump Quotes That Show How the Energy Sector Will Change If He Is Elected