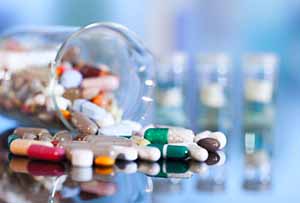 Valeant stock is down big again today, after Valeant Pharmaceuticals International Inc. (NYSE: VRX) reported disappointing Q3 2016 results and guidance.
Shortly after today's open, the Valeant stock price was down 20% to $13.80. That marked its lowest level in at least six years.
Here are the key highlights from the disappointing Valeant earnings report...
Why Valeant Stock Is Down: A Look at the Numbers
Valeant posted a loss of $1.22 billion for the September quarter, or $0.39 a share. That compares to a profit of $49.5 million, or $0.14 a share, in the same quarter a year ago. Revenue dropped 11% to $2.48 billion.
Analysts expected adjusted earnings per share (EPS) of $1.73 on $2.49 billion in revenue.
The company's branded prescription segment, which accounts for more than a third of total revenue, had $847 million in sales. That was a 30% decline year over year (YOY) on lower product sales revenue from existing businesses.
Editor's Note: This penny stock has much more than just triple-digit profit potential...
Salix Pharmaceuticals, which Valeant owns, kicked in $436 million in revenue in Q3. That was down from $461 million a year ago. Valeant's hefty loss for the quarter was almost entirely attributable to the $1.05 billion write-down it booked to reflect the deteriorated value of its U.S. business, mainly Salix. Valeant is reportedly in advanced talks to sell Salix to Japan's Takeda Pharmaceuticals Co. for $10 billion.
Revenue in its U.S. diversified products segment fell 16% to $471 million. That division includes medical devices, generics, U.S. pharmaceutical products, and over-the-counter products.
The company's Bausch & Lomb unit, which contributes nearly half of the company's revenue, rose 3.6% to $1.16 billion.
Looking ahead, the embattled company now expects adjusted EPS of $5.30 to $5.50 on $9.55 billion to $9.65 billion in sales in FY2016. That's down significantly from its previous guidance of EPS of $6.60 to $7 a share on revenue between $9.9 billion and $10.1 billion.
The bad news did not stop there. You see, there is another reason Valeant stock is down today...
Avoid Valeant Stock at All Costs Now
Valeant also expects 2017 to be "a down year."
Revenue is projected to decline as it loses exclusivity in its heart drug, Nitropress, and other neurologic assets. The company also expects additional pressure on its generics business.
Valeant said it is a company in transition. But it was quick to add that a turnaround improvement will take longer than expected.
Yet it was the statement from new Chief Financial Officer Paul S. Herendeen that was most unsettling.
"There could still be surprises yet to be discovered," Herendeen told analysts in his first conference call to present quarterly earnings.
The Valeant stock price is now down 85.34% year to date.
Money Morning has been bearish on Valeant stock since the summer of 2015.
We became worried early on about the company's predatory and unethical business practices of buying smaller drug companies and hiking the prices of newly acquired drugs. Later we became increasingly concerned about the $17 billion of good will on its balance sheet and its weighty debt load. And then all the regulatory investigations began.
Money Morning Global Credit Strategist Michael Lewitt even warned that Valeant was likely to go bankrupt. That bold prediction is looking more and more possible.
Profit Alert: You can profit no matter who wins the presidential election this week. Here's what you need to know after the election is decided...

Follow us on Twitter @moneymorning and like us on Facebook.
Related Articles: