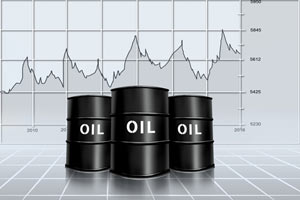 After a dramatic Election Day upset, we're watching how a Trump presidency is affecting oil prices today.
The price of oil dropped nearly 4% in after-hours trading early this morning as markets reacted to the election news. But oil has since rallied back. WTI crude oil prices are up now up on the day, trading at $45.44 a barrel. That's a 1% increase from yesterday's closing price.
The presidential election had a big impact on oil prices. Now that the election is over, we'll explain what Trump's win means for the price of oil...
How Trump Affects Oil Prices
Donald Trump was seen as the most favorable candidate toward increased oil production in the United States.
Don't Miss: Get the Best Investing Research Today to Grow Your Money
Trump said he plans to make "America energy independent" and will do so by increasing oil and gas production. Trump has said he will meet this goal by substantially reducing environmental regulations limiting oil and gas production.
Increased American oil production would increase the supply of oil and reduce prices. It would also undermine OPEC's agreement to reduce oil production in an effort to drive up oil prices.
Another issue that could impact 2017 crude oil prices is the Paris Agreement on climate change...
The agreement entered into force on Nov. 4 and requires ratifying countries to work toward holding "the increase in the global average temperature to well below 2°C above pre-industrial levels."
The United States has ratified the deal, but Trump has said he will "cancel the Paris climate agreement." This is an additional sign oil production will not be hindered by Trump's administration.
However, Trump has also been vocal about his disagreement with the agreement to lift sanctions against Iran negotiated by President Obama. The lifting of sanctions has allowed Iran to sell its oil freely.
The Wall Street Journal reports "energy companies had been waiting for the results of the U.S. election before making a move into Iran." Whether Trump will put the sanctions back into place or not has led to uncertainty in the oil industry.
We will continue updating investors on what a Trump presidency means for oil prices. In the meantime, investors can still profit from the energy market.
Dr. Kent Moors, Money Morning's Global Energy Strategist, has a great plan on how to profit from the Paris climate agreement. The agreement is going to lead to some big changes in the global energy market, and Moors has a play on how to profit from the deal's "winners."
Follow Money Morning on Facebook and Twitter.