At first the U.S. dollar reacted badly to the prospect of a Donald Trump presidency.
As battleground state after battleground state fell to the billionaire on election night, the U.S. dollar dropped 2%, mirroring steep declines in other markets.
But Wall Street's fear dissipated this morning (Wednesday). The U.S. dollar not only recovered, but by midmorning was trading slightly higher.
That shift in mood was reflected in the stock market as well, with most markets up just under 1%.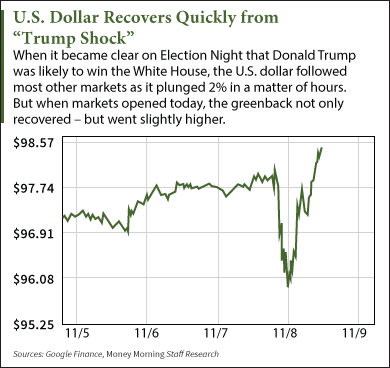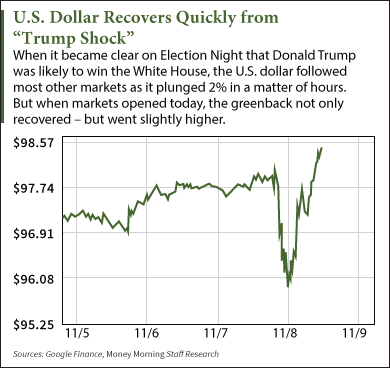 The Mexican peso was hit much harder, plunging more than 13% on election night. The peso was still down 7% against the U.S. dollar in midday trading today.
A possible reason for the sudden reversal in sentiment is that Wall Street realized some of President-elect Donald Trump's policies could be good for the dollar…
Why the U.S. Dollar Rebounded in Wake of Trump Victory
During his campaign, Trump said he would get better trade deals, enact tax cuts, and lower corporate tax rates to encourage repatriation of $2.6 trillion in foreign profits that U.S. companies have stashed overseas. All of those would have a positive impact on the U.S. dollar.
Trump also helped ease concerns in his victory speech. Instead of talking about tariff increases, he promised cooperation with other countries. The softer tone was apparently enough to bring traders in off the ledge, at least for now.
"He could have stood up and listed off China, NAFTA, the wall – he didn't go anywhere on those policies, so that will be at least somewhat reassuring to markets," Derek Halpenny, European Head of Global Markets Review at MUFG in London, told Reuters.
Don't Miss: How to Make a Killing… When Everyone Else Is Panicking
Now, with the divisive election over, investors can expect fewer distractions to deter a strengthening U.S. dollar.
And make no mistake. The forces that have been pushing the U.S. dollar higher over the past two years remain in place and are likely to grow even more powerful in the months ahead.
The U.S. dollar launched its recent run back in 2014, when it rose 21% against a basket of other major world currencies.
That run leveled off earlier this year, with the U.S. dollar slipping about 8% when the U.S. Federal Reserve declined to raise interest rates at the March Federal Open Market Committee (FOMC) meeting.
The decline was short-lived, as the U.S. dollar's catalysts had the greenback again moving higher by May. Since then the greenback is up 4.4%, and it's poised for an even bigger move as we head towards 2017.
Here's what's driving the U.S. dollar higher…
Why Investors Can Expect More U.S. Dollar Strengthening