Nine states voted on marijuana measures on Nov. 8, 2016.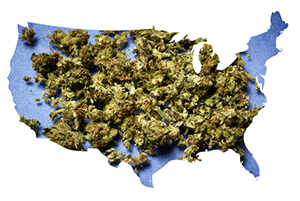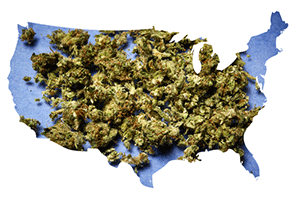 Of these states, Massachusetts, Nevada, California, and Maine have approved recreational marijuana use by adults over 21 years of age. North Dakota, Florida, Arkansas, and Montana have approved marijuana use for medicinal purposes. Only one state, Arizona, rejected the marijuana measure.
After the vote, almost a quarter of U.S. citizens now live in a state where recreational marijuana use is legal.
There will be six more states legalizing marijuana in 2017, if predictions are correct. What does this mean for investors?
A huge opportunity to profit ahead of the curve.
"The California vote is one of the major milestones in the institutionalization of the marijuana industry," according to cannabis investment firm MedMen CEO Adam Bierman, as told to Forbes on Nov. 7.
"Because of California's huge population, Proposition 64 could be a shot in the arm for full federal legalization," said Money Morning Director of Tech & Venture Capital Research Michael A. Robinson on Nov. 7.
Robinson has been following the marijuana industry closely. "We've already seen incredible gains in this budding industry," he said. "But the growth opportunity has just begun." [Editor's Note: Robinson has a proven track record of identifying the top marijuana stocks in the industry better than anyone else. Don't miss an opportunity to receive his time-sensitive free report, where he shows investors how to earn gains of over $100,000 by capitalizing on the marijuana industry right now.]
In October, a Gallup poll showed nationwide support for legalizing marijuana to be at 60% — the highest level in over 47 years.
Now that eight more states have approved the measure, recreationally or medicinally, Americans are curious about the ripple effect to other states across the country.
We've created a map of the current status of each state's stance on marijuana use, including the potential of six more states legalizing marijuana in 2017.
These are the states we expect to be jumping on this trend next year…
States Legalizing Marijuana in 2017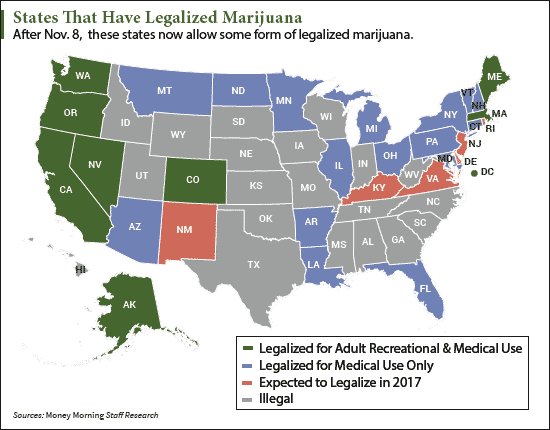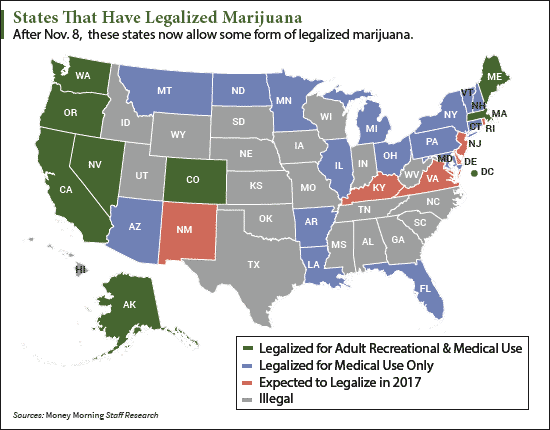 State Legalizing Marijuana in 2017 No. 1: Delaware
Delaware officials are expected to discuss the recreational legalization of marijuana in early 2017.
"It's time to certainly look at it," said state Sen. Margaret Rose Henry during a Medical Marijuana Act Oversight Committee meeting on Oct. 11.
Henry is also responsible for drafting the state's medical marijuana bill.
John Carney, the Democratic governor-elect of Delaware, supports the decriminalization of marijuana in his state but wants to "wait and see" how the new laws pan out in the west.
Now that the majority of western states approved the bill, it's a waiting game for the First State…
Don't Miss: Five "Total Wealth" Principles to Use Forever
State Legalizing Marijuana in 2017 No. 2: Rhode Island
Citizens of Rhode Island are expecting legalization in 2017 — especially now that the big neighbor next door, Massachusetts, has fully legalized pot for adults over 21.
"We're looking at it," said Rhode Island Gov. Raimondo, as reported by Providence Journal on Oct. 29. "If I could get myself comfortable that we, the state, could legalize in a way that keeps people safe, keeps children safe, folks aren't getting sick, then I would be in favor."
State Legalizing Marijuana in 2017 No. 3: New Jersey
The Garden State's current governor, Chris Christie, may be opposed to legalization, but that hasn't stopped other New Jersey lawmakers from exploring the opportunity.
Nine lawmakers visited Colorado in October to evaluate the impact that legalization has had on the Rocky Mountain State.
Sen. Nicholas Scutari, one of the lawmakers who visited Colorado, reported to local news source NJ.com, "We want to learn from their experiences and improve on it as much as we can. This is not a joke… this is big money and it's great savings to the state."
Scutari expects a vote in 2017.
State Legalizing Marijuana in 2017 No. 4: Virginia
Virginia Gov. Terry McAuliffe has not expressed his support of recreational marijuana use in the state, but did report to local radio station WTOP in October that, "I do support it for medicinal purposes. I will sign any bill you can get to me, because I'm a big believer in that."
McAuliffe recently passed an amendment that allows people suffering from epilepsy to be prescribed low-THC strains of oil in 2015, in addition to granting licenses to five farms to grow.
State Legalizing Marijuana in 2017 No. 5: Kentucky
Earlier in 2016, Kentucky Sen. Perry Clark filed for a bill, called the Cannabis Freedom Act, to legalize medical marijuana use in the state.
"The time of laughing and snickering about marijuana and marijuana cigarettes is over. We've got serious businessmen who have approached me on this now and say they are taking it to the governor," Perry reported to The Courier-Journal the previous year.
The bill will be presented to the people of the state in 2017.  
State Legalizing Marijuana in 2017 No. 6: New Mexico
According to a poll conducted by the Albuquerque Journal in October, 61% of the voting public in New Mexico would support marijuana being legalized for recreational purposes in the state.
Just one week before the poll, Rep. Bill McCamely suggested that the state could use marijuana legalization as a way to resolve the state's $600 million deficit.
There is hope that a new bill for recreational marijuana use will be presented to the state during the 2017 legislative season.
Bottom Line
The addition of these six states joining the marijuana revolution in 2017 will bring enormous profits to investors of the industry. According to the Tax Foundation, marijuana tax collections in Colorado and Washington alone have exceeded initial estimates, and nationwide legalization could see states raise billions of dollars per year in revenue.
ArcView Market Research just released a new report in November that predicts retail marijuana sales to surpass $22 billion by 2020. And that growth is only going to surge as more states legalize marijuana in 2017…
Money Morning strives to guide our readers towards their financial goals by helping them invest in the best stocks. That's why we're offering a 90-page roadmap to investing in this promising industry right now. This "bible of weed investing" is absolutely free to our readers, and you can get your copy right here.
You May Also Like…
7 Reasons to Invest In Marijuana Stocks Now
Why We're Investing in Marijuana Stocks
The Top Marijuana Stocks to Watch Now
Follow Money Morning on Twitter @moneymorning or Facebook.
Related Articles: