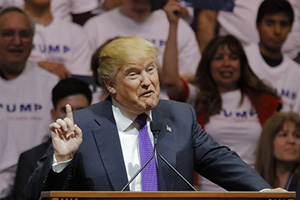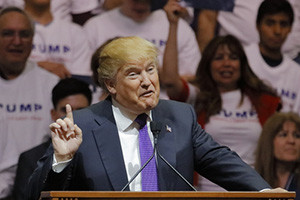 Following this week's surprising U.S. election, we're bringing investors one of the best investments for when Trump is president. You see, there are certain investments that just received a major bullish catalyst from President-elect Trump.
While U.S. stock futures tanked on election night, they quickly reversed course the following morning.
The Dow Jones Industrial Average had a more than 1,000-point swing Wednesday after Trump's victory. The blue-chip benchmark was down more than 800 points in overnight trading and lower by 223 points in pre-market trading. But by the closing bell Wednesday, the Dow finished up 256.95 points.
The Trump-inspired stock market rally continued into Thursday. Shortly after the open, the Dow was higher by 174.77 points, or 0.94%, at 18,764.46. That's a record high.
URGENT: Get the Best Investing Research Today to Grow Your Money
Asian markets followed a similar pattern. Japan's Nikkei rose 6.7%. European markets also moved higher and were holding on to gains of about 1% in midday trading. Overseas investors also appear willing to give Trump a chance.
The feeling among U.S. investors is that a Trump administration will spend heavily on infrastructure and defense, repeal the Affordable Care Act, and cut taxes.
Trump's victory also raises questions about trade deals with China, Mexico, Russia, and many other foreign partners.
Money Morning Director of Tech & Venture Capital Research Michael A. Robinson said U.S. and global markets will likely experience some instability over the next several weeks as Tuesday's election results sink in.
"Wall Street hates uncertainty, and that's precisely what we seem to have now," Robinson said.
But Robinson added that he believes that "instability is masking a huge new opportunity, one that might not have existed before Tuesday."
And that opportunity has brought us one of the best investments to make now...
One of the Best Investments to Make Before Trump Enters the White House