The biggest election upset in modern American history was one that virtually every polling organization got dead wrong.
But I'm not a political analyst. My job is to put the very best investments in tech squarely in front of you.
The way I view it, we're likely to see U.S. and global markets reel through at least some instability for the next week or so as Tuesday night's result sinks in. Wall Street hates uncertainty, and that's precisely what we seem to have now.
I believe that instability is masking a huge new opportunity, one that might not have existed before Tuesday.
Let me show you what I mean...
Look for a Huge Boost in Defense Spending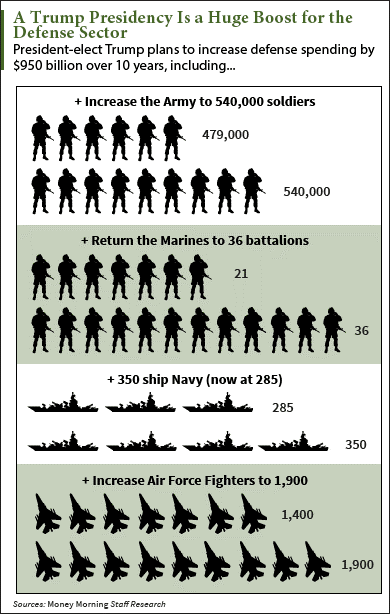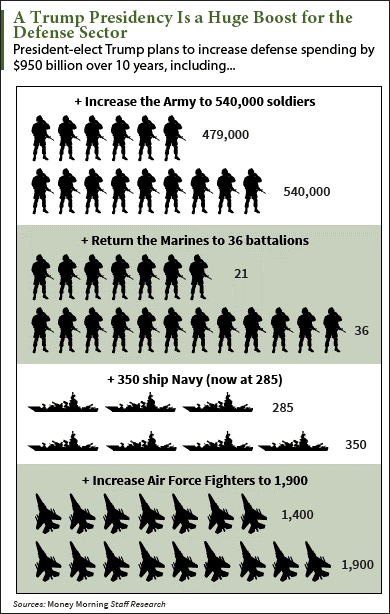 There is little doubt that under a President Trump, the U.S. military will go on one of its biggest growth periods in decades.
In fact, we can think of his election as a bona fide mandate for more defense spending.
Forget about the Bill Clinton peace dividend. Forget about wartime footing under George W. Bush. And certainly forget about our walking away from the role of world's policeman under Barack Obama.
President Trump has said in his administration, the United States will "speak loudly." And if that's not enough, use the biggest stick in the world - the U.S. military.
As it stands today, the proposed Department of Defense budget for fiscal year 2017 (which will certainly be renegotiated by the new administration and majority in both houses of Congress) is already at $582 billion. Then add another $34 billion a year in weapons exports; this flow of funds is about as strong and steady as any business could hope for.
There are almost 3 million people directly employed by the U.S. Department of Defense. And that doesn't include all the contractors and subcontractors.
In 2015, defense spending made up 54% of all U.S. discretionary spending, but the "supercycle" I've written of before has barely begun.
And my favorite recommendations are already off to the races...
If You Think These Stocks Are Outperforming Now... Just Wait
[mmpazkzone name="in-story" network="9794" site="307044" id="137008" type="4"]
You can't start this list with any company but Lockheed Martin Corp. (NYSE: LMT). It is the largest defense contractor in the world by market cap.
Since I first recommended it in April of this year, the stock has run up 20% but has pulled back recently, even though earnings are very strong. That spells a great opportunity.
In late October, Lockheed Martin released its third-quarter earnings and reaffirmed that it's right on track for a banner finish to 2016 and an even bigger year in 2017.
Not only is it the prime military contractor for the U.S. government, it also has a proven track record of taking on the biggest projects and finishing them successfully.
From the F-16 and A-10 to the F-22, F-35, and C-130, it has a lock on the aircraft sector. And that's not only building the planes, but also maintaining and upgrading those aircraft for decades.
Earlier in 2016, this aerospace giant bought the world's leading helicopter maker, Sikorsky, from United Technologies Corp. (NYSE: UTX).
Helicopters are the consistent base hits of the defense sector. There are far more helicopters deployed around the world than fixed-wing aircraft. And they keep troops out of dangerous convoys, where they're exposed to IEDs and ambushes. The DoD is focused on keeping as many of its personnel out of harm's way, and helicopters are becoming the go-to choice.
Right now, of the 37 helicopters in production, 16 are Sikorsky's. And Lockheed has six of its own that are some of the most widely used helicopters in the world. Now, Lockheed has 22 of the 37 major production helicopters in the United States (and abroad). And Lockheed Martin is already developing the next-generation helicopters, dub-named ARES.
Net sales were up more than 10% year over year for the same quarter. Net earnings are also expanding at a good clip. Plus, you can't forget about its impressive 3% dividend that will keep you secure as the transition to a new administration takes place.
The F-35 Is Only Part of the Air Power "Upgrade"
And while we're still talking about air superiority, my second pick, Northrop Grumman Corp. (NYSE: NOC), is certainly a major player. It's up 15% since we recommended it in April - far more than the S&P 500 and Dow Jones Industrial Average.
It just received the largest contract in history for the next-generation long-range bomber, the B-21 Raider. The goal is to replace the old workhorse B-52s, which have been in service since the Cold War began, over the course of the next decade or so.
Each plane is estimated to cost $550 million, and the DoD wants 80 to 100 of them, an open-ended $55 billion deal, though some say the deal is closer to $80 billion. That alone is a compelling reason to get on board this stock. But there is much more at work with Northrop Grumman than just this massive long-term project.
This defense contractor is one of the top producers of unmanned aerial vehicles (drones) and other "C5ISR" - command, control, communications, computers, combat systems, intelligences, surveillance, and reconnaissance - equipment for land, air, and sea.
The important "C" here is computers: cybersecurity. It's one of the hottest sectors at play today, especially in the military and Homeland Security. Now that Trump is president, his border wall will be built by companies like Northrop Grumman who can deploy all the various resources to secure the border and secure the communications.
It reported earnings in late October, and they were impressive. It beat earnings by close to 17% and also guided higher for the rest of the year. It increased its earnings 21% from last quarter. Revenue is already growing at a solid clip. Growth for Northrop Grumman is just beginning.
A Broad C5ISR Play
Another play on the headlong rush to shore up U.S. military and governmental cybersecurity is through a very unique and specific exchange-traded fund (ETF), PureFunds ISE Cyber Security ETF (NYSE Arca: HACK).
Already up 18% in the past six months, there is plenty of headroom left.
According to cybersecurity market research firm Cyber Ventures, the cybersecurity market should eclipse $1 trillion between 2017 and 2021.
And according to security firm McAffee, cybertheft is a $400 billion a year industry. Consulting firm PWC reports that there were nearly 60 million discovered attacks last year. And that only tells the story of those hacks that were discovered.
Also bear in mind, nearly 200 million new people connect to the Internet each year. As more and more people come online, the cybersecurity challenges only grow.
And now that the Internet of Things (IoT) is becoming a reality, you can expect 5.4 billion new devices - from unmanned weaponized vehicles to toasters - vulnerable to hacks.
Some of my favorite cybersecurity companies are in this ETF:
Symantec Corp. (Nasdaq: SYMC), the biggest player in cybersecurity for the government as well as everyone else.
Relative newcomer Palo Alto Networks (Nasdaq: PANW) has established itself as a state-of-the-art cybersecurity company, and the stock has been on a tear since its 2012 IPO.
And most appropriate for the defense sector's cyber needs, Mantech (Nasdaq: MANT). This cybersecurity company has specialized in working with the military and intelligence communities for decades. It keeps a low profile but will be a key resource in the ramp up in cybersecurity spending.
This goes even deeper, though...
Artificial Intelligence (AI) Comes to Cybersecurity
And if you want to really drill down to a company this is deep into deploying the next-generation cybersecurity, look no further than Microsoft Corp. (Nasdaq: MSFT).
It is now applying its vast R&D efforts in artificial intelligence (AI) to cybersecurity.
Microsoft dominates the enterprise software market, bringing around $46 billion in revenue annually from enterprise software. Its closest competitor sits at about $30 billion in revenue.
And the fact is, its leading "enterprise" clients are the U.S. Army, Navy, and Air Force, which represent three of Microsoft's top five enterprise customers. Microsoft builds an AI-powered flight simulator that the armed forces use for training. In civilian branches of government, Microsoft also has a very strong presence.
The military and civilian sectors account for about half of the company's federal revenue, but interestingly, the intelligence community makes up for more than half those federal enterprise revenues, according to Curt Kulcan, VP of Microsoft's U.S. Public Sector. And the intelligence sector is seeing the biggest growth of any government sector.
There is big opportunity here. The stock is up nearly 5% in the past month since I talked about the software giant's ace up its sleeve. It also kicks off a reliable 2.6% dividend.
Look, the chaos in markets we're seeing right now is going to die down as investors and traders adjust, quite literally, to a new normal.
But the investors who come to grips with the fact that Trump's upset victory represents a mandate for defense spending (and a big opportunity) will find themselves ahead of the rest of the crowd that's struggling to find its footing now.
And with so many of these picks paying cold, hard, protective cash right now, they'll find themselves richer, too.
I'll leave it for the historians and politicos to read the tea leaves on what Trump's victory means to the country and the world. From my seat in Silicon Valley, this victory means "Buy."
More from Michael: Michael is recommending several profit opportunities in the multitrillion-dollar defense "supercycle." You can get them all with his Strategic Tech Investor service. He publishes this research at no charge, twice each week. Click here to get it, and you'll get his latest investor briefing on the stock market "singularity" that's minting millionaires this year...
Follow Money Morning on Facebook and Twitter.
About the Author
Michael A. Robinson is a 36-year Silicon Valley veteran and one of the top tech and biotech financial analysts working today. That's because, as a consultant, senior adviser, and board member for Silicon Valley venture capital firms, Michael enjoys privileged access to pioneering CEOs, scientists, and high-profile players. And he brings this entire world of Silicon Valley "insiders" right to you...
He was one of five people involved in early meetings for the $160 billion "cloud" computing phenomenon.
He was there as Lee Iacocca and Roger Smith, the CEOs of Chrysler and GM, led the robotics revolution that saved the U.S. automotive industry.
As cyber-security was becoming a focus of national security, Michael was with Dave DeWalt, the CEO of McAfee, right before Intel acquired his company for $7.8 billion.
This all means the entire world is constantly seeking Michael's insight.
In addition to being a regular guest and panelist on CNBC and Fox Business, he is also a Pulitzer Prize-nominated writer and reporter. His first book Overdrawn: The Bailout of American Savings warned people about the coming financial collapse - years before the word "bailout" became a household word.
Silicon Valley defense publications vie for his analysis. He's worked for Defense Media Network and Signal Magazine, as well as The New York Times, American Enterprise, and The Wall Street Journal.
And even with decades of experience, Michael believes there has never been a moment in time quite like this.
Right now, medical breakthroughs that once took years to develop are moving at a record speed. And that means we are going to see highly lucrative biotech investment opportunities come in fast and furious.
To help you navigate the historic opportunity in biotech, Michael launched the Bio-Tech Profit Alliance.
His other publications include: Strategic Tech Investor, The Nova-X Report, Bio-Technology Profit Alliance and Nexus-9 Network.