The biggest election upset in modern American history was one that virtually every polling organization got dead wrong.
But I'm not a political analyst. My job is to put the very best investments in tech squarely in front of you.
The way I view it, we're likely to see U.S. and global markets reel through at least some instability for the next week or so as Tuesday night's result sinks in. Wall Street hates uncertainty, and that's precisely what we seem to have now.
I believe that instability is masking a huge new opportunity, one that might not have existed before Tuesday.
Let me show you what I mean…
Look for a Huge Boost in Defense Spending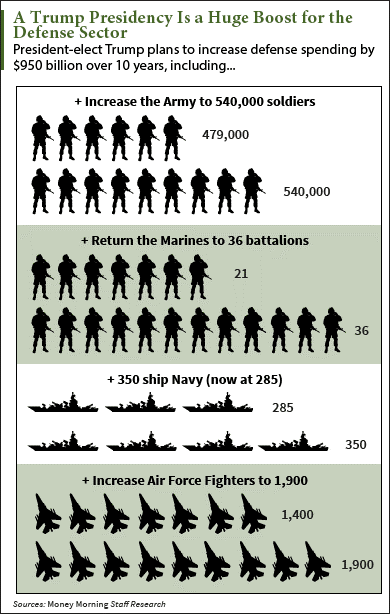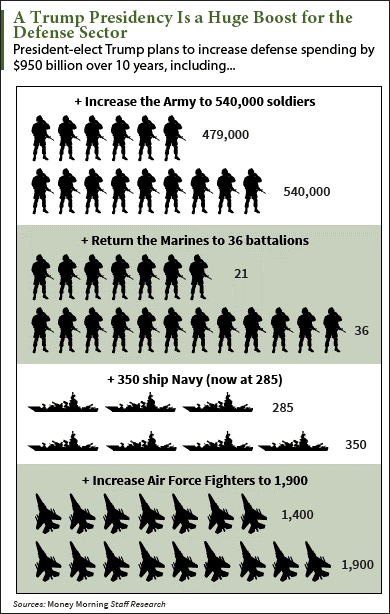 There is little doubt that under a President Trump, the U.S. military will go on one of its biggest growth periods in decades.
In fact, we can think of his election as a bona fide mandate for more defense spending.
Forget about the Bill Clinton peace dividend. Forget about wartime footing under George W. Bush. And certainly forget about our walking away from the role of world's policeman under Barack Obama.
President Trump has said in his administration, the United States will "speak loudly." And if that's not enough, use the biggest stick in the world – the U.S. military.
As it stands today, the proposed Department of Defense budget for fiscal year 2017 (which will certainly be renegotiated by the new administration and majority in both houses of Congress) is already at $582 billion. Then add another $34 billion a year in weapons exports; this flow of funds is about as strong and steady as any business could hope for.
There are almost 3 million people directly employed by the U.S. Department of Defense. And that doesn't include all the contractors and subcontractors.
In 2015, defense spending made up 54% of all U.S. discretionary spending, but the "supercycle" I've written of before has barely begun.
And my favorite recommendations are already off to the races…
Join the conversation. Click here to jump to comments…
About the Author
Michael A. Robinson is a 35-year Silicon Valley veteran and one of the top technology financial analysts working today. He regularly delivers winning trade recommendations to the Members of his monthly tech investing newsletter, Nova-X Report, and small-cap tech service, Radical Technology Profits. In the past two years alone, his subscribers have seen over 100 double- and triple-digit gains from his recommendations.
As a consultant, senior adviser, and board member for Silicon Valley venture capital firms, Michael enjoys privileged access to pioneering CEOs and high-profile industry insiders. In fact, he was one of five people involved in early meetings for the $160 billion "cloud" computing phenomenon. And he was there as Lee Iacocca and Roger Smith, the CEOs of Chrysler and GM, led the robotics revolution that saved the U.S. automotive industry.
In addition to being a regular guest and panelist on CNBC and Fox Business Network, Michael is also a Pulitzer Prize-nominated writer and reporter. His first book, "Overdrawn: The Bailout of American Savings" warned people about the coming financial collapse - years before "bailout" became a household word.
You can follow Michael's tech insight and product updates for free with his Strategic Tech Investor newsletter.