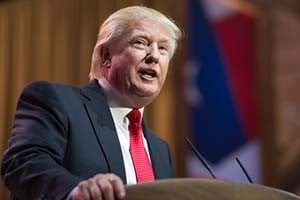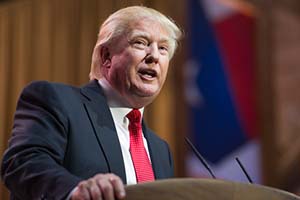 The 2016 presidential election offered a stunning result.
That's why we're bringing investors everything they need to know about how the Trump presidency will affect the U.S. economy in 2017 and beyond.
President-elect Donald Trump and his running mate Gov. Mike Pence defied polling expectations and swept Florida, Pennsylvania, Ohio, and Michigan.
As the events unfolded, the Dow futures plunged as much as 800 points on election night. However, the markets would reverse course the following day and finish the Wednesday, Nov. 9, trading session up 256 points.
With 100 days until Trump takes office, the focus now shifts to the Trump presidency's impact on the U.S. economy. Here is a complete breakdown of the economic and stock market implications of Trump's presidency.
President Trump's Economic Team
Donald Trump has a deep bench of economic advisers who will have significant roles in his administration. Many consultants are tied to the hedge fund industry or worked in the administration of Ronald Reagan in the 1980s.
The favorite to run the Department of Treasury is Steven Mnuchin, who served as Trump's finance chairman during the campaign. Mnuchin is the former head of Goldman Sachs and a film producer. Mnuchin's policies haven't been set forth yet, but many wonder how quickly his agency would target the repeal of the Dodd-Frank Act. Mnuchin is also expected to reduce regulatory burdens on Wall Street firms following eight years of tough love from the Obama administration.
Trump's Chairman of Council of Economic Advisers is projected to be CNBC commentator Larry Kudlow, a career supply-side economist. Kudlow has been an outspoken defender of Trump and acted as a principal adviser on tax policy. Kudlow was Ronald Reagan's budget deputy director. He emphasizes pro-growth policies, including lower household and business taxes. Also, Kudlow is a staunch critic of the U.S. Federal Reserve.
Kudlow will work over the next two years to determine if Fed Chair Janet Yellen should remain at the central bank. If her position opens, he may be a top candidate to take her place. Should he take a role at the Fed, there are concerns that his participation would be seen as a significant step toward the politicization of the U.S. central bank. Right now, it is an independent body from Congress and the executive branch.
Trump's other key economic adviser is Thomas Barrack. He's the head of real estate investment firm Colony Capital. Barrack worked in the Reagan administration as a deputy undersecretary in the Department of the Interior.
Hedge fund billionaire John Paulson is also expected to remain a member of Trump's Economic Advisory Council. The hedge fund manager is famous for his massive bet against the U.S. housing market before the financial crash of 2008.
Don't Miss: This is your ticket to bigger and better returns... and it won't cost you a penny. What are you waiting for? Read more...
The Commerce Department will likely be led by one of two businessmen who acted as Trump advisers. Those are campaign economic adviser and billionaire Wilbur Ross or top trade adviser Dan DiMicco, the former CEO of steelmaker Nucor Corp.
Additional possible advisers and their companies include:
Andy Beal, Beal Bank
Stephen Calk, Federal Savings Bank
Steve Feinberg, Cerberus Capital Management
Dan Kowalski, deputy policy adviser for the Trump campaign
Howard Lorber, Vector Group
David Malpass, Encima Global
Stephen Moore, Heritage Foundation
Peter Navarro, University of California Irvine
Steve Roth, Vornado Realty
Jamie Dimon, JPMorgan
Now that we've examined who could comprise Trump's economic team, here's a look at how the Trump presidency could impact the U.S. economy and global trade...
The U.S. Economy and Global Trade Under Trump Presidency
A key issue heading into January is the debate over monetary policy (interest rates and Open Market Operations) - handled by the Federal Reserve - and fiscal policy (taxation and spending), which is controlled by Congress.
Over the last eight years, 93% of all market performance has been fueled by Federal Reserve policies, according to ValueBridge Advisors. Meanwhile, Congress and President Obama engaged in eight years of gridlock. The only large-scale tax reform was the implementation of luxury taxes to pay for the Affordable Care Act.
The Fed issued record-low interest rates to try to bolster the U.S. economy in the wake of the financial crisis. However, after eight years, the results have been mostly mixed.
Trump's economic team argues that monetary policy has run its course and it is time for Congress to take major steps to reform fiscal policies. The United States has not had wide-scale corporate tax reform in decades. Given the dramatic changes in the economy over the last 30 years - particularly with the boom of globalization, digitalization, and population growth - Kudlow's team aims to reform the tax code to accommodate a 21st-century economy.
Donald Trump's Tax Plan for 2017
Economic adviser Larry Kudlow predicted Tuesday morning that corporate tax reform would be the first attempt to bridge the gap between a Republican Congress and a President Hillary Clinton. Bi-partisan tax reform has been rumored in Washington for at least a decade, but it would have been very difficult to get done in the first 100 days of a Clinton presidency.
With Trump's election, however, individual and corporate tax reform are likely to occur in the first 100 days. Trump's tax plan has many similarities to proposed tax reforms by Republicans currently sitting in Congress. Given that Trump's team is meeting with Republicans now to discuss their agenda, one can expect that his tax policies will be first on the table.
Here is how Donald Trump's tax plan could break down...
Individual Income Tax
Trump's tax plan consolidates the seven tax brackets in practice today down to three brackets.
Here is a look at brackets and rates for married-joint filers:
| | |
| --- | --- |
| Old System Combined Salary | New System Combined Salary |
| $0 to $18,550 (10%) | |
| $18,550 to $75,300 (15%) | Less Than $75,000 (12%) |
| $75,300 to $151,900 (25%) | |
| $151,900 to $231,450 (28%) | $75,000 to $225,000 (25%) |
| $231,450 to $413,350 (33%) | |
| $413,350 to $466,950 (35%) | Over $225,000 (33%) |
| $466,950+ (39.6%) | |
Under the new system, single filers pay the same rates at half the salary listed. A person pays 12% on the first $37,500, 25% on from $37,500 to $112,500, and 33% over $112,500. A single filer earning $125,000 would pay more in taxes under Trump's plan, while a person earning $500,000 would pay less.
The 3.8% "Obamacare" tax set on high-income Americans would be repealed with the Affordable Care Act.
Must See: This trend drove stocks up 1,262% in the 80s and 90s... and it's about to strike again. Learn how to cash in here...
Tax Deductions
Trump's tax plan is very ambitious, raising the standard deduction for joint filers from $12,600 to a whopping $30,000. The standard deduction for a single American would rise to $15,000.
The Trump plan caps itemized deductions at $200,000 for married-joint filers and $100,000 for single filers.
Death Tax
Trump's tax plan eliminates the death tax. However, capital gains that are held until someone dies will face a tax should the value be above $10 million.
Trump's Corporate Tax Plan
The most important elements of Trump's corporate tax plan focus on rates, profit repatriation, and tax expenditures.
According to the campaign's press release on the subject, "The Trump Plan will lower the business tax rate from 35% to 15%, and eliminate the corporate alternative minimum tax. This rate is available to all businesses, both small and large that want to retain the profits within the business."
The plan also allows companies to repatriate corporate profits held out of the country at a one-time tax rate of 10%. This policy would encourage more American corporations to bring back the cash they have sitting in foreign accounts. Some estimates place this cash haul at roughly $2.5 trillion. That offers the potential for the U.S. government to collect $250 billion just by having companies send money back home.
The plan will also cut most corporate tax expenditures except the Research and Development credit.
While the Donald Trump tax plan is on the minds of most investors, the president-elect's plans to rebuild American infrastructure is also crucial to the U.S. economy...
How Trump Plans to Rebuild Infrastructure
The Trump team is not merely focusing on supply-side metrics.
Trump has said he wants to rebuild U.S. infrastructure - a classic initiative of demand-side economists. Infrastructure growth was the first thing that Trump discussed during his victory speech late Wednesday morning.
"We are going to fix our inner cities, and rebuild our highways, bridges, tunnels, airports, schools, hospitals," he said. "We're going to rebuild our infrastructure, which will become, by the way, second to none. And we will put millions of our people to work as we rebuild it."
Must See: Make a Killing with the Fastest-Growing Moneymaker on Earth
Trump's fiscal policy measures will include individual and corporate tax code reform in addition to government spending on big projects. The expectations are that the combination will pump money into the U.S. economy, put more money back in the hands of the people (and not the government), and bolster the U.S. job market.
Of course, the elephant in the room is Trump's philosophy on free-trade deals signed by the United States over the last 30 years. Trump has discussed tearing up NAFTA, a free-trade agreement among North American nations. The trade deal is frequently blamed for the outsourcing of U.S. manufacturing jobs to Mexico, a warning issued by then-presidential candidate Ross Perot in 1992.
Trump wants to renegotiate most of our trade agreements and put more safeguards into place on currency manipulation, perhaps the biggest driver of outsourcing around the globe. Many pundits have raised concerns that Trump will start a trade war with China or slap 30% tariff rates on automobiles coming from Mexico or China.
These appear to be exaggerations. There will likely be some talk of a trade war, but the United States has run a trade deficit with Mexico for 22 straight years. Trump's economic team says it will try to determine ways to keep the positive aspects of the deal and focus on the means to improve the agreements to benefit the U.S. economy and create jobs.
Trump's Plan to Repeal "Obamacare"
Finally, the big promise from Trump this year has been to repeal the Affordable Care Act. The president-elect will aim to replace the law with a series of new reforms, including:
Greater competition in the healthcare market by allowing companies to sell products and services across state lines.
The ability to deduct healthcare premiums at tax time fully.
Access to Health Savings Accounts for all Americans. The Affordable Care Act restricted individuals with high-deductible plans from enjoying this benefit.
Like all reforms, Trump's plan will likely increase the cost of insurance for some Americans and reduce it for others. This repeal will be a tough effort during Trump's first 100 days in office.
Another area investors are eagerly watching is Donald Trump's impact on the stock market in 2017...
How the Trump Presidency Will Impact the Stock Market in 2017
[mmpazkzone name="in-story" network="9794" site="307044" id="137008" type="4"]
On election night, the Dow Jones futures fell as much as 800 points. The markets rallied 256 points Wednesday, Nov. 9, and continued to push higher on Thursday as well. It's tough to predict which way the stock market will head given Trump's policies.
Before Trump won the election, stock markets were inflated due in large part to monetary policy efforts that forced investors into the markets if they sought any return on capital.
But based on Trump's policies, it is easy to predict that some sectors will perform better than others. Here is a breakdown of some of the projected winners and losers of Trump's stunning victory...
Donald Trump Sector Winners and Losers
Winner: Oil and Gas Exploration and Drilling
Trump's presidency is a boon for U.S. energy producers, particularly if he appoints Forrest Lucas, the co-founder of oil products firm Lucas Oil, as his Interior Secretary. The Department of Interior is responsible for regulations on energy fracking, oil-and-gas development offshore, and permitting for resource exploration on federal lands.
Loser: Government Healthcare Providers
In the first week of his Presidency, Trump and the Republican majority are expected to repeal the Affordable Healthcare Act. Though it is unclear if they will replace it immediately with the plan of Rep. Paul Ryan (R-Wis.), it is clear that companies relying on Federal spending will lose dearly. On Wednesday, shares of Molina Healthcare, Inc. (NYSE: MOH) and Centene Corp.
(NYSE: CNC) fell 14% and 17%, respectively. Both firms are engaged in healthcare services for government-run programs.
Winner: Industrial Stocks
Caterpillar Inc. (NYSE: CAT) surged more than 7% Wednesday thanks to a Trump victory. It's not just the prospect of a several thousand miles of Wall between Mexico and the United States that has people thinking construction. While both Clinton and Trump are beneficial to industrial stocks, the latter has a greater chance of pushing through infrastructure spending bills with Republicans running both chambers of Congress.
Loser: Alternative/Clean Energy
Many anticipate that Trump will immediately pull the United States out of the Paris Climate Treaty given that the Senate never ratified it. Trump has repeatedly denied a link between human behavior and climate change. His election immediately fueled a sell-off of alternative stocks like SolarCity Corp. (Nasdaq: SCTY) and Vivint Solar Inc. (NYSE: VSLR). Shares of wind-turbine manufacturer Vestas Wind Systems A/S (OTCMKTS: VWDRY) fell more than 9%. Even Tesla Motors Inc. (Nasdaq: TSLA) took a 3.5% hit Wednesday, Nov 9.
Additional Winners: Biotech, coal stocks, and the Market Vectors-Coal ETF (NYSE: KOL).
Other Losers: Automakers, gun stocks, global shipping
Get on the Path to Greater Wealth: When it comes to making money in the market, "getting in" early - before a stock begins to make its decisive move - is the single biggest factor to your success as an investor. Quickly buying Apple after the June 2013 sell-off, for instance, could have doubled your money. Moving on Valeant the same day we recommended our big "negative bet" against it would've booked you a remarkably fast 700% return. That's why we've introduced Money Morning Profit Alerts. This new, free service lets you choose what investing areas you want to follow - and makes sure you get alerted to news from that sector as soon as we publish it. It means no more waiting. No more searching. No more missing out. It's easy to get started - just go here.
About the Author
Garrett Baldwin is a globally recognized research economist, financial writer, consultant, and political risk analyst with decades of trading experience and degrees in economics, cybersecurity, and business from Johns Hopkins, Purdue, Indiana University, and Northwestern.