Editor's Note: Bill's paid-up Private Briefing subscribers have had the chance to make profits on the play you're about to see, plus a few others, for several months now. But after Tuesday's election, we thought we'd "go big" with Bill's idea, because this means we can all look forward to a new round of potential gains coming in fast... and lasting for decades. Here's Bill...
It was easy to miss during this most recent election, but there were some "real" policy issues discussed from time to time.
One of them was the deteriorating state of America's infrastructure. It's a pressing problem, huge in scope, and there's just no cheap or easy solution.
That's good news for investors who get in on this play right now, because this can't really be "kicked down the road" any further.
In fact, the problem (and the opportunity) is right outside my door today. And if it's not outside yours, chances are it's close.
Let me show you a few pictures to prove my point and spotlight this investment. They really drive home the scale of what I'm talking about...
Check Out the Huge Mess Right Outside My Door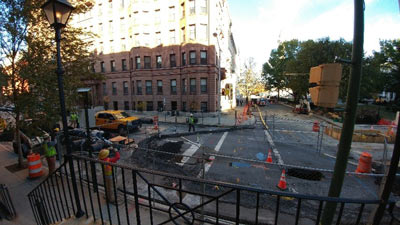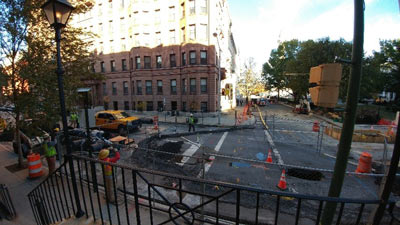 Legendary investor and mutual fund manager Peter Lynch used to counsel folks that the best investment opportunities are found just by looking around - by keeping your eyes and ears open.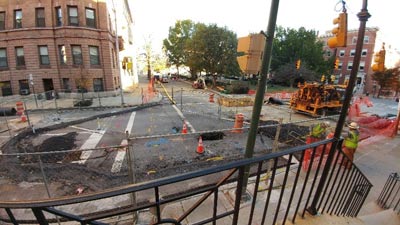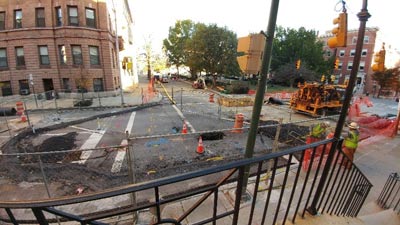 It's good advice.
Here in Baltimore, I can literally walk out my office door and see (and, with the jackhammers, hear) how dire America's infrastructure "predicament" has become.
The sidewalk that runs in front of our building is being used as storage for lengths of "composite" culvert. A block to the south, Cathedral Street is closed to traffic as work crews replace water-and-sewer system sections that failed (after an expensive and smelly cleaning) and created a massive sinkhole at a nearby intersection
According to a recent report in the local City Paper, Baltimore has been under a legally binding "consent decree" with the U.S. Environmental Protection Agency (EPA) since 2002 - thanks to sewage and water-contamination problems that violated the U.S. Clean Water Act.
Those problems were supposed to have been fixed by the start of this year.
The EPA and the city of Baltimore entered into the consent decree after the city was found to violate the Clean Water Act by "discharging untreated sewage from its sewage collection system to the Back River, Patapsco River, and the Chesapeake Bay and several smaller water bodies and other waters of the United States." According to that agreement, signed by then-Mayor Martin O'Malley, the city would eliminate all of the sewage spills and overflows by the beginning of this year.
But as City Paper writer Baynard Woods wrote, the city "blew through the deadline with somewhere around half of the work done."
The overall upgrade of the sewage system has already cost $700 million. Even so, more than 42 million gallons of raw sewage flowed into local rivers and the Baltimore Inner Harbor last year.
I'm not picking on Baltimore City - a place I love. The fact is that America's water and waste-management systems are a disaster. And so are the country's roads and bridges.
Nor is this "infrastructure predicament" limited to the United States.
Worldwide, there's a need for $57 trillion worth of infrastructure spending over the next 15 years, the McKinsey Global Institute said in a research report issued in June 2015.
As the consultancy acknowledged: "That's an enormous sum."
So when Trump embraced this as a campaign issue back in August 2015 - telling an interviewer that "I want to rebuild our infrastructure" before we send astronauts to Mars - he elevated the long-simmering issue to platform status.
During the campaign, both major party candidates put forth infrastructure plans, which elevated the infrastructure debate to a degree not seen in decades.
Spending is almost certain to escalate now, and that's key to the opportunity I want to share with you.
This Is a Good Plan... but There's a Catch
Join the conversation. Click here to jump to comments…
About the Author
Before he moved into the investment-research business in 2005, William (Bill) Patalon III spent 22 years as an award-winning financial reporter, columnist, and editor. Today he is the Executive Editor and Senior Research Analyst for Money Morning at Money Map Press. With his latest project, Private Briefing, Bill takes you "behind the scenes" of his established investment news website for a closer look at the action. Members get all the expert analysis and exclusive scoops he can't publish... and some of the most valuable picks that turn up in Bill's closed-door sessions with editors and experts.