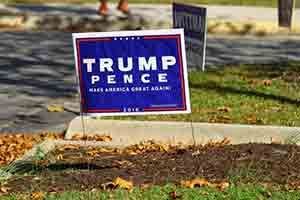 During his acceptance speech in the early hours of Nov. 9, President-elect Donald Trump thanked a large team of loyalists who stuck with him through a very bitter campaign. On the stage included former New Jersey Gov. Chris Christie, former New York City Mayor Rudy Giuliani, and Sen. Jeff Sessions (R-AL), who was the first Republican member of the upper congressional chamber to endorse Trump.
Loyalty is an important quality to Trump. He is anticipated to appoint many men and women who helped him win one of the most contentious elections in U.S. history.
But expect him to surround himself with experienced government executives...
After all, the real estate mogul will become the first American president without any political or military experience.
Given that Trump and fellow Republicans argue they have the mandate to change Washington, the smart money should anticipate a sharp rollback of all the central policies enacted during the Obama administration.
Below is a breakdown of potential candidates to fill out the Donald Trump cabinet when he enters office Jan. 20, 2017...
Donald Trump Cabinet Position No. 1: Secretary of State
The most important diplomatic position in the cabinet is currently filled by former Massachusetts Sen. John Kerry, who succeeded Democratic nominee Hillary Clinton.
Several candidates' names have been floated, but the early favorite may be former Speaker of the House Newt Gingrich. The former congressman was a regular on the campaign trail with Trump and appeared on every major network as a surrogate of Trump. On Wednesday night, he called Republicans who'd declined to support Trump "whiny, sniveling, negative cowards" on FOX News' "Hannity"...
"[A] Donald Trump [administration is] going to be among the most extraordinary, creative, inventive, exciting periods in all of American political history. Let [the 'Never Trump' movement] drift off into the ashbin of history while we go ahead and work with Donald Trump and with the House and Senate Republicans to create a dramatically new future."
Don't Miss: The First Thing Trump Should Do for the Economy
Also of note: Gingrich had been a possible finalist as a running mate.
Other possible candidates include former U.S. Ambassador to the United Nations John Bolton or chairman of the Senate Foreign Relations Committee Sen. Bob Corker (R-TN). Corker has an advantage given that he holds the same title that former Sen. John Kerry held in the Senate before he became the head of the State Department.
Donald Trump Cabinet Position No. 2: Secretary of Defense
Sen. Jeff Sessions (R-AL) became the first Senator to endorse Trump and had expressed interest in running the Pentagon.
Another possible candidate is retired Lt. Gen. Mike Flynn, who previously ran the Defense Intelligence Agency. While Flynn is a career military expert and perhaps the better candidate, a roadblock stands in his way. Flynn requires a waiver from Congress to take the Pentagon job. U.S. laws require retired military officers must wait seven years before taking over as the civilian leader of the Defense Department, and only two have ticked for the veteran.
Donald Trump Cabinet Position No. 3: Secretary of Homeland Security
If Sessions is passed over for the Pentagon role, he will be the leading candidate to run the Department of Homeland Security. Sen. Sessions has been one of the main advisers on immigration to the Trump campaign.
"The most important thing is to focus first and foremost on a lawful system that protects the interests of the American people first. If you enter the country unlawfully you're subject to being deported. That's just what the law has always been. But we have large number of people that have been here a very long time," Sessions said in an interview on "Fox & Friends" on Aug. 25.
Other possible candidates include David Clarke, a conservative sheriff of Milwaukee County, Wisc., who famously said "Blue Lives Matter" during a speech at the Republican National Convention.
Donald Trump Cabinet Position No. 4: Secretary of Treasury
Trump's first choice during campaign season to run the Treasury Department was 80-year-old billionaire Carl Icahn. Back in August, Icahn praised Trump's economic plan -- a full video of his remarks can be found here. However, Icahn has said several times that he is not interested in the role.
And so we move on to Steve Mnuchin, Trump's finance chairman and the former head of Goldman Sachs Group Inc. (NYSE: GS). A person close to Trump's campaign told Politico on Nov. 3 that Trump has signaled Mnuchin will be his choice.
Whoever is ultimately appointed, we do know this: One of Trump's top tasks for his secretary of treasury will be to upend the Dodd-Frank Act:
"We have to get rid of Dodd-Frank. The banks aren't loaning to people that need it," Trump told FOX News in October 2015. "The regulators are running the banks."
Donald Trump Cabinet Position No. 5: Attorney General
Two individuals stand out as the next likely attorney general. Rudy Giuliani was one of Trump's top surrogates during the campaign. A career prosecutor before he ran New York City, Giuliani appears to be the favorite to become attorney general.
Former Gov. Chris Christie is another potential option, but two issues could hinder his nomination. The media have hammered Christie due to the recent "Bridgegate Trial." Also, Christie has a zero-tolerance stance on recreational marijuana use. Many are concerned that Christie could upend recent votes to legalize cannabis across multiple U.S. states. Christie may instead opt for a high-profile job at the Justice Department or take a role in the White House as an adviser.
Donald Trump Cabinet Position No. 6: Secretary of Interior
This role is perhaps the most underrated position in the cabinet that has the most at stake...
The Interior Department is in charge of managing regulations around oil and gas drilling around the nation. Currently, the favorite appears to be Forrest Lucas, the 74-year-old founder of Lucas Energy Inc. (NYSEMKT: LEI). A career energy executive, Lucas recently told Investors Business Daily that he would be interested in the job because "it's a very important position and you need to have someone in there who knows what they're doing." However, Lucas has never actually met Trump in person.
Don't Miss: How Small Investors Can Take on Wall Street... and Win
Another potential candidate for the role is former Alaska Gov. and Vice Presidential candidate Sarah Palin. While Palin has little experience in Washington, Trump hinted that he would like Palin to join his cabinet after she endorsed him in January 2016.
"It's such an honor, because, as you know, very badly, so many people are so disappointed that she didn't support them," Trump said of Palin's endorsement during an interview with NBC's "Today Show." "But certainly, there'd be a role in my administration, if she wanted, and I'm not sure that she does want that, but there'd certainly be a role."
Palin famously started the rallying cry "drill, baby, drill" during the 2008 election. In the past, she has staunchly advocated for state control of drilling decisions and wants the United States to emphasize energy independence.
"Let's expedite the regulatory and permitting and legal processes for on and offshore drilling," she said during a 2010 Tea Party speech. "Instead of paying billions of dollars, hundreds of billions of dollars that now are being sent to foreign regimes, we should be drilling here and drilling now instead of relying on them to develop their resources for us."
Either Palin or Lucas would likely deregulate drilling on federal lands, encourage more offshore development, and rollback regulations in the coal industry. The latter would be a big win for areas like eastern Kentucky and West Virginia, which have seen coal jobs disappear due to an aggressive regulatory regime over the last eight years.
Donald Trump Cabinet Position No. 7: Secretary of Energy
This looks like a no-brainer: The leading candidate is Continental Resources Inc. (NYSE: CLR) CEO Harold Hamm. During the campaign, the Oklahoma billionaire wildcatter helped shape Trump's energy policy into a market-friendly vision that allows companies and states to decide where production will be done. Hamm was an energy adviser to Mitt Romney in 2012 and has helped Trump embrace fracking, energy exploration, and processes to improve permitting.
During an interview with CNBC on Nov. 9, Hamm showed that his political philosophy on U.S. energy development runs in line with Trump's expected positions. Hamm advocates that the United States lease federal land for drilling, like Alaska's Arctic National Wildlife Reserve, and will likely lift rules prohibiting development on the Outer Continental Shelf.
"There's so many of these overreaching regulations that's gone on," Hamm told CNBC. "My goodness. We called it death by a thousand cuts, and that's exactly what it was intended to do."
Should Hamm not fit the bill, pundits have floated the name of venture capitalist Robert Grady. The head of Gryphon Investors, Grady acted as the director Natural Resources, Energy and Science at Office of Management and Budget (OMB) under George H.W. Bush. He is viewed by many as a key force in developing the Clean Air Act of 1990. Grady also helped develop environmental policies for the state of California under former Gov. Arnold Schwarzenegger.
Donald Trump Cabinet Position No. 8: Secretary of Agriculture
The role of "top farmer" in America is perhaps the most competitive. Trump has a wealth of options, starting with Texas agricultural secretary Sid Miller. While he seemed like a shoe-in a few weeks ago, Miller's official Twitter account referred to Hillary Clinton by a name that will not be repeated here. That could hinder his ascension to Washington.
Other possible candidates include loyalists like former Texas Gov. Rick Perry, Kansas Gov. Sam Brownback, Nebraska Gov. Dave Heineman, or Ted McKinney, who ran the Indiana Department of Agriculture under Vice President-elect Mike Pence.
Donald Trump Cabinet Position No. 9: Secretary of Commerce
This spot may be difficult for Trump to choose, but one thing's for sure: don't expect a career politician to run the top business and trade job in Washington.
Possible names floated have included two businessmen. First, campaign economic adviser and billionaire Wilbur Ross, or top trade adviser Dan DiMicco, the former CEO of steelmaker Nucor Corp. (NYSE: NUE).
Donald Trump Cabinet Position No. 10: Secretary of Veterans Affairs
Given the ongoing scandals at Veterans Affairs over the last few years, Trump is expected to make this post a high priority. The favorite right now is House Veterans' Affairs Chairman Rep. Jeff Miller (R-FL) Miller is retiring from Congress and has been a supporter of Trump since early in his presidential run.
Donald Trump Cabinet Position No. 11: Secretary of Health and Human Services
Former New York Lt. Gov. Betsy McCaughey was one of Trump's earliest supporters during this campaign cycle. She served the role of New York's second in command from 1995 to 1998, during the first term of former Gov. George Pataki.
McCaughey has a Ph.D. from Columbia University and was a staunch opponent of Bill Clinton's administration's efforts to grant universal healthcare in the early 1990s.
Donald Trump Cabinet Position No. 12: Secretary of Education
This appointment could be a surprise given his medical background, but former GOP candidate Ben Carson may be in line to take over the Department of Education.
Carson has been a longtime critic of the status quo in American education. During his presidential campaign, Carson dubbed the public education system as a "propaganda system." He is a longtime advocate of school choice, including home-school programs and charter schools. Carson argues that improving options will improve education, which he considers the best way to "liberate" individuals.
"I'm ready for school choice," Carson said during a speech at the Conservative Political Action Conference (CPAC) in February 2015. "We need to recognize education is the great liberator in our country. No one has to be a victim."
Carson has been a staunch opponent against Common Core, the largest shift in education from the Department of Education over the last eight years. Carson has said that he hopes Common Core will "die a quiet death."
He's also seen as someone who could help a Trump White House reach out to minority communities.
Donald Trump Cabinet Position No. 13: Surgeon General
The top medical post in the United States is highly coveted. If Trump passed over Carson at the Education Department, the surgeon general role might be his consolation prize.
Carson is one of the world's top neurosurgeons who spent decades in residency at Johns Hopkins University. While his political run in the primaries failed, Carson's skillset makes him the most logical choice.
Donald Trump Cabinet Position No. 14: Environmental Protection Agency Administrator
This spot will likely be the most scrutinized appointment, but it appears that climate skeptic Myron Ebell will lead the Environmental Protection Agency.
Ebell is the Director of Global Warming and International Environmental Policy at the Competitive Enterprise Institute. He is also the chairman of the Cooler Heads Coalition. These institutions "question global warming alarmism." He argues that the Paris Climate treaty is "clearly an unconstitutional usurpation of the Senate's authority" and staunchly opposes climate activists. "[I'd] like to have more (coal industry) funding so that I can combat the nonsense put out by the environmental movement."
Ebell is already running Trump's EPA transition team. If he takes the top job, expect him to clean house and gut the federal agency.
Donald Trump Cabinet Position No. 15: Chairman of Council of Economic Advisers
Trump's Chairman of Council of Economic Advisers is projected to be CNBC commentator Larry Kudlow, a career supply-side economist. Kudlow has been an outspoken defender of Trump and acted as a principal adviser on Trump's tax policy. Kudlow was Ronald Reagan's budget deputy director. He emphasizes pro-growth policies, including lower household and business taxes. Also, he's a staunch critic of the U.S. Federal Reserve.
If appointed, the economist will work over the next two years to determine if Fed Chair Janet Yellen should remain at the central bank. If her position opens, he may be a top candidate to take her place. Should he take a role at the Fed, there are concerns that his participation would be seen as a significant step toward the politicization of the U.S. central bank. Right now, it is an independent body from Congress and the executive branch.
But the most important position is the one that will help oversee the Trump White House team: Chief of Staff. This is one of the most powerful roles in government, and it could also be one of the most controversial because the job does not require confirmation by the U.S. Senate...
Join the conversation. Click here to jump to comments…
About the Author
Garrett Baldwin is a globally recognized research economist, financial writer, consultant, and political risk analyst with decades of trading experience and degrees in economics, cybersecurity, and business from Johns Hopkins, Purdue, Indiana University, and Northwestern.