(Kitco News) – World stock markets were mostly firmer overnight on a continuation of the "Trump rally" that began after last week's U.S. presidential election.
Banking stocks helped boost the European stock indexes, while an upbeat economic report from Japan supported Asian equities. U.S. stock indexes are pointed toward mixed to slightly lower openings when the New York day session begins.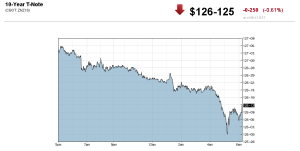 The U.S. Treasury bond and note markets continue to see their yields rise (prices fall) early this week. Yields are at 10-month highs following a Trump U.S. presidential win that has raised concerns about rising inflationary price pressures. World government bond yields are also on the rise. More U.S. spending on infrastructure and less restraints on businesses are main reasons for the expectations for rising inflation.
This week there will be several speeches from U.S. Federal Reserve officials, which will be especially closely monitored by the marketplace after the U.S. election of a new president last week. A Wall Street Journal survey just released showed most economists expect the Fed to raise rates at its December meeting.
The key "outside markets" on Monday find the U.S. dollar index solidly higher and hit a 10-month high overnight. Meantime, Nymex crude oil prices are lower and hit a 3.5-month low overnight, with prices trading below $43.00 a barrel. Recent reports have cast doubt on OPEC's ability to cut its crude oil production, despite its stated intention to do so in September.
These two markets are in a bearish daily posture for the raw commodity sector Monday.
There is no major U.S. economic data due for release Monday.
A stronger U.S. dollar and rising bond yields impacted the gold market overnight. Spot gold on Kitco.com trended lower during the Asian session with a high of $1,229.10 an ounce and support at $1,212.40 an ounce.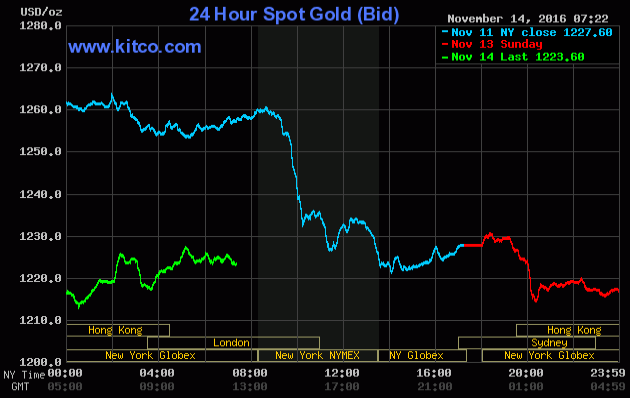 By Jim Wyckoff, contributing to Kitco News; jwyckoff@kitco.com
Follow Jim Wyckoff @jimwyckoff for breaking market news.