We have some things to talk about this morning - and they're not politics.
The markets have gone through the "Trumpcrash" and come out stronger on the other side. That's shining a spotlight on three promising buys I'm looking at right now.
You can buy them outright and pocket the cash, or trade them and make even more.
Even better, they're wide open. No one else is looking at these, so we'll have the chance to make even more money than usual.
Let's jump right in.
The Biggest Potential Gains Are Right Here
It sure looked like the markets were going to fall off a cliff on Wednesday. Dow futures plunged as low as 800 points, and "safety switches" tripped on the S&P 500 and Nasdaq in the night, too.
But the uncertainty evaporated as it became clear that, for the first time since 2006, there would be no divided government. The markets were still going strong by Friday's close.
But I think the three kinds of stocks I'm going to show you should do best of all, long after the dust of the upset election has settled.
Profit Play No. 1: Healthcare
Healthcare stocks, for instance, were "supposed" to drop following the election, but here again we saw another surprise.
Of course, health insurance stocks did drop on Wednesday, but actual healthcare stocks are embracing Trump's victory because of his rhetoric on repealing and replacing the Affordable Care Act (ACA).
Big insurers, like Aetna and UnitedHealth, have already pulled out of the ACA. Now, with Trump in power, the prospect of having the so-called "state line" sales limits removed would create more competition for healthcare companies - which would drive up profits.
There's a really easy way to trade the trend here; one of the largest healthcare ETFs, Health Care Select Sector SPDR ETF (NYSE Arca: XLV), could lead to some very nice profits.
Take a look at its bounce in price from just one week ago...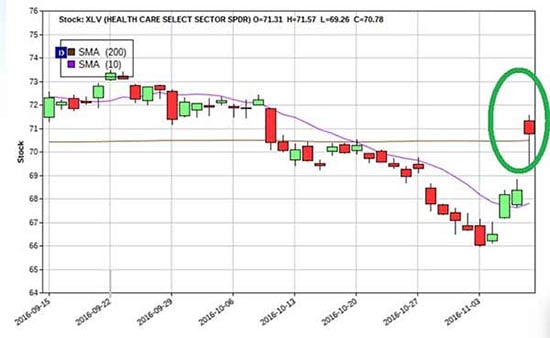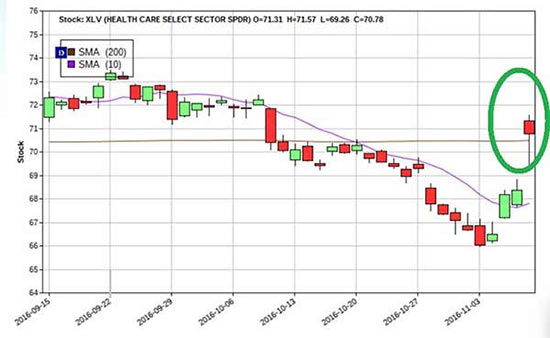 Profit Play No. 2: Biotech & Pharma
Biotech shares, too, suddenly find themselves in a potentially "friendlier" environment. Biotechs had been under severe pressure ever since last year when, in response to the "Shkreli Affair" price-gouging scandal, candidate Hillary Clinton promised to rein in biotechs.
It's safe to say these companies aren't sweating that threat today.
On Wednesday, pharma and biotech stocks skyrocketed, with the Nasdaq Biotechnology Index climbing 9% - breaking its record for largest single-day gain in over eight years. Prior to Trump's victory, biotech shares on the Nasdaq had lost more than one-fourth of their value since September.
Now, it's still unclear how tough the next administration will or won't be on drug prices, with many Republicans also making a populist push for low drug prices in light of the EpiPen issue. But one thing's for certain right now... pharmaceuticals and biotechnology investors face far less uncertainty, and that adds up to confidence and profits.
Today, I like the largest biotech stock ETF in the world, iShares NASDAQ Biotechnology ETF (Nasdaq: IBB). Here's a look its price movement since September, which shows its upward climb after the election results became clear: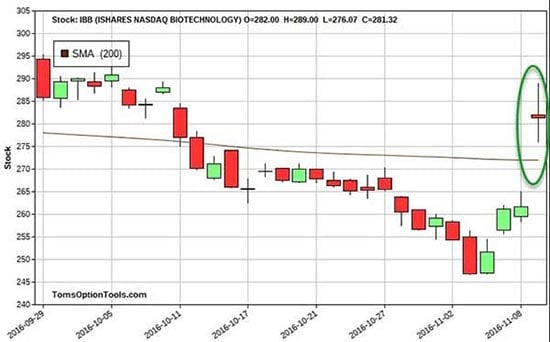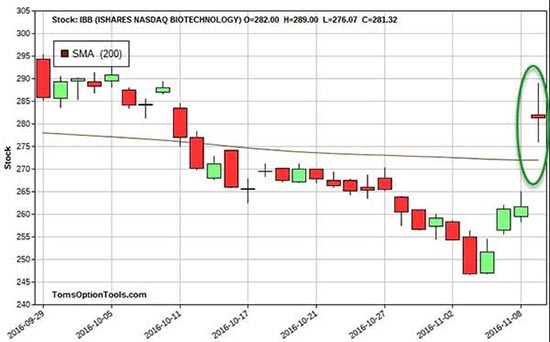 Profit Play No. 3: Financials
Join the conversation. Click here to jump to comments…
About the Author
Tom Gentile, options trading specialist for Money Map Press, is widely known as America's No. 1 Pattern Trader thanks to his nearly 30 years of experience spotting lucrative patterns in options trading. Tom has taught over 300,000 traders his option trading secrets in a variety of settings, including seminars and workshops. He's also a bestselling author of eight books and training courses.