(Kitco News) – World stock markets were mostly firmer overnight as the price of crude oil rebounded from multi-month lows hit on Monday. The U.S. stock indexes are pointed toward firmer openings when the New York day session begins.
Gold prices are firmer on some short covering and perceived bargain hunting after hitting a 5.5-month low on Monday.
In overnight news, The Chinese yuan fell to an eight-year low against the U.S. dollar Tuesday. The Chinese currency has been depreciating since Donald Trump won the U.S. presidency. Trump has been very critical of China's currency policy.
The Euro zone's third-quarter gross domestic product rose by 0.3% from the second quarter and was up 1.6%, year-on-year, it was reported Tuesday. The numbers were right in line with market expectations.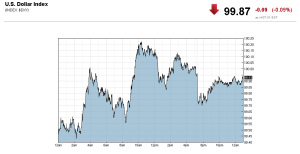 The key "outside markets" on Tuesday find the U.S. dollar index weaker on some profit taking after hitting a 10-month high Monday. The Bank of International Settlements warned Tuesday that the stronger greenback is not good for the global economy, as the smaller currencies of the world see their values depreciate significantly.
Nymex crude oil prices are higher on a corrective bounce after hitting a 3.5-month low Monday. There are now reports OPEC is working hard to get an oil-production-cut agreement put in place, despite growing doubts about the cartel's ability to do so.
The U.S. Treasury bond and note markets have stabilized Tuesday on some short covering after their yields hit 10-month highs Monday. The Trump U.S. presidential win has raised concerns about rising inflationary price pressures. World government bond yields have also been on the rise.
This week there are several speeches from U.S. Federal Reserve officials, which will be especially closely monitored by the marketplace after the U.S.
election of a new president last week. A Wall Street Journal survey released Monday showed most economists expect the Fed to raise rates at its December meeting.
U.S. economic data due for release Tuesday includes the weekly Johnson Redbook and Goldman Sachs retail sales reports, import and export price indexes, retail sales, the Empire State manufacturing survey, and manufacturing and trade inventories.
Overnight, following its previous sharp sell off, spot gold on Kitco.com traded in a narrow range with resistance at $1,232.30 an ounce and support at $1,222.20 an ounce.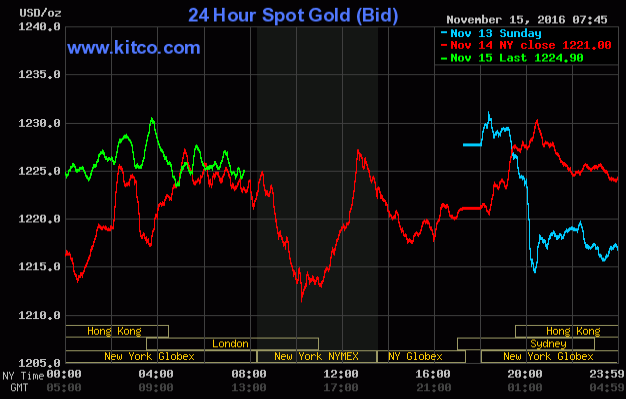 By Jim Wyckoff, contributing to Kitco News; jwyckoff@kitco.com
Follow Jim Wyckoff @jimwyckoff for breaking market news.