Social Security wasn't originally designed in 1935 to replace the lion's share of a person's pre-retirement paycheck. It was created to supply retirees with roughly 40% of their former earnings each month.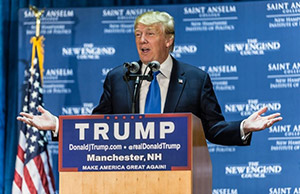 But now, tens of millions of retiring baby boomers are stretching the Social Security Administration's balance sheet extra thin. This means the 40% benchmark won't be maintainable before long...
Social Security's fiscal outlook looks even grimmer on down the line. So much that the program's trustees predicted in June 2015 that the fund will be completely insolvent by the year 2034.
Unless, that is, Washington does something to fix this dire situation ASAP.
When it comes to the U.S.' new President-elect Donald Trump on Social Security, not much is clear in terms of his specific policies and proposals. For now, the candidate's website includes 15 different topics on which he has stated definitive positions -- none of which address Social Security.
Don't Miss: How You Can Profit from the Same Trend That Drove U.S. Stocks Up 1,262% in the 80s and 90s
What we do know about the candidate's Social Security ideas come from soundbites via his campaign trail.
Here's a compilation of Trump's Social Security plans so far...
Donald Trump on Social Security: 5 Facts
Donald Trump on Social Security Policy No. 1: Bringing jobs back will save Social Security and Medicare. At a Dec. 14, 2015, rally in Iowa, Trump was asked to provide details regarding his Social Security proposal by an AARP representative.
"We're going to take jobs back from all these countries that have been ripping us off, and we're going to become a wealthy country again," Trump responded. "And we're going to be able to save your Social Security."
Trump was referring to recouping money the United States has given over the years to countries in foreign aid, which amounted to $37.9 billion in FY 2016 alone.
The idea to fund the program using money recovered elsewhere set Trump up to explain his next - and arguably most controversial idea - on Social Security...
One that puts him at odds with members of the GOP status quo already in office.
[mmpazkzone name="in-story" network="9794" site="307044" id="137008" type="4"]
Donald Trump on Social Security Policy No. 2: Let Medicare barter on drug prices. On Jan. 24, Trump said he'd give Medicare the power to negotiate drug prices with big pharma companies. This would save the United States $300 billion annually, he claimed. Money that could be redirected back into the Social Security Administration.
"They say like $300 billion could be saved if we bid them out," Trump told an audience in Farmington, N.H. "We don't do it. Why? Because of the drug companies, folks, because of the drug companies."
Trump then pointed fingers at various members of the GOP establishment whose hands he claimed were allegedly in the pockets of these companies. "Of course they disagree with this idea," Trump said. "They win when big drug companies win."
Donald Trump on Social Security Policy No. 3: Leave Social Security alone. During the GOP presidential debate on March 10, Trump pledged to do everything within his power to leave Social Security "the way it is."
He said he would do this by making the nation rich again via budget deficit elimination and by ridding government programs of "waste, fraud, and abuse."
Trending: These 7 "Debt Bomb" Companies Are Set to Explode When Interest Rates Rise
The billionaire's statement was met with much criticism almost immediately. The next day, Fortune claimed Trump's response to the question "how will you save Social Security?" wasn't at all helpful or specific enough to be believed. USA Today stated that the meaning behind Trump's answer was essentially "anyone's guess."
But Newsweek lauded Trump's idea to leave Social Security as-is. The outlet took into account Trump's stance on Medicare in order to commend the real estate mogul's perspective. "[The program] is under financial strain but it's under much, much less than Medicare," Newsweek reported the very night of the debate, "and it's not at all clear that Draconian measures are needed over the next two decades to keep the system afloat."
Donald Trump on Social Security Policy No. 4: Immigration reform will boost U.S. entitlement programs. On June 27, Trump submitted an op-ed (as did Democratic presidential candidate Hillary Clinton) to the AARP Bulletin - an outlet that boasts nearly 38 million readers.
Both presidential hopefuls were tasked with answering the question: "What will the candidate do to make Social Security financially sound for future generations?"
Trump again stated that he would mount a campaign to attack fraud, waste, and abuse in the government - but he would do so while making drastic immigration reform changes (upon which he did not specify, however). Trump claimed this would allow the government to save hundreds of billions a year in education, healthcare, and public safety costs that could be allocated elsewhere (i.e., the Social Security trust fund and Medicare).
Donald Trump on Social Security Policy No. 5: Boosting economic growth will raise wages and payroll tax revenue. Next year, once Trump takes office, Social Security taxes of 12.4% will be applied to workers' earnings up to $127,200.
The idea behind this payroll percentage increase is simple but must be followed down a long path.
Here's how it goes...
With rising wages comes improving economic activity. And with improving economic activity comes an annual tax revenue increase. And if that tax revenue increase is big enough, then a significant amount of the Social Security shortfall could, over time, be eliminated.
BRILLIANT: Average Americans Are Becoming Marijuana Millionaires. Read More...
This approach seems attractive in theory, because it means no changes need to be made to Social Security now - something that Trump has, again, advocated for. Of course, any number of unanticipated circumstances could derail economic and wage growth and therefore negatively affect tax revenue.
Up Next
Love or hate him, Trump's priority is to make this country secure again - be it with Social Security solvency, immigration reform, or economic trends.
As far as Money Morning Chief Investment Strategist Keith Fitz-Gerald is concerned, all of the president-elect's ideas spell one word out with undeniable clarity: g-r-o-w-t-h.
Here's specifically where that growth and profit potential exists now that the election is finally over...
Follow Money Morning on Facebook and Twitter.
Related Articles: