(Kitco News) – World stock markets were mostly higher overnight as the "risk-on" trader and investor psychology continues one week after Donald Trump won in a surprising U.S. presidential election. The Dow Jones Industrial Average on Tuesday closed at a new record high. U.S. stock indexes are pointed toward weaker openings when the New York day session begins.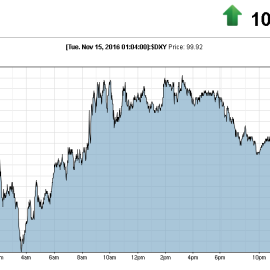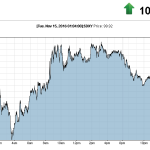 The key outside markets on Wednesday find the U.S. dollar index trading higher and hitting a 10-month high. Nymex crude oil prices are lower on a downside correction after good gains posted Tuesday.
Gold prices are slightly lower amid the bearish posture of the outside markets and on notions of a Fed rate hike in December. The Federal Reserve Bank of St. Louis president James Bullard said in London today that he favors a Fed rate hike at the December FOMC meeting.
World bond markets continue to see their yields rise in the wake of the Trump U.S. presidential win, which has raised concerns about rising inflationary price pressures. U.S. T-bond and T Note futures prices are lower and near this week's contract lows.
U.S. economic data due for release Wednesday includes the weekly MBA mortgage applications survey, the producer price index, industrial production and capacity utilization, the NAHB housing market index, and the weekly DOE liquid energy stocks report.
Overnight, spot gold on Kitco.com hit a session high of $1,232.60 an ounce and a session low of $1,221.10 an ounce.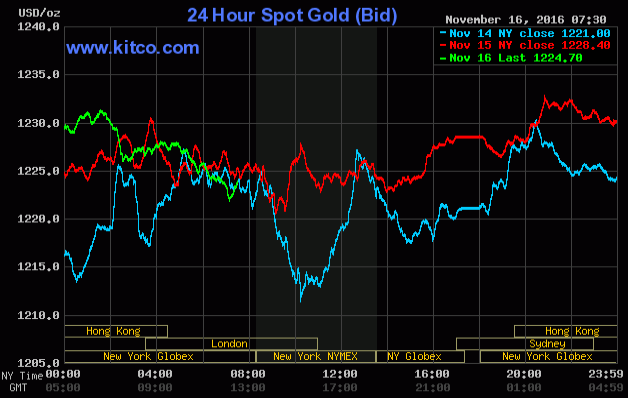 By Jim Wyckoff, contributing to Kitco News; jwyckoff@kitco.com
Follow Jim Wyckoff @jimwyckoff for breaking market news.