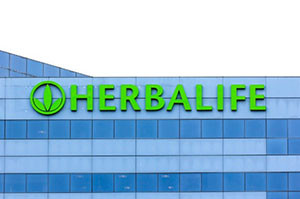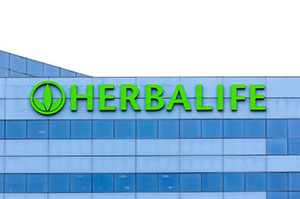 Herbalife is back in the news again...
On Nov. 7, comedian and HBO's "Last Week Tonight" host John Oliver went after its uncanny resemblance to a pyramid scheme.
We last wrote about Herbalife Ltd. (NYSE: HLF) back on Aug. 14, 2014, when we noted that activist investor Bill Ackman "was going to deliver a 'deathblow' to the company with a presentation on HLF's predatory business model."
Not much has changed since then...
What Is a Pyramid Scheme?
It's called a pyramid scheme quite aptly -- when you visualize the scam, it is structured like a pyramid...
Sign up for SMS so you never miss special events, exclusive offers, and weekly bonus trades.
The founder of the scam, called the "initial recruiter," sits atop the pyramid. The initial recruiter then drafts a second person. This person is required to "invest" a certain amount, which is paid to the initial recruiter. In order to make his or her money back, the second person must then, you guessed it, draft more people... and so on.
This process is repeated as new recruits pay the people who recruited them, the base of the pyramid growing larger and larger.
Must Read: What is a Ponzi scheme? Click here for our infographic...
As the Federal Trade Commission (FTC) states, "they [pyramid schemers] promise consumers or investors large profits based primarily on recruiting others to join their program, not based on profits from any real investments or real sale of goods to the public."
That seems to be how Herbalife operates...
What Is Herbalife?
Herbalife develops, markets, and sells supplements for nutrition, weight management, sports nutrition, along with other personal care products. Current CEO Michael Johnson is poised to step down from his position in June 2017; he's to be succeeded by COO Richard Goudis. Under Johnson's 13-year leadership, HLF saw annual net sales more than quadruple to $4.5 billion as it expanded operations around the world.
The announcement to transition Goudis into the CEO position came on Nov. 1, 2016 -- the same day the company reported Q3 profits fell 6% to $87.7 million, or $1.01 a share. And four months earlier, Herbalife paid a $200 million settlement to federal regulators due to allegations of being a pyramid scheme.
But even post-settlement, Herbalife's still at it. Here's how the company has been able to remain in operation so far -- despite its questionable practices and a clash with the feds...
Here's How Herbalife Remained in Operation Despite Its Pyramid-Like System