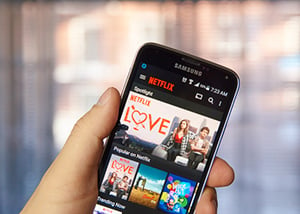 Netflix stock has tanked 6.18% over the last five days, even despite a 1% gain to $114.78 this morning (Wednesday). While some investors have freaked out about the swift drop in the Netflix stock price, we aren't hitting the panic button.
In fact, we view the decline as a buying opportunity for Netflix stock.
Before we get into our bullish outlook for Netflix Inc. (Nasdaq: NFLX), here's a look at what has been weighing on the Netflix stock price.
Why Netflix Is Down Despite Strong Growth
Since Republican candidate Donald Trump's presidential victory on Nov. 8, tech stocks have gotten crushed. In the four days following Trump's win, the tech sector endured its worst performance since the start of the current bull market that began roughly seven years ago.
Before the election, tech stocks in the S&P 500 Index were up 11% year to date. Since the election, they have shed 1.8%. Tech stocks (the largest group in the S&P 500 Index) dropped 3.1% over those four days. At the same time, the index climbed 4.2%.
Bearish option activity tracking S&P 500 tech stocks has also picked up. The number of puts on the Technology Select Sector SPDR Fund (NYSE Arca: XLF) that traded Monday was the highest in at least five years, according to Trade Alert data.
Trending Now: Get the Best Investing Research Today to Grow Your Money
The key concern among investors is that Trump's contentious trade and immigration policies will mean lower earnings for these multinational tech firms.
Plus, immigration is a big component in how tech companies attract and hold talent.
Investors have also been turning to the infrastructure and financial industries in the wake of the election. That could mean money leaving tech stocks. Trump has pledged to spend $1 trillion on infrastructure. And interest rates are expected to rise over the next several months, which will help banks.
There are also worries about Trump's opposition to AT&T Inc.'s (NYSE: T) deal to buy Time Warner Inc. (NYSE: TWX) and how it will impact the media space. Trump said that mergers like Comcast Corp.'s (Nasdaq: CMCSA) with NBCUniversal "destroy democracy."
But Trump has also criticized regulations that he believes don't result in concrete economic benefits.
That could make him receptive to arguments from companies that oppose new Federal Communications Commission (FCC) net neutrality rules.
And that would present a key benefit to internet service providers and Netflix…
Netflix Stock Drop Looks Like a Buying Opportunity