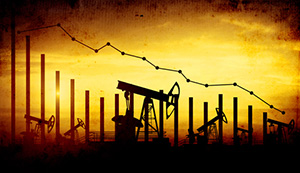 The price of crude oil today (Wednesday) is falling as the value of the dollar rises and oil supplies continue to grow.
Also pressuring crude oil prices is the impact from investors taking bets off the table as they wait for an OPEC deal to develop.
Today's drop comes just one day after oil prices logged one of the biggest gains of the year…
Brent crude oil was down $0.41, or 0.09%, at $46.54 a barrel in early trading today. WTI crude prices were lower by $0.50, or 1.1%, at $45.31 a barrel.
Oil prices surged Tuesday on news that members of OPEC would rekindle efforts to limit production. Brent crude prices ended Tuesday's session up 5.7%. WTI crude oil finished up 5.75%, or $2.49, at $45.81 a barrel on Tuesday.
Here are all the factors driving the price of crude oil lower today…
4 Reasons the Price of Crude Oil Today Is Falling
A Strong U.S. Dollar: Oil prices slipped today as the dollar surged to its highest level since April 2003. Oil is priced in dollars and becomes more expensive to investors who pay for the commodity with other currencies. The U.S. dollar today also reached its strongest level in a year against the euro. The move has major banks and investors debating the possibility of another move toward euro-dollar parity.
Rising Supply: Weekly U.S. crude oil stocks spiked by 3.6 million barrels last week, the American Petroleum Institute (API) industry group reported. That easily exceeded analyst expectations of a 1.5-million-barrel rise.
Upcoming OPEC Meeting: Traders are becoming more cautious ahead of OPEC's meeting in Vienna on Nov. 30. Saudi Arabia's energy minister will meet with his Russian counterpart this week. Meanwhile, OPEC's chief sets out on a global tour. The diplomatic push comes as OPEC steps up efforts to reach consensus on a deal to cut production ahead of the crucial gathering at the end of the month. Several OPEC energy ministers are expected to meet informally in Doha on Friday. Their aim is to build consensus over decisions made by the full group in September in Algiers, according to reports.
President-Elect Donald Trump: The president-elect promised in his campaign to revive several oil projects rejected by President Obama. That could have an impact on OPEC's decision to cap, curtail, or cut production. Trump has vowed to overturn "all job-destroying Obama executive actions." He promised to sharply increase oil and gas drilling on federal lands, as well as open up offshore drilling in the Atlantic Ocean and other areas where it is blocked.
According to Money Morning Global Energy Strategist Dr. Kent Moors, Trump will continue to have a major impact on the entire energy market. Here's what President-elect Trump means for your energy investments…
Follow us on Twitter @moneymorning and like us on Facebook.
Related Articles: