Characteristically, stocks and bonds rendered diametrically different verdicts on Donald Trump's victory in last Tuesday's presidential election. While the Dow Jones Industrial Average enjoyed its biggest rally in five years, jumping 5.4%, or 969.38 points, to close at a record high of 18,847.66, yields on 10- and 30-year Treasuries jumped 32 and 34 basis points to 2.15% and 2.94%, respectively. The S&P 500 jumped 3.8% on the week to 2,165.45, and the Nasdaq Composite Index rose 3.79% to 5,237.11.
While global equities added $1.3 trillion in value, however, global bonds shed $1.0 trillion according to Bloomberg estimates. President-elect Trump is expected to bring higher GDP and corporate profits, which are good for stocks, but also higher inflation and interest rates, which are bad for bonds. Bonds were already toxic, offering negative real (inflation-adjusted) returns, before the election; now investors are going to see exactly how much damage feckless central bank policies inflicted as the $1 trillion of losses of the last week are just a small down payment on what is coming.
Mr. Trump is inheriting a complicated and very volatile situation.
And if I were advising him, here's what I'd suggest.
President-Elect Trump Should Prepare for a Seismic Shift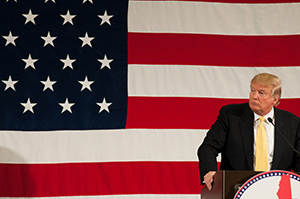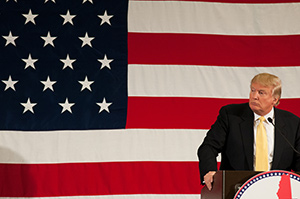 It appears highly likely that the Fed will move forward with a 25 basis point interest rate hike in December. The futures market is putting an 84% probability on such a move and the stock market rally will certainly embolden the chicken-hearted Fed governors to move. But futures are only pricing in one additional 25 basis point move in 2017, suggesting how little credibility the world's most important central bank retains after years of failed policy.
Don't Miss: Turbocharge your investing returns with our top 5 money-making investment reports. Get them now – they're absolutely free. Click here…
If I were advising President-elect Trump, I would advise him to ask for the resignations of every member of the Federal Open Market Committee (starting with Janet Yellen and Stanley Fisher). I would replace these intellectuals-yet-idiots with men and women with real world experience running companies and exclude from consideration professional economists and academics.
Of course, that is only one piece of a very delicate balancing act.
Join the conversation. Click here to jump to comments…
About the Author
Prominent money manager. Has built  top-ranked credit and hedge funds, managed billions for institutional and high-net-worth clients. 29-year career.