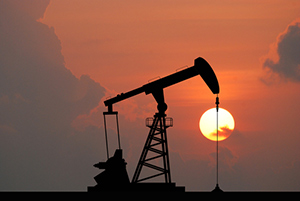 Engineers from Texas just announced the discovery of the largest proven, untapped oil deposits in U.S. history, the Wolfcamp shale.
That's why we're bringing investors three of the best Wolfcamp shale stocks to watch now.
According to the U.S. Geological Survey, engineers found 20 billion barrels of recoverable oil under four layers of West Texas shale. At current crude oil prices, the crude is worth approximately $900 billion. The discovery is also a significant boost to U.S. energy inventories and has some people talking about the prospect of U.S. energy independence.
The geological survey also revealed that the Wolfcamp shale formation holds 16 trillion cubic feet of natural gas and 1.6 billion barrels of gas liquids.
The new oil discovery is nearly three times larger than the Bakken formation, which stretches across North Dakota, Montana, and parts of Canada.
This major deposit could be a massive opportunity for investors as companies begin drilling wells and exploring the region.
Don't Miss: Get the Best Investing Research Today to Grow Your Money
Here's a complete breakdown of the Wolfcamp shale formation and the top Wolfcamp stocks we're watching now...
What Is the Wolfcamp Shale Formation?
The Wolfcamp formation is an energy reservoir in West Texas and New Mexico. It was first discovered in the 1950s as geologists expanded their exploration efforts in the nearby Permian Basin.
Oil producers have been drilling in West Texas for more than 100 years. However, most of the crude extracted from the region has been easy to pull from low-lying wells in the upper crust.
These newly discovered deposits are buried deep under various layers of bedrock and shale, which is a mixture of highly pressured layers of sedimentary rock composed of thick mud, clay minerals, and fragments of quartz, calcite, and other minerals.
In the past, accessing the crude was nearly impossible. However, technological advances over the last decade in hydraulic fracturing (also known as fracking) make it possible to dig deep into various rock formations to extract the crude. This process requires the use of machines to create cracks in subterranean rocks by introducing sand, water, and other chemicals at very high pressures. As sand holds open the fissures created by high-pressure liquids, oil and natural gas flow up into the well. Production companies then extract the fuels.
Given these technological advances and the large amount of geological structures that remains unexplored, many companies are projecting that this discovery is just the beginning of something much bigger. According to Pioneer Natural Resources CEO Scott Sheffield, the Permian Basin - which includes many different shale reservoirs like the Wolfcamp - could contain as much as 75 billion barrels of crude. That would make the Permian Basin the second-largest proven reserves in the world after Saudi Arabia's Ghawar field.
Urgent: Our (Bold) 2017 Oil Price Forecast - and Today's Most Profitable Energy Play
However, it is not known yet what the average cost of extracting each barrel from these newly discovered reserves will be in the long term. According to Forbes, the average break-even price for oil extracted in the Permian Basin is $61 per barrel.
Given that crude prices are below $50 per barrel right now, extracting these new crude pools may not be economical now. Either global crude prices would need to increase, or the cost of drilling would need to decrease to justify increased development.
Still, investors can't ignore some of the companies operating in the Wolfcamp. These Wolfcamp shale stocks could provide substantial long-term profits as break-even costs decline or oil prices rise.
Plus, they could be attractive takeover targets for large multinational companies looking to break into the Wolfcamp.
Here are three of the best Wolfcamp shale stocks to keep on your radar...
Wolfcamp Shale Stocks to Watch Now No. 1
Join the conversation. Click here to jump to comments…
About the Author
Garrett Baldwin is a globally recognized research economist, financial writer, consultant, and political risk analyst with decades of trading experience and degrees in economics, cybersecurity, and business from Johns Hopkins, Purdue, Indiana University, and Northwestern.