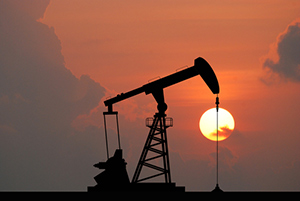 Engineers from Texas just announced the discovery of the largest proven, untapped oil deposits in U.S. history, the Wolfcamp shale.
That's why we're bringing investors three of the best Wolfcamp shale stocks to watch now.
According to the U.S. Geological Survey, engineers found 20 billion barrels of recoverable oil under four layers of West Texas shale. At current crude oil prices, the crude is worth approximately $900 billion. The discovery is also a significant boost to U.S. energy inventories and has some people talking about the prospect of U.S. energy independence.
The geological survey also revealed that the Wolfcamp shale formation holds 16 trillion cubic feet of natural gas and 1.6 billion barrels of gas liquids.
The new oil discovery is nearly three times larger than the Bakken formation, which stretches across North Dakota, Montana, and parts of Canada.
This major deposit could be a massive opportunity for investors as companies begin drilling wells and exploring the region.
Don't Miss: Get the Best Investing Research Today to Grow Your Money
Here's a complete breakdown of the Wolfcamp shale formation and the top Wolfcamp stocks we're watching now...
What Is the Wolfcamp Shale Formation?
The Wolfcamp formation is an energy reservoir in West Texas and New Mexico. It was first discovered in the 1950s as geologists expanded their exploration efforts in the nearby Permian Basin.
Oil producers have been drilling in West Texas for more than 100 years. However, most of the crude extracted from the region has been easy to pull from low-lying wells in the upper crust.
These newly discovered deposits are buried deep under various layers of bedrock and shale, which is a mixture of highly pressured layers of sedimentary rock composed of thick mud, clay minerals, and fragments of quartz, calcite, and other minerals.
In the past, accessing the crude was nearly impossible. However, technological advances over the last decade in hydraulic fracturing (also known as fracking) make it possible to dig deep into various rock formations to extract the crude. This process requires the use of machines to create cracks in subterranean rocks by introducing sand, water, and other chemicals at very high pressures. As sand holds open the fissures created by high-pressure liquids, oil and natural gas flow up into the well. Production companies then extract the fuels.
Given these technological advances and the large amount of geological structures that remains unexplored, many companies are projecting that this discovery is just the beginning of something much bigger. According to Pioneer Natural Resources CEO Scott Sheffield, the Permian Basin - which includes many different shale reservoirs like the Wolfcamp - could contain as much as 75 billion barrels of crude. That would make the Permian Basin the second-largest proven reserves in the world after Saudi Arabia's Ghawar field.
Urgent: Our (Bold) 2017 Oil Price Forecast - and Today's Most Profitable Energy Play
However, it is not known yet what the average cost of extracting each barrel from these newly discovered reserves will be in the long term. According to Forbes, the average break-even price for oil extracted in the Permian Basin is $61 per barrel.
Given that crude prices are below $50 per barrel right now, extracting these new crude pools may not be economical now. Either global crude prices would need to increase, or the cost of drilling would need to decrease to justify increased development.
Still, investors can't ignore some of the companies operating in the Wolfcamp. These Wolfcamp shale stocks could provide substantial long-term profits as break-even costs decline or oil prices rise.
Plus, they could be attractive takeover targets for large multinational companies looking to break into the Wolfcamp.
Here are three of the best Wolfcamp shale stocks to keep on your radar...
Wolfcamp Shale Stocks to Watch Now No. 1
[mmpazkzone name="in-story" network="9794" site="307044" id="137008" type="4"]
Diamondback Energy Inc. (NYSE: FANG) has deep-rooted efforts in the Permian basin.
Diamondback Energy owns 77,866 net acres in the Permian Basin and has been expanding its operations in the Wolfcamp formation. The firm says it has 72 wells operating in the Wolfcamp shale and says it can develop 1 million barrels of oil equivalent per day (Boe/d) in its five core operating areas in the Permian region.
Diamondback isn't a company that generates a lot of headlines, but it's still an $8 billion organization. Even during the oil price downturn that saw crude fall below $30 per barrel, it was still buying up assets in the Permian Basin.
This buying activity is the hallmark of a well-balanced energy company. Even in the face of falling profitability, it still had the resources to buy assets at low prices at a time that rivals were offloading rigs and wells to shore up their balance sheets.
Wolfcamp Shale Stocks to Watch Now No. 2
Pioneer Natural Resources (NYSE: PXD) is the largest and most bullish energy company to bolster operations in the Wolfcamp shale formation. As noted above, CEO Scott Sheffield believes the region could have crude reserves that rival Saudi Arabia.
The company is the largest crude producer in the Spraberry/Wolfcamp shale formations. It is estimated that Pioneer produces 250% more crude than its closest rival in the Wolfcamp, Apache Corp. (NYSE: APA).
The company has been buying land and expanding its drilling capacity since the 1980s. Pioneer went all in earlier this year when it purchased $435 million in Permian assets from Devon Energy Corp. (NYSE: DVN). The deal appears to be a bargain for Pioneer as Devon needed to offload assets to shore up its balance sheet.
Pioneer effectively added 150 Wolfcamp production locations in the deal.
According to analyst reports, Pioneer expects its overall oil production growth rate in 2017 to range from 13% to 17%. However, the company says that its production growth in the Spraberry/Wolfcamp area will be much higher, with a growth rate ranging between 28% and 32%.
Wolfcamp Shale Stocks to Watch Now No. 3
Investors looking for a bit more diversity from their production sources might want to consider keeping an eye on Royal Dutch Shell Plc. (NYSE ADR: RDS.A). The British production giant is the sixth-largest oil and gas company in the world by revenue. Its deep pockets make it possible for the firm to explore for crude all over the world.
Its quest for its next significant source of crude reserves has led it to West Texas over the past decade.
In 2012, the company purchased 618,000 net acres in the Permian Basin - a staggering 965 square miles of open land. At the time, the deal was worth $1.9 billion and the purchased wells produced roughly 26,000 barrels of oil equivalent per day (Boe/d). By 2014, the firm began development in the nearby Bone Spring formation. It slowly started exploring its assets in the Wolfcamp and has started to drill for oil in the region.
The company has seen two key developments over the last three years that make its Permian production more attractive. First, between 2013 and 2015, Shell saw a 130% increase in its "estimated ultimate recovery" (EUR) figure in the Permian. This number represents the expected amount of crude that is potentially recoverable or has already been extracted from a well.
Second, the costs of oil well improvements have declined by 60% in the same timeframe. This means that the company is finding ways to reduce the cost of its drilling operations, a key improvement that offers Shell an advantage over smaller producers in the region.
Recently, the company's regional manager in the Permian Basin recently told the Midland Reporter that 75% of its wells in the region have break-even points between $35 and $50 per barrel produced. At a time that crude prices are hovering under $50, many of its wells will be profitable in the years to come.
The Bottom Line: There are a number of Wolfcamp shale stocks to watch, but investors should keep an eye on Diamondback, Pioneer Resources, and Royal Dutch Shell as production ramps up in the Wolfcamp.
Crude prices may be too low for large American companies to begin drilling the 20 billion barrels of crude discovered in the Wolfcamp shale formation. But that doesn't mean that investors should let West Texas crude producers slip off their radar.
The discovery is a big boost for American energy independence. Should crude prices rise or drilling costs fall, West Texas will become a hot and profitable place for oil investors in the decades to come.
Get on the Path to Greater Wealth: When it comes to making money in the market, "getting in" early - before a stock begins to make its decisive move - is the single biggest factor to your success as an investor. Quickly buying Apple after the June 2013 sell-off, for instance, could have doubled your money. Moving on Valeant the same day we recommended our big "negative bet" against it would've booked you a remarkably fast 700% return. That's why we've introduced Money Morning Profit Alerts. This new, free service lets you choose what investing areas you want to follow - and makes sure you get alerted to news from that sector as soon as we publish it. It means no more waiting. No more searching. No more missing out. It's easy to get started - just go here.
Follow Money Morning on Facebook and Twitter.
About the Author
Garrett Baldwin is a globally recognized research economist, financial writer, consultant, and political risk analyst with decades of trading experience and degrees in economics, cybersecurity, and business from Johns Hopkins, Purdue, Indiana University, and Northwestern.