(Kitco News) – Global equity markets were under pressure Friday as the rout in world bond markets continues, amid ideas that better world economic growth and more spending (led by the U.S.) will push interest rates higher and reignite some inflationary price pressures. Some profit taking from recent gains is also featured in world stock indexes Friday. U.S. stock indexes are pointed toward weaker openings when the New York day session begins.
Gold prices are moderately lower and fell to a nine-month low overnight.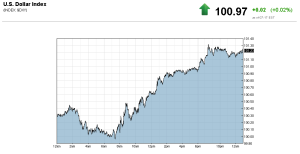 U.S. Treasury 10-year notes are at their highest yields so far this year. German bonds have gone from negative yields to just above one-quarter of a percentage point. Federal Reserve Chair Janet Yellen on Thursday said the U.S. economy is getting stronger and that interest rates can begin to rise again. That's bond-market-bearish. Yellen also said the election of Donald Trump as president has not altered the Fed's thinking on the U.S. economy.
Federal Reserve Bank of St. Louis President James Bullard reiterated Friday that he is leaning toward voting for a U.S. rate hike at the FOMC meeting in December. He also said U.S. President-Elect Trump will likely spur economic growth by 2018 or 2019.
The rally in the U.S. dollar index, which is at a 13-year high, is also prompting some trader and investor concern. The strong greenback is causing selling pressure in the raw commodity sector, including the precious metals, as most raw commodities are priced in U.S. dollars. An appreciating dollar makes those commodities more expensive to purchase in non-U.S. currency. There were also reports out this week saying the stronger U.S. dollar is somewhat destabilizing for the world's periphery currencies.
Nymex crude oil prices are slightly higher Friday morning as the marketplace debates OPEC's ability to cut its collective crude oil output ahead of the cartel's Nov. 30 meeting. The oil bulls are having the better week this week.
In other overnight news, European Central Bank President Mario Draghi said economic growth in the Euro zone will continue to depend on monetary policy stimulus from the ECB. This suggests the ECB will extend its bond-buying policy (quantitative easing) at its meeting in December.
U.S. economic data due for release Friday includes leading economic indicators and the Kansas City Fed manufacturing survey.
Overnight, gold spot prices, on Kitco broke below another major support level to hover above the key psychological level at $1,200 an ounce. Gold traded in a range between $1,213.70 an ounce and $1,202.60 an ounce.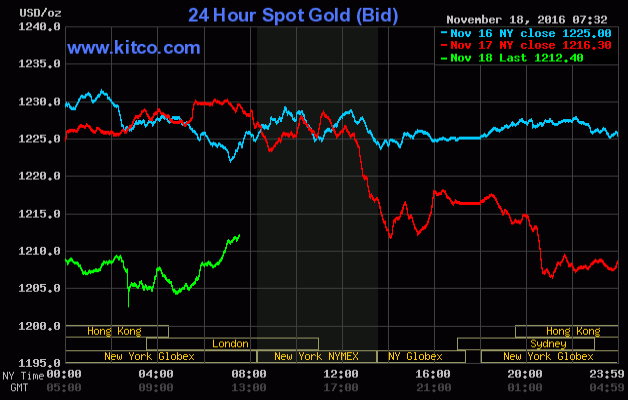 By Jim Wyckoff, contributing to Kitco News; jwyckoff@kitco.com
Follow Jim Wyckoff @jimwyckoff breaking market news.