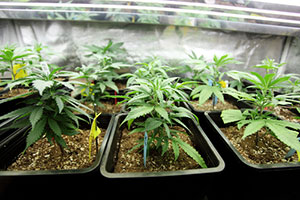 Donald Trump's presidential victory on Nov. 8 has sent markets around the world surging. But the best pot stocks on the market have been outperforming the markets by a wide margin.
Trump won the presidential election, but the biggest winner was the best pot stocks…
A record nine states had marijuana initiatives on the ballot this year. New marijuana laws were approved in eight of those nine states.
California, Massachusetts, and Nevada voters approved recreational marijuana legalization by wide margins. Maine passed recreational marijuana, too, but by a smaller margin. The only state voting against it was Arizona. It was a close call, with just 52% of state voters casting ballots against it.
Make no mistake, the legalization of recreational marijuana in California was monumental for the industry and a massive catalyst for the top pot stocks…
The state's size, key economic impact, and political power means California's adoption of legal marijuana could prompt federal authorities to reverse its decades-long prohibition on pot.
Urgent: Former Google Exec Quits Dream Job to Launch Marijuana Empire
Medicinal marijuana also won big on Nov. 8. Florida became the first state in the south to approve a medical marijuana proposal. Arkansas soon became the second. Medical marijuana initiatives breezed through in North Dakota, with nearly two-thirds of the vote in favor. And Montana voters passed new, more relaxed policies on the state's existing medical marijuana laws.
Now, 28 states have laws legalizing medical marijuana. Nine states plus Washington, D.C., currently have full legislation (recreational and medicinal use).
Without question, pot acceptance is growing and restrictions are easing. That will continue to drive the marijuana industry and the best pot stocks over the next several years and beyond…
The Best Pot Stocks Are Already Soaring
Consider this: People in Denver, Colo., may soon find it even easier to smoke marijuana in public.
As The Wall Street Journal reported, the city crafted a local initiative that would provide individuals with more freedom to consume marijuana outside of their homes. Patrons who visit bars and restaurants in Denver will be allowed to smoke pot (purchased elsewhere) outside these establishments under the new initiative. Some are likely to even designate outdoor pot-smoking areas.
Legal marijuana sales (including medical) in the United States hit $5.7 billion in 2015, according to ArcView Research. That was a sizable increase from $4.6 billion in 2014. Recreational sales last year skyrocketed to $1.2 billion. That was up from the $374 million booked in 2014.
As for 2016, retail marijuana sales should hit $7.1 billion this year. That would be a 26% hike from last year. By 2020, legal market sales are expected to surpass $22 billion, according to ArcView.
Take a look at some of the gains pot stocks have already seen. GW Pharmaceuticals Inc. (Nasdaq: GWPH) stock has soared 40% in the last three months, and 1,209% in the last five years. Cara Therapeutics Inc. (Nasdaq: CARA) stock is up nearly 97% since August.
That growth will continue to be a major catalyst for the top marijuana stocks.
As a service to Money Morning readers, we've created a 90-page cannabis investing guide called "The Roadmap to Marijuana Millions." This "bible of weed investing" reveals the world's top marijuana stocks every serious investor should consider right now. Normally valued at $499, it can be yours absolutely free. To learn how to get your free copy, click here. This offer is only available to the first 500 people who respond today. So please go here now to reserve your copy.
Follow us on Twitter @moneymorning and like us on Facebook.
Related Articles: