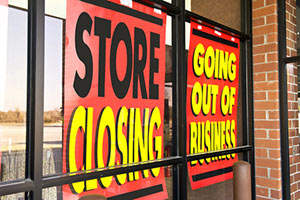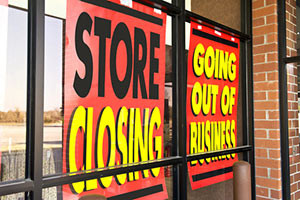 The day after Thanksgiving (and for some shoppers, the night of) kicks off the critical holiday season for American companies…
Last year, over 74.2 million Americans shopped for the best deals of the season on Black Friday, amassing over $10.4 billion in profits for retailers, according to research firm ShopperTrak.
Of that $10.4 billion, $4.45 billion was spent on online transactions alone – a growing problem for most traditional retailers.
As businesses gear up for the crowds on Nov. 26, some are preparing for the last time.
We've compiled a list of three American companies expected to disappear from the U.S. market in 2017…
3 American Companies on Deathwatch
No. 3: Office Depot Inc. (Nasdaq: ODP)
Office Depot announced in August that it will be closing more than 300 stores in order to cut costs by $250 million over the next two years. These closings are in addition to the 400 stores ODP has closed since 2014.
Adjusted sales fell 4% in Q3 compared to the prior-year period and are expected to drop even lower in Q4.
Don't Miss: Malls Are Trying One Last Thing to Rejuvenate Shoppers, and It's Totally Sad
The company was set to merge with its last remaining rival, Staples Inc. (Nasdaq: SPLS), this year, but was denied by a federal judge on May 10 because of antitrust concerns.
After the government squashed the merger, the outlook for the office-supply giant grew dim.
"[Office Depot's rival] Staples has the best chance of surviving," predicted Money Morning Technical Trading Specialist D.R. Barton on "Varney & Co." on Nov. 17. "But without the Office Depot Store consolidation, the company has a long row to hoe."

Staples isn't Office Depot's only concern, however…
Office-supply companies have been struggling to keep up with market-dominating online retailers like Amazon.com Inc. (Nasdaq: AMZN). Amazon Business currently accounts for 9.9% of B2B sales, as estimated by research firm eMarketer. According to Forrester Research, Amazon Business will account for 12% of B2B sales in the United States by 2020. Some of the most widely consumed products on the platform include computers, IT equipment, and office supplies – directly in competition with Office Depot.
For now, Office Depot is focusing on trying to save its North American business over the next year since it sold its European business to the Aurelius Group in September.
ODP stock currently trades at $4.62 per share. It has lost 18% so far in 2016.
No. 2: Pacific Sunwear Inc.
Joining the likes of other failing teen-clothing retailers like Wet Seal and Aeropostale, Pacific Sunwear (PacSun) filed for Chapter 11 bankruptcy protection in April 2016.
The retailer blames high rent and a large debt load for the failure.
According to Fortune, PacSun operates 600 stores, down from 873 in 2011, and more closings are likely to happen after the 2016 holiday season. Private-equity firm Golden Gate announced in early April that it will be converting 65% of PacSun's debt in exchange for equity as well as injecting at least another $20 million in capital for the retailer.
But that might not be enough to save the surf-wear giant…
The upcoming 2016 holiday season will be an indicator of how long the company will stick around, at least in physical store locations. Sales for PacSun dropped 2.6% over the past year.
PacSun was removed from publicly trading in April, after falling below the $1 Nasdaq requirement for over 30 consecutive business days.
But PacSun's troubles are a walk in the park compared to this American retail icon on deathwatch…
No. 1: American Apparel Inc.
The Made-in-the-USA retailer filed for "Chapter 22"– otherwise known as Chapter 11 bankruptcy for the second time — on Nov. 14 due to a failed turnaround strategy and a 33% decline in year-over-year sales. The company also revealed that it had not made a profit since 2009.
Trending Now: Inside the 5 Largest Chapter 11 Bankruptcy Filings in the U.S. History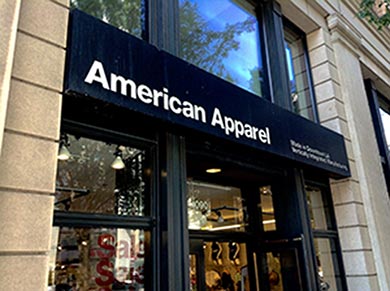 American Apparel's chief restructuring officer Mark Weinstein blamed the failure on "inability to optimize merchandising, boaster online sales, improve quality expeditiously, and form a cohesive marketing plan," as reported to USA Today on Nov. 14.
After the company's former CEO Dov Charney was fired over accusations of sexual harassment in the workplace in 2014, American Apparel brought on Paula Schneider as the replacement CEO. Schneider was expected to create direction for the retailer but left in September.
The company is expected to be bought out by Canadian clothing manufacturer Gildan Activewear Inc. (NYSE: GIL) for $66 million. The bid includes American Apparel basics, like t-shirts and screen prints, but does not include ownership of the company's 200-plus stores.
The NYSE stopped the trading of shares in American Apparel after the first Chapter 11 bankruptcy filing in October 2015.
Up Next: Money Morning Chief Investment Strategist Keith Fitz-Gerald shows readers how to profit from the failures of large companies. He gives step-by-step advice on which companies to target and how to short them in "Outrageous Profit Potential from Three of the World's Worst Companies."
Want more investing news? Follow Money Morning on Twitter @moneymorning or Facebook.
You may also like…
America's Favorite Soup Is in Trouble – and This Is the Best Time to Profit
Triple Your Money If There's a "Trump Dump"