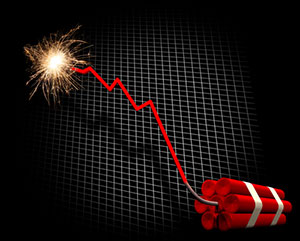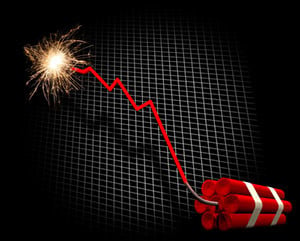 The stock market might be breaking records, but smart investors know what causes a stock market crash and can see the warning signs…
Despite Election Day volatility, stock market indexes have been setting all-time highs since Donald Trump's victory. The Dow broke all-time records four days in a row last week. On Friday, Nov. 18, the Nasdaq broke its intraday record high. The S&P 500 is just 100 points from its record.
But this isn't necessarily good news. Experienced investors know speculation and overvaluation can be what causes a stock market crash. And record-breaking highs like this might not be sustainable…
That's why we think there is evidence for a 2017 stock market crash.
But before we show you why we are concerned about a stock market crash happening soon, we first want to explain what causes a stock market crash. That's because many of the same warning signs seen before past stock market crashes are apparent today…
What Causes a Stock Market Crash?
Let's look at two of the biggest stock market crashes in U.S. history…
The first started on Oct. 29, 1929, now known as Black Tuesday.
On Black Tuesday, the stock market plummeted 12%. Between September 1929, before the crisis started, and June 1932, the bottom of the stock market crash, the Dow Jones fell by 86%.
It took 25 years for the DJIA to fully recoup the losses.
Up Next: Get the Best Investing Research Today to Grow Your Money
The stock market crash was brought on by unrestrained speculation. The stock market steadily rose throughout the 1920s. Investors piled money into stocks expecting the rise would continue.
But this was speculation, not investment. Speculators were buying stocks with borrowed money. Forty percent of bank loans were used to buy stocks. Banks loaned more money than the total of U.S. currency in circulation.
When the stock market began to slide in October 1929, investors panicked. Speculators wouldn't just lose money on stocks; they wouldn't be able to pay back loans they used to buy the stocks.
Similarly, the stock market crash of 2008 was also driven by massive speculation.
In 2008, speculators were lured to the real estate market due to steadily rising housing prices. Prices were rising so much that banks were willing to offer lending terms to nearly anyone in the form of subprime loans.
The subprime loans helped further drive housing demand, as people who would not typically be able to afford a home were offered tantalizing terms. This worked as long as housing prices continued to rise. Borrowers could refinance their loans after the price of their house increased and thus be able to afford them. But when housing prices eventually dipped, the market collapsed.
The scope of the crisis extended to the stock market as well. Rising housing prices and subprime mortgages had also fueled speculation on the stock market through mortgage-backed securities. Thus, when the housing market crashed, the stock market did, too.
The biggest one-day drop in the history of the Dow occurred on Sept. 29, when it lost nearly 7% of its value. It plunged by 25% over the next week. Overall, investors lost $16.4 trillion in net worth, and retirement savings worth $2 trillion evaporated overnight.
We've seen how speculation led to major financial crashes in the past. But we are now seeing signs of that happening again…
Is a Stock Market Crash Coming?
Money Morning believes that there are three indicators showing a stock market crash may occur.
The first is the Fed's policy of historically low interest rates.
The Fed has kept interest rates below 1% since dropping them from over 5% in 2008. When rates are this low, bonds become an unattractive investment, since they return very little in yields.
As a result, investors move their money to the stock market to get better returns. This means the stock market is being driven up due to Fed policy, not due to economic growth. An overvalued stock market isn't sustainable, as past stock market crashes have shown us.
The Fed is likely to increase interest rates this year. The probability of a rise in interest rates at the next Fed meeting on Dec. 13-14 is up to 95.4%, according to CME's FedWatch Tool.
An increase in interest rates could lead to a pullback as investors move back to bonds.
The second indicator is weak corporate earnings.
FactSet, a company that tracks earnings of the companies that make up the S&P 500, estimated more than a 2% decline in earnings for Q3 2016. Not only that, but the third quarter was the sixth consecutive period of falling earnings.
Declining corporate earnings are an important indicator for us because corporate earnings are what should be driving the record highs the stock market has been seeing. Since earnings have been down, it means speculation must be fueling the gains.
The third indicator a stock market crash might happen is the weak economy. The U.S. GDP growth rate plummeted by 76% between July 2014 and July 2016.
Third-quarter GDP growth was 2.9%, down from 5% in 2014.
Weak economic growth shows us that a booming economy isn't what's driving the stock market's gains, either. This is more reason to think speculation is behind the current bull market.
As we saw before, an overvalued stock market caused by speculation can have dire consequences. That's why we've put together a stock market crash protection plan to help investors protect their money…
How to Protect Your Money from a Stock Market Crash
Money Morning recommends having a plan that will augment your portfolio in uncertain times and protect it if a crash happens.
Michael E. Lewitt, Money Morning Global Credit Strategist, recommends up to 20% of portfolios should be in gold. Gold is a stalwart investment, especially during periods of volatility.
The easiest way to invest in gold is through a gold ETF. These give investors all the benefits of a gold investment without having to worry about storing the precious metal. Money Morning likes the SPDR Gold Trust (NYSE Arca: GLD).
Another recommendation to help offset the impact of a market crash is to purchase ETFs that move inversely with major stock market averages.
ProShares Short S&P 500 (NYSE Arca: SH), for example, shorts the S&P 500. If the S&P 500 falls, SH will rise. This is a risky investment and shouldn't be bought to hold, but if the stock market is set to pull back, then owning SH can insure your portfolio against a steep drop.
Up Next: Turbocharge your investing returns with our top 5 money-making investment reports. Get them now – they're absolutely free. Click here…
Follow Money Morning on Facebook and Twitter.