The federal government and Wall Street are at it again, scratching each other's backs at your expense...
They did it in 1999, when the government repealed Glass-Steagall - and opened the door leading to the Financial Crisis.
They did it in September 2008, when the Treasury Department loaned Wall Street banks $700 billion of U.S. taxpayer money to bail them out from their own misdeeds, many of which stemmed from repealing Glass-Steagall.
And yet again in 2010 when they passed Dodd-Frank, a reform that was meant to reign in excesses but which has actually further concentrated Wall Street's grip.
And now these two institutions are pushing to socialize your retirement savings accounts...
This isn't just some far-off hypothetical scenario.
Wall Street may get its meat hooks into your nest egg as soon as next year.
At least if private-equity leviathan Blackstone Group LP (NYSE: BX) CEO Tony James has anything to say about it.
You see, James has a working theory about what to do with the U.S. retirement system that currently charges participants large 401(k) and 403(b) asset and consulting percentage fees...
"Managing [retirement accounts] in a pooled fashion would let [retirees] leverage that scale to pay lower fees," James said in a March 15 interview with Bloomberg, according to International Business Times on Oct. 19. "They would also have access to [the] highest-quality managers who could adopt long-term investment horizons and invest in less liquid, but higher returning, asset classes that are more appropriate for retirement funding."
What James is suggesting here is socializing U.S. workers' retirement plans...
Introducing Uncle Sam's Plan to Socialize Your Retirement
A year ago on Oct. 21, 2015, James and labor economist Teresa Ghilarducci proposed the "Guaranteed Retirement Account" (GRA) plan.
Designed to be a government-sponsored retirement savings initiative, the GRA would require workers and employers to put 3% of payroll funds into individual retirement accounts. These accounts would then be run by "professional investment managers" -- as James himself put it in an interview with The New York Times on Dec. 11, 2015. Individual voluntary 401(k)s would be replaced by a "single government-sponsored national system."
In other words, you'll be forced to hand over your retirement funds, and you'll have no say in selecting the people who invest it.
Much of the money going into James' proposed government-mandated GRAs would flow directly to Wall Street, where companies like - surprise! - Blackstone Group could profit big time off these assets.
Must Read: How Small Investors Can Take on Wall Street... and Win
James and Ghilarducci's pitch last year garnered immediate praise from the media. The New York Times, USA Today, and CNBC commended them for their economic inventiveness. Bloomberg's report came out with the title, "Blackstone's Tony James Wants to Help You Retire."
In short, the GRA plan was packaged as a program that would help millions of Americans prepare for their futures so that one day they could live comfortably into their golden years.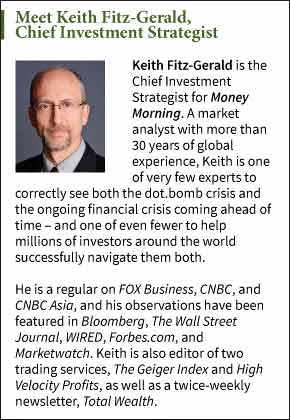 You'll remember this was precisely how President Barack Obama's "Affordable Care Act" proposal was presented by the media in 2010 - as a saving grace for swaths of Americans who couldn't afford private insurance. [Editor's Note: While the Affordable Care Act has helped millions of low-income Americans get medical care, middle-class citizens who have signed up for Obamacare plans are getting crushed financially. Here's more...]
Six years later... well... just look at how the ACA is "thriving." After all, 2 million people enrolled in the program make too much money for subsidies. Meanwhile, premium costs are set to soar in 2017, while the program itself becomes more and more monetarily unsustainable.
In order to get a better perspective on how James' GRA would affect your retirement, Money Morning sat down with an expert on the matter: our own Chief Investment Strategist Keith Fitz-Gerald.
Never one to mince words, his take may shock you.
Here's why Fitz-Gerald thinks GRAs will be the greatest "government-sanctioned robbery" in the history of mankind...