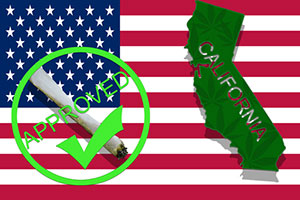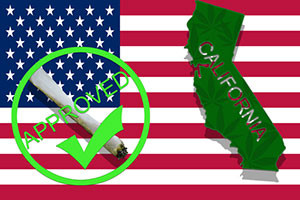 California voters approved recreational marijuana legalization for adults aged 21 and over on Nov. 8, which will be a boon for the cannabis industry and marijuana stocks.
Denver and Washington were the first two states to legalize recreational marijuana for adults, voting in favor of the move in 2012. But California's size and stance on cutting-edge issues will be a huge catalyst for the marijuana industry to gain widespread acceptance.
"Fact is, California stands as one of the world's largest economies, so just the sheer volume of sales in the state would be massive," Money Morning Director of Tech & Venture Capital Research Michael A. Robinson told me. "As we have seen with things like environmental legislation and gay rights, the state is on the cutting edge of major issues that have socioeconomic impacts. Other states will look at California's success in rolling this out as their model for legislation."
This vote is a major win for the industry – especially when you look at all the effort that went into passing marijuana legalization in California.
Other states may have similar challenges, so don't expect legalization everywhere just yet.
It took over 40 years for marijuana reform in California, and it started back in 1972…
California Marijuana Legalization Timeline: 1972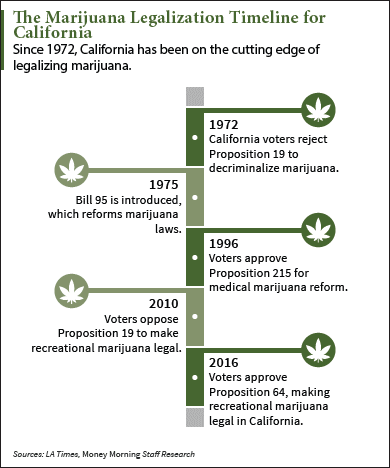 In 1972, California voters rejected Proposition 19, which would have decriminalized marijuana possession and cultivation for people aged 18 and older.
Those in favor of Prop 19 argued that the proposition removed criminal penalties and did not legalize or encourage marijuana use. Proponents also said cultivation of marijuana provided a legitimate source for personal use, limiting the need to purchase marijuana illegally.
Opponents of Prop 19 said that decriminalizing marijuana would only encourage its use. They also said the current laws were a successful deterrent to drug abuse by young people, according to CognitiveLiberty.org.
Prop 19 failed, with 66.5% voting against it.
California Marijuana Legalization Timeline: 1975
After Prop 19 failed, Sen. George Moscone (D-CA) and attorney Leo Paoli created the California Senate Select Committee on the Control of Marijuana. The study's aim was to analyze the social and fiscal impacts of marijuana prohibition.
The study found marijuana arrests for simple possession were costing California $100 million annually, according to the Los Angeles Times.
Because of that, Moscone introduced Senate Bill 95 in 1975, which would make possessing an ounce or less of marijuana a traffic-style citation rather than a felony.
Jerry Brown signed Bill 95 into law during his first term as governor.
California Marijuana Legalization Timeline: 1996
In 1996, 55.58% of California voters supported Proposition 215. Prop 215 exempted patients and defined caregivers from criminal laws that prohibit cultivation or possession of marijuana.
This was a historic vote because marijuana had been outlawed for roughly 60 years.
BRILLIANT: Average Americans Are Becoming Marijuana Millionaires
In 2003, Senate Bill 420 clarified which government agencies were in charge of enforcing marijuana laws. It also created a voluntary ID card system to identify verified medical marijuana patients.
California Marijuana Legalization Timeline: 2010
Proposition 19 in 2010 aimed to legalize recreational marijuana for adults aged 21 or older.
Major state officials were against Prop 19 at the time, and the Democratic Party declined to endorse it.
It failed, as 53.5% of voters were against Prop 19 in 2010.
But following Colorado and Washington legalizing recreational marijuana use in 2012, 55% of California voters supported marijuana legalization, according to the LA Times.
California Marijuana Legalization Timeline: 2016
On Nov. 8, California voters approved Proposition 64, which allowed adults aged 21 and over to use marijuana recreationally.
California residents can now grow up six pot plants in their homes, as well as possess an ounce of marijuana buds or eight grams of cannabis concentrates.
Marijuana dispensaries can start applying for temporary state licenses for recreational marijuana, but over-the-counter pot sales aren't expected until next summer, according to the Sacramento Bee.
And eventually, more and more states will legalize recreational marijuana…
State officials across the United States can't ignore the massive amount of revenue states like Colorado are generating and California will generate from legal marijuana sales. Colorado's marijuana sales totaled $94.7 million in September 2016, and Colorado collected more than $135 million in marijuana taxes and fees in 2015.
But states won't be the only ones who can profit…
As a service to Money Morning readers, we're now making available a 90-page cannabis investing guide called "The Roadmap to Marijuana Millions."
This "bible of weed investing" reveals the world's top marijuana stocks every serious investor should consider right now.
Normally valued at $499, it can be yours absolutely free. To learn how to get your free copy, click here.
This offer is only available to the first 500 people who respond today. So please go here now to reserve your copy.
Follow Money Morning on Facebook and Twitter.