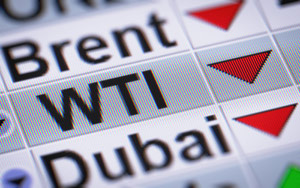 The WTI crude oil price today is down 1%, but it's up 3% since last week, as the approaching OPEC meeting has increased oil price volatility.
Oil prices have been volatile since OPEC announced a tentative plan to cut oil production in September. Crude prices surged by 10% in the week after the Sept. 28 announcement in Algiers and would go on to pass $50 a barrel with a three-month high of $52.74 on Oct. 19.
Since then, the crude oil price plunged to $43.73 a barrel on Nov. 11.
As of 12:00 p.m. today, the price of crude oil was $47.77.
While the price of oil has been volatile over the last few months, it's moved even more dramatically than usual this week. Here's why...
Why Oil Is Up This Week
Uncertainty over the next OPEC meeting has translated into unstable oil prices.
Renewed optimism that OPEC can reach an agreement during the Nov. 30 meeting has led to an oil rally over the last week, but a deal is far from certain.
Even though the cartel had agreed to cap production at its Sept. 28 meeting, the actual specifics still had to be decided, including how much each country would be responsible for cutting.
Since then, oil prices have risen and fallen on news over the negotiations.
The deal appeared to be imperiled as Iran and Iraq jockeyed for exemptions from a production limit. Iran was granted an exemption due to its need to produce more oil after international economic sanctions against the country ended in January. Iraq then demanded an exemption of its own due to its ongoing war with ISIS.
With two of the top three oil producers in OPEC wanting out of the deal, it appeared a final agreement was doomed. However, on Nov. 19, Iran's oil minister announced a final deal was "highly likely."
Don't Miss: Dr. Kent Moors' Bold 2017 Oil Price Forecast
The U.S. presidential election on Nov. 8 also added to the uncertainty in the oil market.
WTI crude oil closed at $45.45 per barrel on Election Day and slid 3.4% by the end of the week. Donald Trump's plans to make America energy independent by increasing oil and gas production could potentially undermine an OPEC agreement. Even if OPEC comes to an agreement, more production output from the United States could compensate for OPEC's cut.
But the U.S. election has affected the OPEC negotiations in another way. Dr. Kent Moors, Money Morning's Global Energy Strategist, believes OPEC's response to the American election tells us something important about the OPEC agreement...
Will OPEC Cap Oil Production Next Week?