I've been telling you for most of 2016 that financial technology, or fintech, is changing the investing and trading landscape.
One of the most profound fintech disruptors is the creation of automated investment services, more commonly known as "robo-advisors."
The idea of automating investment services was the brainchild of a handful of millennial-focused fintech entrepreneurs, most of whom are millennials themselves.
With their general aversion to traditional fee-based advisory services, their experience of living through the tech-wreck of 2000 and the 2008 market shellacking, their comfort and trust in computers and technology, millennials (the generation born or coming of age between 1982 and 2000) were presumed to be the perfect audience for robo-advisory services.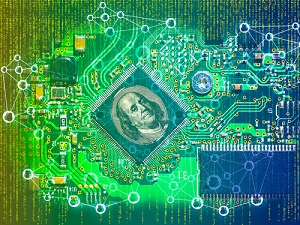 Sure enough, assets under management by robots (and their human helpers) exploded into the billions this year.
But millennials aren't the only group who are enamored with these low-cost, automated investment services. They're catching on with lots of investors.
If you're not one of those investors, today, I'm going show you how robo-advisors work and what they cost, as well as the pitfalls associated with this newfangled investing horizon.
Let's get started…
Low Fees Are a Huge Incentive
Automated investment services aren't hard to understand, on the surface at least.
Basically, you fill out online "paperwork" including questions about your age, maybe your education level and knowledge or investing experience, your financial situation, your goals, and other pertinent questions that traditional financial advisors or registered investment advisors should be asking you.
Don't Miss: Get the Best Investing Research Today to Grow Your Money
Then your data is run through algorithms that determine how much you should invest, what you should invest in, and when to reallocate or rebalance your portfolio.
If everyone was comfortable with robo-advisors there wouldn't be any need for additional human help. But a lot of investors entering into the robo-advisor world want some additional human contact.
So there are different product offerings available.
In fact, there are five so-called automated investment service account types:
Direct-to-consumer accounts with no human interaction
Direct-to-consumer accounts with limited advisor assistance
Direct-to-consumer accounts with heavier advisor assistance
Traditional services with in-house digital wealth management offerings
Retirement-specific providers, including both direct-to-consumer and business-to-business providers
As far as fees, they range from low to super low.
Different providers offer different fee structures and several offer multiple structures.
The lowest fee I've seen is 25 basis points, or 25 one-hundredths of one percent. While that fee looks like a come-on fee because it's offered on accounts with less than $10,000 invested, annual fees vary. The basic fee model is an "assets under management" annual management fee, where you pay a fee based on how much money you have parked in your account.
A few services offer fixed annual fees. Some offer sliding scale fees, where the more money you put into your account, the smaller the fee becomes. And most providers offer additional fee-based services if you want some hand-holding that doesn't involve a computer.
What Happens in a Crash?
Join the conversation. Click here to jump to comments…
About the Author
Shah Gilani is Chief Financial Strategist for Money Map Press and boasts a financial pedigree unlike any other. He ran his first hedge fund in 1982 from his seat on the floor of the Chicago Board Options Exchange. When options on the Standard & Poor's 100 began trading on March 11, 1983, Shah worked in "the pit" as a market maker. The work he did laid the foundation for what would later become the Volatility Index (VIX) - to this day one of the most widely used indicators worldwide. After leaving Chicago to run the futures and options division of the British banking giant Lloyd's TSB, Shah moved up to Roosevelt & Cross Inc., an old-line New York boutique firm. There he originated and ran a packaged fixed-income trading desk and established that company's "listed" and OTC trading desks. Shah founded a second hedge fund in 1999, which he ran until 2003. Shah's vast network of contacts includes the biggest players on Wall Street and in international finance. These contacts give him the real story - when others only get what the investment banks want them to see. On top of the free newsletter, as editor of The 10X Trader, Money Map Report and Straight Line Profits, Shah presents his legion of subscribers with the chance to earn ten times their money on trade after trade using a little-known strategy. Shah is a frequent guest on CNBC, Forbes, and MarketWatch, and you can catch him every week on FOX Business' "Varney & Co."