The stock market is going ballistic right now, still riding the momentum of the Nov. 8 election.
That's led to some of cable's loudest talking heads giving contradictory advice about how to allocate your capital for "the largest returns."
Most of their recommendations are going to leave you at the mercy of the market. Sure, this is a nice bull run, but there's still a lot of uncertainty out there, driven by headlines that haven't been written yet.
Believe me, you don't want to be out of position when they get written.
It's all about getting control back from the market and going after some of the biggest gains that are still out there...
...on sectors that are set to take a big hit under the incoming administration.
I've already put my Money Calendar Alert and Weekly Cash Clock readers into trades like the ones I'm about to show you, but there's plenty of room...
The Trump "Effect" Will Send These Tumbling - Perfect
Last week, I showed you how to trade the sectors that are almost certain to soar on Trump's watch: biotechnology, financials, and healthcare. Plenty of the market's biggest leaders right now are in those sectors.
But... for every sector that's set to reap the benefits of chance, there's another that's either on the edge of a steep drop or going down right now.
That's bad news for buy-and-hold investors, or folks stuck in big long positions.
But it's great news for nimble traders... who can trade in-the-money, near-dated puts on the exchange-traded funds (ETFs) I'm going to show you that track these sectors.
Here's what's going down...
Alternative and Renewable Energy
Trump has grand plans to make the U.S. energy independent, including ramping up the coal industry and getting miners back to work. He's also promised to drill more oil and increase gas development domestically. He's said that he's not completely against solar energy but does question how viable it is to invest in when it could take a long time to reap the rewards.
And this has shaken up the alternative energy and renewables industry, with wind and solar stocks, like First Solar Inc. (Nasdaq: FSLR) and SolarCity Corp. (Nasdaq: SCTY), taking a tumble following the election.
Now there are many alternative ETFs that you could trade puts on to milk profits from the overall sector, but this is the largest (by total assets): Guggenheim Solar ETF (NYSE Arca: TAN).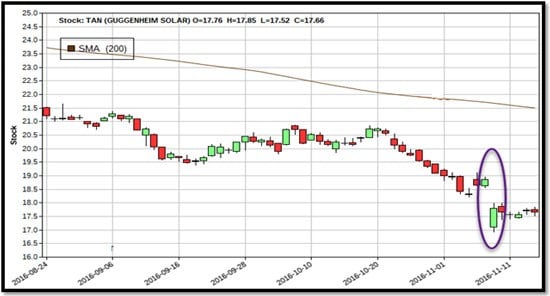 Check out the 200-day simple moving average (SMA) on the chart above. The SMA is a simple technical analysis tool that gives you the average price data of a stock or ETF over a specific time period (you can tailor it to whatever timeframe you like, making it a good tool for both short-term and long-term trades).
Here's a pro tip: You can calculate the SMA yourself by adding up the prices and dividing by the number. So to find the 200-day SMA for TAN, you'd add up the last 200 prices and divide by 200. If you were looking for, say, the 50-day SMA, you'd add up the last 50 prices and divide by 50.
So if TAN crosses over its 200-day SMA, then this tells you that you're looking at a bullish indication of where the stock will move from there and can expect higher prices to come.
But if it drops below its 200-day SMA, as it certainly has here, then you know you're looking at a bearish indication of its future movements and can expect lower prices to come.
The Bond Market
It's the understatement of the year to say that bonds have taken a beating since Trump's victory. The market has shed $1 trillion. Interest rates on U.S. bonds alone have spiked, which makes it much more expensive for the federal government to borrow money. In fact, the surge in Treasury bond rates, like the iShares 20+ Year Treasury Bond ETF (Nasdaq: TLT), has only happened three times in the past decade.
This might not be a popular trade, but it's not a crowded one, either. That's because folks still believe this market could be a "safe haven" for money during uncertainty. But with Trump championing spending trillions of dollars on infrastructure and defense, among others, it clearly isn't. And if that spending comes from borrowing, look for continued depression on bond prices and higher interest rates to come.
TLT generally goes the way the overall U.S. bond market is going. And as you can see, since Election Day, it isn't pretty...
[mmpazkzone name="in-story" network="9794" site="307044" id="137008" type="4"]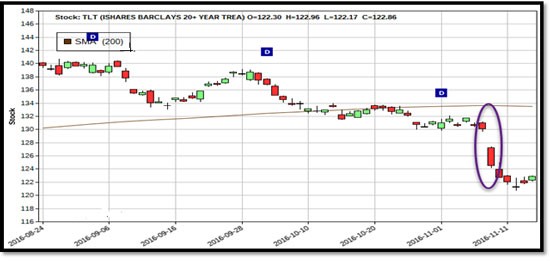 The smart play here is trading put options on this ETF or finding more liquid stocks within this sector for put trades. The more experienced traders among us might even be tempted to short the bond market, but I'd caution against it: It's hard to short debt, it's expensive, and you'll need broader clearance from your broker.
Auto Manufacturers
Foreign carmakers with a presence in the American market are expected to get hit the worst. This is a bit of a speculative play, largely in part due to Trump's stated intention of either renegotiating or pulling out of the North American Free-Trade Agreement with Mexico and Canada. That's easier said than done, of course, but if a withdrawal does come to pass, this sector will be one of the first and hardest hit.
And if you don't think it could hurt the auto industry that bad, just take a look at the global automotive industry ETF, First Trust Nasdaq Global Auto Index Fund (Nasdaq: CARZ), and its one-day drop after the election results came in: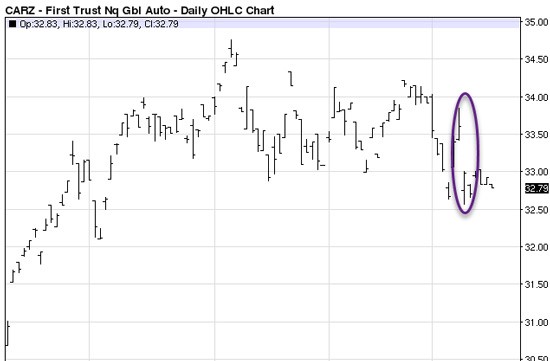 Like the bond market, you could consider put options on this ETF. But, I repeat: Short-selling these shares isn't the best idea because of both the costs and risks involved.
Just like the sectors I'm expecting to go up as the new administration comes in, I'm going to be watching these sectors closely for even more downside profit opportunities (especially for my Money Calendar Alert and Weekly Cash Clock readers). We could be on the verge of a very lucrative four years.
Tom's Making a Bet You Can't Lose... America's No. 1 Trader never recommends a move unless the odds are highly in your favor. Those who followed along with his little "bets" this year could have already pocketed - by very conservative estimates - total profits of $28 million. Now he's betting he will show you 40 triple-digit trades that could easily add up to at least $40 million in total profits in the next year... or you can claim your share of $1 million in cash. The only way you can lose out is if you don't check this out before Monday.
Follow Tom on Facebook and Twitter.
About the Author
Tom Gentile, options trading specialist for Money Map Press, is widely known as America's No. 1 Pattern Trader thanks to his nearly 30 years of experience spotting lucrative patterns in options trading. Tom has taught over 300,000 traders his option trading secrets in a variety of settings, including seminars and workshops. He's also a bestselling author of eight books and training courses.