As holiday sales spike, Amazon stock is expected to take off this holiday season.
But from what these charts show us, the Amazon.com Inc. (Nasdaq: AMZN) rally will be short, sweet, and won't last past the holidays.
Here's a look at what's in store for AMZN shares this holiday season — and how one of the top tech investors in the industry suggests playing Amazon stock right now…
The Growth of E-Commerce
Amazon has capitalized greatly on an overall shift toward online shopping…
Since 2002, the U.S. e-commerce market (where commercial transactions are conducted electronically via the Internet) has been constantly growing, with an annual average compound growth rate of 13.47%. In 2015, U.S. online sales reached $359 billion, compared to $72 billion in 2002.
By 2020, projections put the e-commerce market value up to a whopping $530 billion.
It's no surprise Amazon has benefited from this growth in the e-commerce market. The company is the largest Internet-based retailer globally in terms of total sales and market capitalization. In 2015, it boasted a dominant 68% market share over other online retailers.
The retailer has also capitalized on another powerful "sub trend" in e-commerce…
During the holiday season — a period measured by company performance in the fourth quarter (roughly Oct. 1-Dec. 31) — e-commerce sales skyrocket even more. For example, U.S. companies saw e-commerce Q4 sales grow nearly 4% in 2015 versus the same period in 2014. That translated to $107.1 billion generated from online orders. The National Retail Federation (NRF) forecasts online sales in 2016 will increase another 7% to 10% compared to last year — amounting to $117 billion.
Here's a look at exactly how the growth of e-commerce, both generally and during the holiday season, has impacted AMZN stock the past four Q4s…
CHARTS: What the "Holiday Season" Does to Amazon Stock
In a press release on Oct. 27, 2016, Amazon said it expects to see net sales in Q4 – the 2016 holiday season — to grow between 17% and 27% compared to the same period in 2015: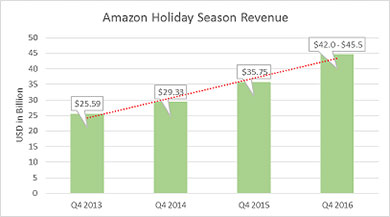 Beyond this expected trend of increased holiday season revenue, we've noticed another pattern — this one regarding Amazon's share price.
Take a look at these four AMZN stock charts that highlight the company's fourth quarters in 2012-2015. You'll notice the holiday season brings an initial share price drop, followed by a rise, and then another dip: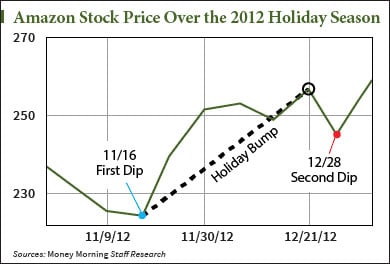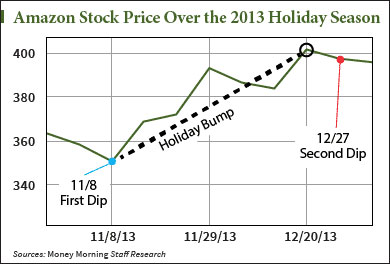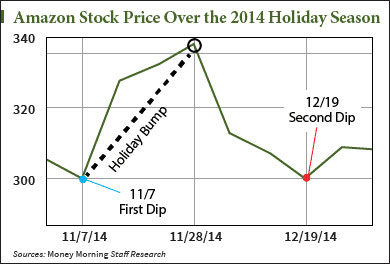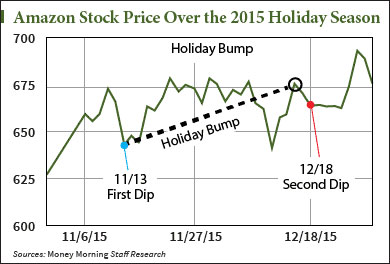 Amazon Stock: The First Dip
Over the past four holiday seasons, a "first dip" – noted by the blue point – has occurred within the first 10 days of November (roughly between the 7th and the 16th).
Amazon Stock: The Holiday Bump
The holiday bump – noted by the dotted trend line – averages out to an 11.5% increase in AMZN's stock price between the two dips – roughly after Thanksgiving and leading into Christmas.
Amazon Stock: The Second Dip
After peaking, AMZN dips again. This is noted by the red point. It usually has occurred leading up to Christmas (in 2014, on Dec. 19; in 2015, on Dec. 18) or shortly after (in 2012, on Dec. 28; in 2013, on Dec. 27).
Based on this "dip-bump-dip" pattern, how can investors play Amazon stock right now as we head into another holiday season?
We asked Money Morning Director of Tech & Venture Capital Research Michael A. Robinson. Robinson is a 34-year Silicon Valley veteran and one of the top technology financial analysts working today. He has long predicted rapid growth from Amazon stock…
"Back on Nov. 4, 2013, just a little over three years ago, I predicted this stock would hit $1,000," Robinson said today. "At the time it was trading at $332. It closed yesterday at $735. I see no reason to change my prediction."
Here's how Robinson suggests investors play AMZN right now…
How to Play Amazon Stock Right Now
Robinson likes Amazon's aggression. The firm is always looking for the next area to move into. For example, five years ago it entered the online streaming arena; according to Robinson, that was a move that "could pay off for them — and is an answer to both Apple and Netflix."
In addition to its track record of fearlessly tackling new industries, Robinson notes the retailer has come to dominate "hosted web services in key areas of cloud computing." According to Forbes, worldwide spending on public cloud services is expected to grow at a 19.4% compound annual growth rate (CAGR) to hit more than $141 billion by 2019. Indeed, Amazon has positioned itself well — in 2015, Amazon Web Services (AWS) generated $7.88 billion in revenue in the fourth quarter. That was a 69% rise compared to the same period a year before.
Additionally, Robinson likes Amazon's investment into numerous robotics firms and says the move is "starting to pay off in shipping and logistics efficiencies."
With all that in mind, here is how Robinson suggests readers build a position in Amazon today, using his "Cowboy Split" entry system…