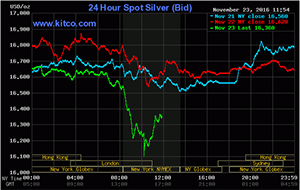 The factors behind why silver prices are down today (Wednesday) stem from the usual suspects: stronger than expected economic data and a rally in the U.S. Dollar Index.
Shortly before noon, spot silver prices were off about $0.40, or 2.4%, to $16.36 an ounce.
Weighing on silver prices today was the Commerce Department report showing that new orders for U.S. manufactured capital goods rebounded sharply in October.
Driven by rising demand for a range of machinery and equipment, durable goods last month rose 4.8%. That was solidly higher that the expected 2.7% rise.
Today's upbeat durables news provides the U.S. Federal Reserve with one more reason to raise rates at its Dec. 13-14 meeting.
A recent string of solid economic data, improving corporate earnings, and rising share prices have investors preparing for an interest rate hike from the U.S. central bank next month. Market odds for a rate increase in December currently sit at 93.5%, according to CME Group's FedWatch Tool.
Today's fresh prospects for an interest rate increase in a couple of weeks sent the greenback higher. The U.S. Dollar Index, which measures a basket of six major world currencies against the greenback, hit a new 13-year high Wednesday morning. Since silver is priced in U.S. dollars, a higher dollar makes silver more expensive to those who buy it with other currencies.
Silver buyers today were also taking a guarded stance ahead of the FOMC November minutes, which will be released at 2 p.m. The overwhelming consensus is the minutes will show that policymakers are prepared to move interest rates up in December. Yet the minutes could provide some clues as to how aggressive the Fed expects to be over the next several months.
Intensifying expectations of an interest rate hike continue to pressure silver prices. They're down 4.26% over the last five days, 8.08% over the last month, and 13.30% over the last three months.
Still, silver prices remain up 16.47% year to date and are poised to move higher.
Here's why…
Silver Prices Set to Rise into 2017
Donald Trump's unexpected presidential win on Nov. 8 put the risk-on trade back on. The president-elect's plans for a $1 trillion infrastructure upgrade, tax cuts, and reduced banking regulations have sent the Dow, S&P 500, and Nasdaq to several new records. The rally in stocks has taken some of the shine out of silver, which is deemed a safe-haven and money-alternative investment.
But silver will get a boost from industrial spending…