(Kitco News) – World equity markets were mixed in quieter trade Wednesday. U.S. stock indexes are pointed toward slightly lower openings when the New York day session beings. The U.S. Thanksgiving holiday on Thursday will keep the world marketplace somewhat muted the rest of this week. The major U.S. stock indexes have this week hit record highs, in the aftermath of the surprise U.S. presidential election that resulted in a win by Donald Trump.
Gold prices are trading near steady in early U.S. dealings.
There is a heavy slate of U.S. economic data due for release Wednesday, including the weekly jobless claims report, the weekly mortgage applications survey, durable goods orders, the monthly house price index, the U.S. flash manufacturing PMI, the University of Michigan consumer sentiment survey, new residential sales, the weekly DOE liquid energy stocks report, and the FOMC November meeting minutes.
The FOMC minutes will be the highlight of the data released today. However, with most market watchers already expecting the Fed to raise U.S. interest rates in December, today's FOMC minutes are not likely to be markets-movers.
In overnight news, the Euro zone Markit composite purchasing managers' index
(PMI) rose to 54.1 in November from 53.3 in October. The November reading was above market expectations and was the highest in almost a year.
Nymex crude oil futures prices are slightly higher in early U.S. trading.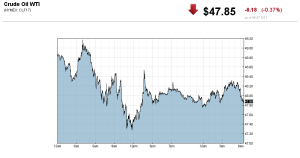 Nymex prices are closing in on $50.00 a barrel and on Tuesday hit a three-week high. Energy market watchers are awaiting the Nov. 30 OPEC oil cartel meeting. Many reckon OPEC may be able to come to a final agreement to cut production, although the outcome of the meeting still remains much in question.
The U.S. dollar index is slightly higher today and near last week's 13-year high. The strong greenback has been a bearish weight on the raw commodity sector the past two weeks.
Overnight, spot gold prices, on Kitco.com traded in a range with resistance at $1,215.50 an ounce and support at $1,209.70 an ounce.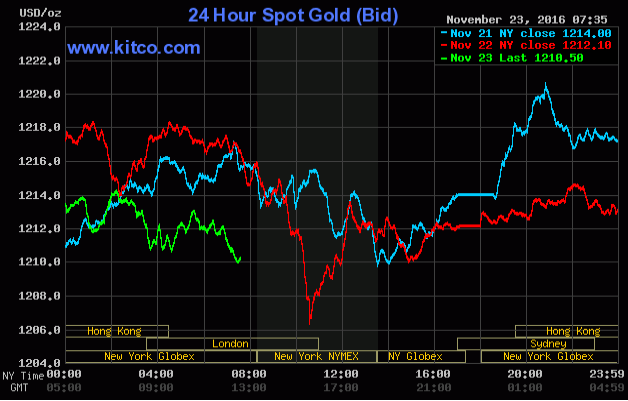 By Jim Wyckoff, contributing to Kitco News; jwyckoff@kitco.com
Follow Jim Wyckoff @jimwyckoff for breaking market news.