When is the Snap IPO date? According to The Wall Street Journal, it could happen as early as March 2017.
But no matter when it happens, the Snap IPO is going to be one of the biggest since the 2014 Alibaba Group Holding Ltd. (NYSE: BABA) IPO. Alibaba raised $25 billion, making it the biggest global IPO at the time. The total amount of shares sold in the offering was 368 million.
Snap wants to raise as much as $4 billion in the IPO, and it could have a valuation of $25 billion to $35 billion by the time it hits the market.
Ahead of the inevitable Snapchat IPO date, Money Morning wanted to make sure our investors knew all the basics about the social media app. We will also tell you if Snapchat stock is on our "stocks to buy" list.
First, let's take a look at the basics behind Snapchat…
Snapchat Basics 101
Snapchat is a messaging app that allows users to send messages, pictures, and videos. They can also create captions, animation, doodles, and multiple images for the message.
Beyond messaging and creativity, Snapchat's differentiating feature from other social networks is its messages disappear after a few seconds.
And as part of Snapchat's features, it found an ingenious way to make money…
Sponsored Lenses allow users to post pictures of themselves with characters from animated films such as 20th Century Fox's "The Peanuts Movie." According to Business Insider, companies pay as much as $750,000 to have Sponsored Lenses.
Trending Story: Here Are the Biggest Snapchat Investors
Snapchat's other big product is Spectacles, wearable sunglasses that allow users to take short videos and upload them to Snapchat. Spectacles are only available right now in pop-up vending machines across the country.
All of these features have gained Snapchat a large and engaged following. A following advertisers target heavily…
Snapchat's Large and Engaged Audience
Snapchat is very successful with millennials and teens, a highly sought-after demographic.
As of February 2016, 37% of 18- to 24-year-olds in the United States used Snapchat, while 23% of users aged 13 to 17 used the app, according to eMarketer. Snapchat is also gaining popularity with older users, as 38% of people aged 25 to 54 used Snapchat during that time.
Snapchat also has a very engaged audience.
Snapchat users are on it nearly 10 minutes every day, according to Cantor Fitzgerald. People spend just six-and-a-half minutes every day on rival Instagram.
Because of this large and engaged audience, Snapchat's ad revenue has skyrocketed…
Tremendous Revenue Growth Projected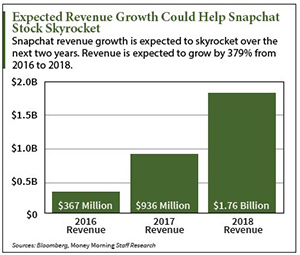 Snapchat's video ad revenue is anticipated to be roughly $250 million in 2016, according to eMarketer. Sponsored Lenses revenue is projected at $102 million.
But that's nothing compared to Snapchat's 2017 and 2018 revenue projections…
For 2017, Snapchat is expected to earn between $900 million to $1 billion. In 2018, Snapchat is expected to generate $1.76 billion in revenue. And if Snapchat does hit $1.76 billion in revenue, revenue will have climbed 2,883% since its 2015 totals of $59 million.
Revenue growth like that makes investors eager for the Snap IPO date.
But before getting in line to buy Snapchat stock, Money Morning Chief Investment Strategist Keith Fitz-Gerald says there is only one way Snapchat stock fits in your portfolio.
Here it is…
Should I Buy Snapchat Stock?
Fitz-Gerald says the IPO process is flawed, private investors don't take the same risks as retail investors after the IPO, and fear of missing out (FOMO) creates a lot of hype.
If Snapchat's valuation reaches $25 billion and projected revenue is $1 billion, the Snap Inc. IPO may have a valuation 25 times its anticipated 2017 revenue. In comparison, Facebook Inc. (Nasdaq: FB) traded 19 times its projected revenue for its 2012 IPO.
Investors also need to note that tech stocks are often volatile. Any investment in an IPO means you're investing in stocks with a limited amount of available data.
That's why Fitz-Gerald said on Nov. 21 Snapchat is a speculative investment. It hasn't earned your money yet.
If you are eager to invest in Snapchat, Money Morning Director of Technology and Venture Capital Research Michael A. Robinson advises investors place a limit order as close to the IPO price as possible.
That lessens the risk of buying the shares at an inflated price, while also providing you more upside.
Because this could be one of the biggest IPOs in years, we know investors have a lot of questions. That's why we made this guide for our readers that covers everything you need to know about the Snapchat IPO.
Editor's Note: Timing is everything when it comes to making money in markets – and this new, free service we created puts timing on your side…

Follow Money Morning on Facebook and Twitter.