Like many issues, Donald Trump has been all over the map on the legal marijuana question.
Way back in 1990, the president-elect said the United States needed to legalize all drugs and use the tax revenue to educate Americans about the dangers of drugs. (He may have been joking.)
More recently, he's been hesitant on legal recreational marijuana but bullish on the medical kind.
"In terms of marijuana and legalization, I think that should be a state issue, state-by-state," Trump recently told reporters. "Marijuana is such a big thing. I think medical should happen – right? Don't we agree? I think so. And then I really believe we should leave it up to the states."
Whatever Trump's opinion, the overwhelming "Yes" vote on Nov. 8 just unleashed a tsunami of cash.
That tsunami is heading in the direction of marijuana companies – and in the direction of those companies' investors.
Already, one of those medical "pot stocks" is starting to pull ahead of the pack.
That's because it's clear that Trump's position on medical marijuana will boost the fortunes of companies that are working on marijuana-derived pharmaceuticals. Companies just like this one.
And you could boost your own fortune with it.
Here's how…
The One Pharma Stock to Play the Medical Marijuana Market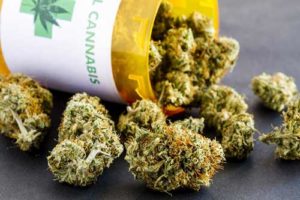 Study after study has shown that up to two dozen medical conditions could be treated with marijuana.
Its two key ingredients, cannabidiol (CBD) and tetrahydrocannabinol (THC), have a clear impact on brain function and pain management.
Glaucoma sufferers, for example, have long known that pot can reduce ocular swelling. Many people swear by pot's ability to improve lung function, counterintuitive as that may seem. And people suffering from conditions such as multiple sclerosis will tell you that this drug can greatly ease the daily pain they must live with.
Results like those are why voters and legislators have approved medical marijuana across the United States and in many countries around the world – including voters in four states just over a week ago.
The legal market for medical marijuana exceeded $4 billion last year and will likely be a $10 billion industry within a few years, according to ArcView Market Research.
And the company I want to show you now is one of the prime players in this hot sector: GW Pharmaceuticals Plc. (Nasdaq ADR: GWPH).
This UK biotech firm manufactures pain drugs using compounds present in cannabis. GW Pharma has developed a multiple sclerosis treatment and has another drug in the works to treat children with severe epilepsy.
Just a few months ago, GW raised $252 million in funding, with Morgan Stanley, Bank of America Merrill Lynch, and Goldman Sachs serving as underwriters.
GW has a great head start in the race to build drug franchises around the healing powers of cannabis…
Join the conversation. Click here to jump to comments…
About the Author
Michael A. Robinson is one of the top financial analysts working today. His book "Overdrawn: The Bailout of American Savings" was a prescient look at the anatomy of the nation's S&L crisis, long before the word "bailout" became part of our daily lexicon. He's a Pulitzer Prize-nominated writer and reporter, lauded by the Columbia Journalism Review for his aggressive style. His 30-year track record as a leading tech analyst has garnered him rave reviews, too. Today he is the editor of the monthly tech investing newsletter Nova-X Report as well as Radical Technology Profits, where he covers truly radical technologies – ones that have the power to sweep across the globe and change the very fabric of our lives – and profit opportunities they give rise to. He also explores "what's next" in the tech investing world at Strategic Tech Investor.