While not exactly alike, Trumponomics has enough in common with Reaganomics that pundits are drawing comparisons between the two.
That has raised hopes that Trumponomics — a shorthand term for Donald Trump's economic proposals – could bring about a 1980s-style boom that would boost the U.S. economy and create jobs.
So let's see if this comparison has any merit.
Putting Reaganomics and Trumponomics Side by Side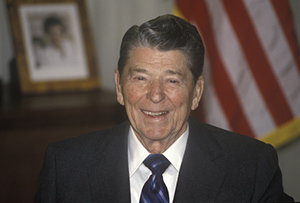 President Ronald Reagan's goal was to restore economic growth in the wake of the stagnant 1970s. Reaganomics was supposed to consist of four pillars:
Cutting taxes, both for individuals and businesses
Reducing government regulation
Tightening the money supply (higher Federal Reserve interest rates)
Reducing the growth of government spending
Reagan mostly succeeded in achieving the first three. However, Reagan ran big budget deficits throughout his two terms – more than triple those of his predecessor, Democrat Jimmy Carter. The national debt grew from $997 billion to $2.85 trillion.
Although Reagan did slow spending increases in some areas, others saw significant increases. The one with the biggest impact was defense – the 1987 defense budget was 40% higher than 1980's.
Trending: How to Profit from This 21st Century Arms Race
Now, here's how Trumponomics stacks up. President Trump has proposed:
Cutting taxes, for individuals but especially for businesses
Reducing regulations
Renegotiating America's trade deals
Investing $550 billion in infrastructure
While some of these proposals would help stimulate the economy, much has changed since Ronald Reagan sat in the White House…
Why Trumponomics Has a Steeper Hill to Climb
Interest rates: When Ronald Reagan took office in January 1981, the effective fed funds rate was an astonishing 19%. Fed Chair Paul Volcker kept rates high through 1981 as part of his battle to defeat inflation – a key goal of Reaganomics.
But those high rates were the main cause of the recession that started in mid-1981 and lasted through 1982. As the Fed cut rates by more than half over the next two years, the lower cost of money provided a massive stimulus. The economy began to grow rapidly, with GDP (gross domestic product) growth peaking at 7.3% in 1984.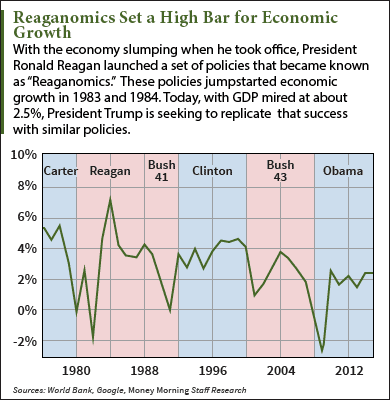 Trumponomics will get no such boost.
After nearly eight years of near-zero rates, the Fed only last year began to raise them again. The Federal Open Market Committee (FOMC) is expected to raise the current rate of 0.5% to 0.75% at its December meeting. And going by the Fed dot plot, the central bank intends to keep tightening over the next couple of years.
And ironically, any economic boost Trumponomics provides will push the Fed to speed up its rate hike timetable.
Higher interest rates will slow the U.S. economy, working against other Trumponomics measures aimed at stimulating growth.
Higher spending: Democrats often push for more government spending to stimulate the economy. Despite a goal of reducing government spending, Reagan increased it dramatically.
Most of the increase went to defense, although other departments also saw their budgets rise significantly. No doubt, that rise in spending played a role in the 1980s economic boom.
Donald Trump has also proposed major spending increases. Some of that will go to defense, as happened under Reagan. But Trump also wants to spend about $550 billion on infrastructure.
This will have a stimulative effect on the economy, but Trump has a problem Reagan did not have – the $19.9 trillion national debt. He needs to weigh the risk of adding more debt with the benefits of spending.
Politically, Trump will face opposition from deficit hawks within his own party if his spending gets too ambitious.
Don't Miss: Five Things Donald Trump Has Said About Social Security
Trade deals: Reagan raised some trade barriers, but it wasn't a major piece of Reaganomics. Trump needs to be careful here.
Killing or renegotiating trade deals sounds good, but many of these agreements have been good for the U.S. economy overall even as they cost some jobs.
And raising tariffs carries even more risks, including violating World Trade Organization rules. If Trump follows through on his campaign rhetoric, he risks sparking a trade war that would damage the U.S. economy more than the bad trade deals he likes to denounce.
All that said, these parts of Trumponomics have a real chance to make a difference…
Where Trumponomics Can Succeed