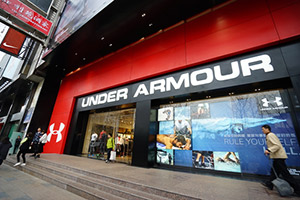 The Under Armour stock ticker is changing, and shares of Under Armour Inc. (NYSE: UA) jumped following the news.
The company announced on Monday that it will change its Class A and Class C stock tickers. At the start of trading on Dec. 7, Under Armour Class A shares will change from "UA" to "UAA." Also on that day, the company's Class C common stock will change to "UA." Right now it trades under "UA.C."
Under Armour Class A shares ended Monday's session up 2% at $31.17. Under Armour Class C (NYSE UA.C) shares jumped nearly 9% on Monday to $26.29. The Class C shares were higher by another 2% today at $26.88 on Tuesday morning.
The Under Armour stock ticker is changing to narrow the price gap between the two classes of stock. The Class C shares have underperformed since their debut on March 23. On Friday, Nov. 25, the C shares were changing hands at a 22% discount to A shares. That spread had widened from 3.7% on the first day C shares started trading some seven months ago.
Trending: Get the Best Investing Research Today to Grow Your Money
One reason why the C shares have lagged is investors believe they were created so that Under Armour CEO Kevin Plank could sell them without diminishing his control over the company.
The Class C shares don't have any voting rights. They are used for employee compensation and future executive incentives. Therein lies Under Armour's concerns about their underperformance.
Given the lack of voting rights, it's reasonable that the Class C shares would trade at a discount to A shares. But according to the company's latest proxy filing, Plank holds all of Under Armour's B shares. That means he has 65.3% of the vote. So basically, there is no value to the vote held by Class A shareholders.
Now that we know why the Under Armour stock ticker is changing, here's a look at what's next for the UAA stock price…
What's Next After Under Armour Stock Ticker Change