Investors are optimistic OPEC will reach an agreement to cap excessive oil production at its meeting in Austria today (Wednesday), which is why crude oil prices today are surging.
This morning, crude futures were up more than 7% in early trading.
Below, you can see that investors are betting the price of oil is going to climb well above $50 a barrel. However, Money Morning Global Energy Strategist Dr. Kent Moors only expects oil to hit the mid-$50s by the end of 2016 if there is a deal. If there is no deal, prices could stay below $50.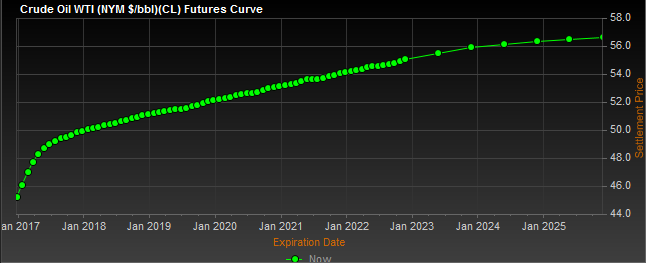 During its September meeting, OPEC presented the groundwork of a plan to cut production. The November OPEC meeting should finalize a deal.
If OPEC is able to reach a deal, it will also mean non-OPEC producers like Russia could consider slashing production.
And Moors believes Russia cutting excessive crude oil production is crucial. He said on Nov. 22 that Russia is the largest non-OPEC oil producer where national production levels are determined by central authorities.
Sign up for SMS so you never miss special events, exclusive offers, and weekly bonus trades.
With Russia on board, that means global crude oil prices could rise as the imbalances between supply and demand are fixed.
But Moors warns investors about two important matters that may still make crude oil prices volatile...
The first is Saudi Arabian Energy Minister Khalid al-Falih has criticized President-elect Donald Trump for his oil import policies. Trump has said he would limit oil imports and prefers domestic production.
And Moors believes al-Falih's criticism could be a sign a deal won't be reached today.
"It may well be that al-Falih is setting the stage to blame Trump if OPEC fails to agree on a production cap in Vienna at the end of the month. It seems everything else is already blamed on America," Moors said.
Moors said that the other roadblock for the OPEC deal today is Iraq and Iran did not attend a meeting of Persian Gulf and other OPEC oil officials in Doha on Nov. 17 and Nov. 18.
Iran and Iraq want exemptions from the oil production cap, and Moors calls those two countries the biggest roadblocks to reaching a deal.
The Bottom Line: Crude oil prices today were climbing over 7% in futures trading. Investors are optimistic a deal will be reached to cut production. But according to Dr. Kent Moors, there is no certainty a deal will be reached in Vienna. Crude oil prices will be volatile if OPEC does not reach a deal like the markets are expecting.
Up Next: Why Trump's Biggest Energy Impact Won't Be Coal
Follow Money Morning on Facebook and Twitter.