President-elect Donald Trump has tapped Steven Mnuchin, a former Goldman Sachs Group Inc. (NYSE: GS) partner and active movie financier, to be the new Treasury secretary of the United States.
This means the 53-year-old one-time Wall Street banker will soon be the new face of the U.S. economy. And as such, he will cosign our currency, collect our taxes, manage the nation's debt, and oversee banking regulations.
Keeping these major responsibilities in mind, however, prompted several pundits and politicians to speak out in protest of Mnuchin's appointment. These critics claimed that such duties can't be objectively carried out by a former "big banker." And they took to the Internet to voice their concerns.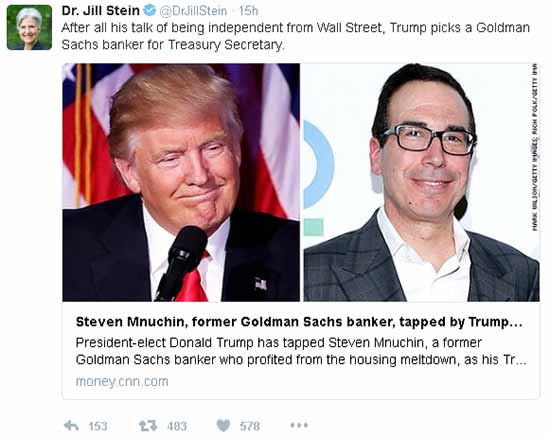 Mnuchin's eventual reign over banking regulations in particular worried one major political organization enough to issue the following public warning:
"So much for draining the swamp. Nominating Steve Mnuchin to be Treasury Secretary - a billionaire hedge fund manager and Goldman Sachs alumnus who preyed on homeowners struggling during the recession - is a slap in the face to voters who hoped he would shake up Washington. Trump is already heading into office as the most corrupt, conflicted, and unpopular president-elect in history, and now he's breaking his signature promise to the voters who elected him." - The Democratic National Committee (DNC), Nov. 29, 2016
While parts of the DNC's statement can easily be chalked up to pure one-sided opinion proffering - claiming that Donald Trump is "the most corrupt, conflicted, and unpopular president-elect in history," for example - there is some truth to the committee's declaration as well.
Don't Miss: Is "Trumponomics" Actually "Reagonomics" 2.0?
You see, as an eminent Wall Street banker once operating within some of America's highest-profile firms, Mnuchin was constantly being linked to major financial controversies.
And as much as the Trump camp might want to brush those old Mnuchin scandals under the rug - or flat-out pretend like they never existed - they can hardly be overlooked. These Mnuchin-linked fiscal disgraces are too big and too all-encompassing to disregard... or forget.
Without further ado, here's a look at four of the most controversial...
Steven Mnuchin's Four Most Controversial Money Scandals
Steven Mnuchin and the Mystery of the Reverse Mortgage:  In 2009, Mnuchin, alongside a handful of top billionaire investors (including legendary hedge fund manager George Soros), took over failed west coast bank IndyMac and renamed it OneWest Bank. Part of the acquisition involved a unit within the institution known as the "Financial Freedom" unit. This division had been the country's second-largest provider of reverse mortgages in 2005-2006 - before the Great Recession hit. (By the way: Reverse mortgages are loans typically offered - quite aggressively, at times - to elderly homeowners. They allow these individuals to borrow against their home equity.)
Mnuchin slowed Financial Freedom's loan issuances down until they stopped completely in 2011. But the bank continued to service existing reverse mortgages, even sometimes foreclosing on elderly retirees.
For example, Julie Cheney, whose father got a loan from Financial Freedom before his death in 2005, testified at a 2011 Los Angeles hearing about the bank's shoddy foreclosure practices. She told the court her father hadn't needed the loan in the first place, reported Reverse Mortgage Daily on March 21, 2011. In fact, he'd been heavily medicated when he'd originally signed the documents. And after his death, OneWest - again, under Mnuchin's management - moved to foreclose on his property despite the family's willingness to repay in full, Cheney claimed.
Steven Mnuchin and the Mystery of the Robo-Signed Reverse Mortgages: Also in 2011, a former OneWest Bank vice president admitted that the institution's employees robo-signed on average 6,000 foreclosure-related documents per week. The veep also confessed to not reading the documents beforehand and that she was never certain how the records were even generated in the first place.
OneWest, under Mnuchin, was found by the court in 2011 to have engaged in "dual tracking" - the process in which a mortgage lender processes a homeowner's request for a home loan modification while simultaneously putting the homeowner through the foreclosure process.
Later, in September 2013, a San Luis Obispo County couple won a seven-figure settlement and title to their two former homes from OneWest when a judge determined the bank had engaged in shoddy financial practice - namely, dual tracking.
Mnuchin also had dubious ties to prominent investment manager Bernie Madoff's $50 billion Ponzi scheme. Take a look...