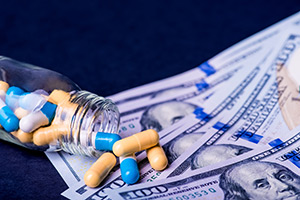 It turns out that most Americans know very little about the state of their own medical benefits, particularly when it comes to out-of-pocket healthcare costs.
A survey released by Sun Life yesterday revealed that a whopping 54% of working Americans don't know what the out-of-pocket maximum is for their own healthcare plans.
This statistic truly highlights the financial risk associated with individuals trying to save for retirement and successfully grow their wealth: that such planning cannot accurately be achieved without knowing first what kind of financial effect a major medical event could one day have on them.
Don't Miss: Eight Times the Government Was Warned About Obamacare Fraud - and Did Nothing
To make matters worse, a particular niche of those surveyed revealed themselves to be arguably in an even tougher financial spot...
Out-of-Pocket Healthcare Costs? I Don't Even Know My Deductible...
Thirty-three percent of respondents to Sun Life's survey could not say how big their healthcare plan's annual deductible was.
And 30% of those surveyed couldn't identify their out-of-pocket max or their annual deductible.
The survey's results are particularly shocking given the amount of national coverage lately about major healthcare insurers and their involvement in the Affordable Care Act (ACA) exchanges...
After all, Obamacare open enrollment recently kicked off on Nov. 1 and immediately punched participants in the wallet... hard...
That's because, on average, the prices of plans on the ACA exchanges rose a stunning 25% more this year than in 2015.
In some cases, they actually doubled.
And this increase didn't just hit individuals and families hard; it smacked insurance company profits, too - which would eventually hurt shareholders.
You see, as premiums skyrocket, health insurance looks less worthwhile to healthy people, leaving only the super sick enrolled. This creates dangerous financial strain on insurers, and therefore negatively impacts their investors, as well.
Major insurance companies, as a result, are in a lot of financial pain. Anthem Inc. (NYSE: ANTM), for example, reported a bottom-line decline of 10.3% year over year in its third-quarter 2016. That loss stemmed primarily from a 9.4% rise in benefit expenses, mostly due to ACA policies.
Meanwhile, Aetna Inc. (NYSE: AET) cited $430 million in losses in insurance products since Obamacare began in 2013.
And if those numbers aren't dire enough, here's a real kicker: ACA coverage is still reportedly 10% to 15% below where it actually needs to be for insurers to break even. Which means U.S. workers can expect insurance prices to continue to rise - both in terms of out-of-pocket healthcare costs as well as annual deductible fees.
Which also means it's time that U.S. workers start to pay closer attention to their healthcare plans... now.
Up Next
As if the Obamacare exchanges don't have enough problems already, now they're a bargaining chip in the major health insurance companies' quest to consummate two mega-mergers.
The four largest health insurers have objected to two U.S. Department of Justice lawsuits aimed at blocking their mergers on antitrust grounds.
But if Uncle Sam doesn't strike a deal with them soon, the ACA as a whole could actually kick the bucket...
Follow Money Morning on Facebook and Twitter.
Related Articles: