(Kitco News) - Global stock markets were mixed overnight, on this first trading day of the month. Asian shares benefitted from Wednesday's OPEC agreement to cut production levels, while stock markets in Europe were pressured on worries about the December 4 Italian referendum on constitutional reforms.
A "no" vote on the reforms could eventually put Italy in violation of European Union rules. U.S. stock indexes are pointed toward weaker openings when the New York day session begins.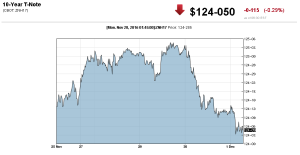 World bond markets remain in focus as yields continue on the rise. U.S. 10-year yields have risen to 2.4% late this week. Reports said the U.S. bond market in November suffered its worst month in seven years. German government bonds are yielding right around 0.3%, which is still a historically low number. However, just several weeks ago German Bund yields were in negative territory.
In overnight news, the Euro zone unemployment rate fell to its lowest level in seven years, it was reported Thursday. The jobless rate fell to 9.8% in October from 9.9% in September. Also, the Euro zone manufacturing purchasing managers index (PMI) was 53.7 in November, which was up slightly from the October reading of 53.5.
The key "outside markets" on Thursday sees the crude oil market firmer and holding Wednesday's big gains of around 10% in the wake of the OPEC oil-production-cutting agreement. The U.S. dollar index trading lower today on a corrective pullback from recent gains. The greenback bulls still have the solid near-term technical advantage as U.S. dollar index prices last week hit a 13-year high.
Traders and investors are keeping an eye on India's stock and financial markets. The Indian stock market has dropped about 7% the past month.
India's prime minister has also initiated extreme measures to crack down on black market currency transactions. There has even been talk that India could ban gold imports in its efforts to curb illegal currency transactions.
Besides the Italian vote on Sunday, the European Central Bank holds its regular monetary policy meeting next Thursday.
There is another heavy dose of U.S. economic data due for release Thursday, including the weekly jobless claims report, the Challenger job cuts report, the U.S. manufacturing PMI, construction spending, the ISM manufacturing report on business, the global manufacturing PMI, the monthly chain store sales index, and domestic auto industry sales.
Spot gold prices, on Kitco.com fell through key support over night, but managed to trade in a narrow range with a session high at $1,177.60 an ounce and a session low at $1,166.50 an ounce.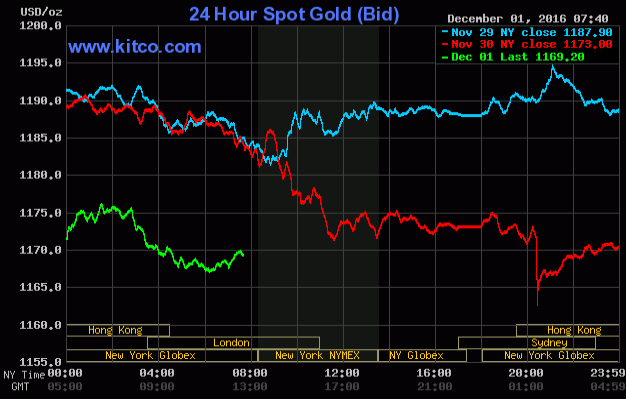 By Jim Wyckoff, contributing to Kitco News; jwyckoff@kitco.com
Follow Jim Wyckoff @jimwyckoff for breaking market news.