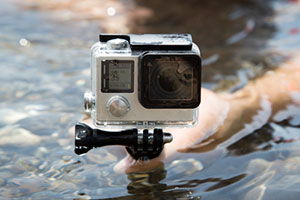 GoPro stock had a brief rally last week following strong Black Friday sales, when GPRO jumped 3% intraday Thursday. But don't bet on a sustainable GoPro Inc. (Nasdaq: GPRO) stock rebound.
In fact, the next GoPro stock price slump has already begun.
Before we get into why we're still avoiding GoPro stock, here's what sent GPRO shares soaring last week.
Why the GoPro Stock Price Rallied Last Week
GoPro shares jumped nearly 3% to an intraday high of $10.40 on Thursday after reporting that sales for its cameras over the vital Black Friday weekend rose 35% year over year at leading retailers. Meanwhile, sales on the company's website climbed 33%.
Crucial holiday quarter sales of GoPro's new Hero5 Black camera have so far been "solid," the company said in a statement. Since its launch on Oct. 2, Hero5 Black has been the top-selling digital-imaging device in the United States, according to NPD Group.
Hero5 sales are outperforming the company's highly successful Hero4 launch two years ago by about 20%. If numbers remain strong, GoPro could sell around 2.8 million cameras in Q4. That would be well above what analysts have been projecting.
Trending: Get the Best Investing Research Today to Grow Your Money
Yet the company is maintaining its projections for about $625 million in revenue for the period, which suggests an average selling price of around $223. That is 16% below the Hero4 during its launch. And it's worth noting that despite key improvements, the Hero5 Black costs $100 less than its predecessor.
That likely explains CEO Nicholas Woodman's statement in which he said despite the strong start to the holiday season, "...we have a lot of work to do to finish the quarter and our fiscal year."
Last month, GoPro issued a recall for 2,500 of its new Karma drones after some of them lost power while in the air.
The $800 Karma is GoPro's attempt to expand its reach beyond the crowded action camera market, as was as complementing its camera sales.
GoPro was hoping that Karma would be a big seller this holiday season. But those hopes have been crushed. GoPro is not offering replacement units. Instead, it's giving customers a full refund. The company plans to send out new drones once the problem is fixed.
While all the fuss last week was about the company's Black Friday showing, that wasn't the actual driver of GoPro stock last week. The biggest thing moving the GoPro stock price was the company's restructuring announcement...
Why We're Not Buying GoPro Stock in 2017