If you have a question or issue with a recent purchase or experience – say, a broken toaster, mis-delivered pizza, or stinky hotel room – you have several options…
You can visit the customer service desk; you can write a letter; you can send an email; you can call customer service; or you can chat with a bot.
You see, over the past year or so, thousands of "brands" – everything from soda companies to tropical resorts – have unleashed bots to handle some of their customer service load.
With these bots, you type or say a question – and the bot responds. They work pretty well – I used one to cancel my cable service earlier this year… and didn't realize it till later.
That may seem like a small change in the "How We Live" window of the Singularity Nexus – chatting with a bot instead of a call-center worker – but these chatbots wouldn't exist if it weren't a major Singularity Era technology.
Artificial intelligence…
Soon, all of our "intelligent" things will have some form of chat or voice-bot – like Siri on your iPhone – interface.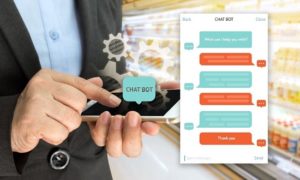 All these chatbots need the right software and platform to be effective.
One company has already developed that software and platform.
Since this summer, this company has deployed dozens of dedicated AI servers to comb through all of the data it is getting from its chatbot platform.
And as it does so, that company's AI system is getting smarter and more precise with each passing month – and those brands are seeing success and more are signing up.
Today, I'll show you why this company is one of the best ways to play AI and chatbots.
Not least of which because you could make profits of 115% with it between now and 2020.
Take a look…
Mountains of Code
When it comes to tech trends, there are literally billions of dollars at stake – for both those technologies' developers and their investors (folks like you).
That's why those of us in the "tech trade" make predictions as we approach Jan. 1 about which of those trends are poised to go mainstream, beginning to emerge, or staying in the lab to percolate longer.
Don't Miss: This is your ticket to bigger and better returns… and it won't cost you a penny. What are you waiting for? Read more… 
And one of my "biggies" this year is that you – yes, you – will chat with a bot this year… and you, too, will not even realize it at first.
Here's why I think that…
In just the past five years, we've seen huge gains in key hardware areas such as processors, memory, and servers. But, like I said above, true AI also requires a deep focus on the right software.
Just like the human brain, an AI system must quickly scan many layers of connected data points, creating relationships in what's known as a neural network.
For example, to recognize a specific human face, the software must comb through 100 million data sets. Trying to do that without the right codes in the software would result in chaos.
But thanks to research breakthroughs made over the past decade, AI systems are now capable of what I call "deep learning." That means the machines take key data relationships into account so the system can move swiftly onto the next set of data to crunch.
While the build-up toward the launch of AI as an everyday tool has required hundreds of millions of lines of human-written code, deep learning is now taking this to the next level.
Simply put, with deep learning, machines gain the skills they need so that they themselves can write broader and deeper layers of software code, far surpassing what even the most brilliant minds can do.
The promise of AI has been around for decades.
But it's just the past few years that have seen amazing rates of progress. We're now seeing, in the "real world," AI-driven Big Data analysis… voicebot virtual assistants and chatbot conversational systems… devices actually communicating within the Internet of Things…
Join the conversation. Click here to jump to comments…
About the Author
Michael A. Robinson is one of the top financial analysts working today. His book "Overdrawn: The Bailout of American Savings" was a prescient look at the anatomy of the nation's S&L crisis, long before the word "bailout" became part of our daily lexicon. He's a Pulitzer Prize-nominated writer and reporter, lauded by the Columbia Journalism Review for his aggressive style. His 30-year track record as a leading tech analyst has garnered him rave reviews, too. Today he is the editor of the monthly tech investing newsletter Nova-X Report as well as Radical Technology Profits, where he covers truly radical technologies – ones that have the power to sweep across the globe and change the very fabric of our lives – and profit opportunities they give rise to. He also explores "what's next" in the tech investing world at Strategic Tech Investor.