According to Hayman Capital hedge fund manager J. Kyle Bass – who predicted and profited from the U.S. mortgage crisis in 2008 – the Chinese yuan will soon fall a whopping 30% against the U.S. dollar.
Though he did not put an exact date or timeline on when the Chinese currency would plunge, Bass pointed to Beijing's present capital outflow crisis as proof of his claim.
Capital outflow typically results from perceived political or economic instability. In China's case, such asset relocation is a sign that both foreign and domestic investors believe the nation's economy is too weak to profit from. They're moving their holdings to make money elsewhere.
While China's particular outflow crisis has been making headlines throughout the year, Bass told Reuters this morning (Dec. 5) that "China's capital outflows are worse than they appear, which is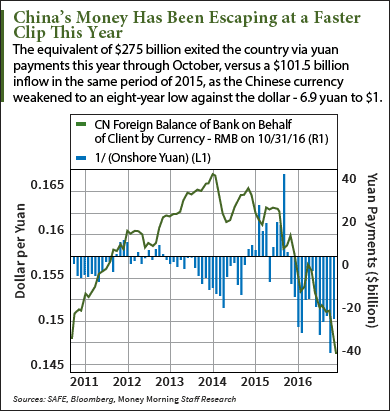 why the government has allowed the [yuan] to depreciate over the last two months."
Indeed, the yuan plunged to an eight-and-a-half-year low versus the dollar on Nov. 15 – from 6.5 yuan to $1 to 6.86 yuan to $1.
Overall, the yuan has fallen almost 6% against the greenback in 2016. And since the Chinese currency's unexpected August 2015 devaluation, which sent global markets into a panic, the yuan has fallen 7.8% against the dollar.
But that's minor compared to Bass' whopping 30% plunge prediction for the yuan in the near future. Here's a look at the reasoning behind the hedge fund manager's dire forecast…
Kyle Bass Blames China's Own Currency Control Maneuvers
In the first 10 months of 2016, yuan flowing across Chinese borders rose to an average of $28 billion per month, reported Morgan Stanley (NYSE: MS) last Tuesday. That's compared with a monthly average of $4.4 billion in the five years through 2014.
Must Read: How to Grab Explosive Emerging-Market Profits and Keep Your Money Here at Home
"Such large cross-border moves can't be explained by market-driven factors and need to be taken into account when measuring currency outflows," MK Tang, Hong Kong-based senior China economist at Goldman Sachs Group Inc. (NYSE: GS), told Bloomberg on Oct. 19. Tang's comments suggest that such measures haven't been appropriately accounted for when China's government has tried to assess its capital outflow problem in the past.
Then November brought the U.S. presidential election, which Donald Trump won arguably by surprise.
This U.S. election upset prompted a massive yuan sell-off for two days following the real estate mogul's victory. The yuan fell to 6.7918 against the dollar on Nov. 10, down from 6.7769 on Nov. 9.
The 48-hour slide put the Chinese currency at its lowest level since August 2010.
These two factors – the unaccounted-for billions flowing out of China, plus Trump's election win – have caused the yuan to yo-yo more than the Red Dragon government can handle. So, the People's Bank of China (PBOC) stepped in to control its currency's wild maneuvering.
And failed miserably…
The PBOC Instates Regulations That Just Don't Work
The institution began to sharply limit corporate customers' ability to purchase foreign exchange in Shanghai immediately following the country's August 2015 market crash. Businesses that insisted on buying foreign currency were restricted to a $1 million maximum, compared with no caps at all previously.
But on Nov. 30 of this year, the PBOC instated a new rule: It put an annual $50,000 foreign exchange quota on individual investors in order to further curb the capital outflow problem.
This restriction didn't work, either.
Just like big corporations managed to sneak huge amounts of Chinese cash offshore through the use of false invoicing, so too did individual investors…
All they had to do was tap into their relatives' holdings to meet new quotas.
Overall, the uptick in illegal capital outflow from China this year has compounded an already dire situation.
Must Read: The Five Best Infrastructure Stocks to Watch in 2017
Because, again, the Red Dragon government has been devaluing the yuan for several months now – and for a very specific, self-serving reason…
Depreciation Triggers Capital Flight… and Vice Versa
You see, Beijing's regulated yuan depreciation was originally established to keep China's own massive $3 trillion currency reserve – the world's largest — from having to be unduly drained.
Still, this past October saw China's reserves slump by more than $45 billion, the most since January 2016 – the tail end of China's stock market crisis.
Although the fall in reserves in October was mainly seen as reflective of the yuan's declining value, Wang Zhenying, head of the Statistics and Research Department of the PBOC's Shanghai main office, warned the slide and capital flight could easily just feed off of one another.
"Depreciation triggers capital flight, and capital flight exerts even bigger pressure on the yuan," Wang said, according to Reuters this morning. "Therefore, it's necessary to break this feedback loop."
But that feedback loop is precisely what Kyle Bass is counting on when it comes to his 30% yuan plunge prediction.
"[I] believe this pressure will continue," Bass told Reuters, "with the prospect for higher interest rates in the U.S."
Up Next
Speaking of interest rates, will they really go up after the FOMC's meeting this month?
Our answer to this question is a resounding "yes."
In fact, traders are already betting on it. Here's why…
Follow us on Twitter @moneymorning or on Facebook.
Related Articles: