(Kitco News) - Sunday's much-anticipated Italian referendum on constitutional reforms produced a "no" vote by an overwhelming margin. Italy's prime minister immediately resigned. Many markets initially were gyrated on the news, but quickly settled down. The government-backed no-vote was not unexpected by the market place. Still, this latest development is another sign of the insecurity of the European Union and the growing potential for continued fragmentation of the EU. The Italian vote was especially worrisome to the European banking and financial sector.
The Euro currency initially slumped to a 20-month low on the Italian no-vote, but quickly recovered those losses to trade higher on the day. European stock markets were mostly higher Monday. This was a classic "sell the rumor, buy the fact" scenario, as European stock markets had seen selling pressure heading into Sunday's Italian vote.
Asian stock markets were mostly lower Monday, mainly on worries about how the European markets would react to Sunday's vote. U.S. stock indexes are pointed toward higher openings when the New York day session begins.
Gold prices did fluctuate in the immediate aftermath of Sunday's Italian referendum vote, but then sold off when it became apparent the marketplace would not be rattled by the event.
The Euro zone did get some upbeat economic data Monday, as its Markit purchasing managers index (PMI) came in at 53.9 in November from 53.3 in October. That was the highest reading in almost a year. Also, Euro zone retail sales were up 1.1% in October, month-on-month, and were up 2.4%, year-on-year. The monthly rise was the largest in over two years. This upbeat EU data helped to mitigate the Italian no vote.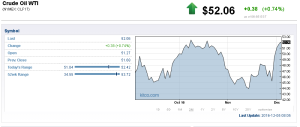 The key "outside markets" on Monday see the crude oil market higher, with Nymex futures hitting a six-week high, on follow-through strength after prices last week gained 12% in value. Meantime, the U.S. dollar index is trading lower today on another corrective pullback from recent gains. The greenback bulls still have the near-term technical advantage as U.S. dollar index prices recently hit a 13-year high.
U.S. economic data due for release Monday includes the U.S. services PMI, the ISM non-manufacturing report on business, the employment trends index, and the global services PMI.
Spot gold on Kitco.com has managed to bounce off its overnight lows, but the market is struggling to hold on to gains, trading between a high at $1,178.50 an ounce and a low at $1,161.80 an ounce.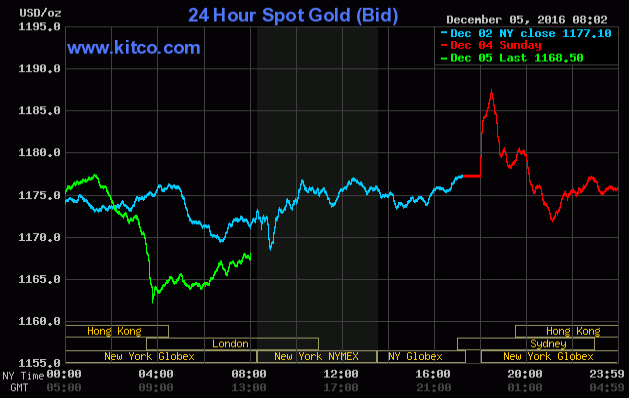 By Jim Wyckoff, contributing to Kitco News; jwyckoff@kitco.com
Follow Jim Wyckoff @jimwyckoff breaking market news.