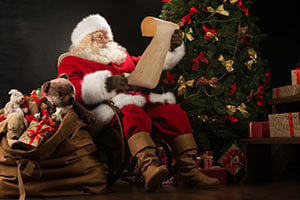 As we head into the final stretch of 2016, talk of a Santa Claus rally is taking over Wall Street once again. But what is a Santa Claus rally?
A Santa Claus rally is defined as the jump in stock prices that often occurs in the stretch from Christmas through New Year's Day.
Since 1990, markets have finished December positive 74% of the time.
Some attribute the Santa Claus rally to tax considerations. Some say it's due to the overall buoyant mood on Wall Street as people invest generous year-end bonuses. Others point to light trading volume accompanied by many traders being on vacation the last week of the year.
Still, the longtime consensus is that a Santa Claus rally is the result of people trying to get into stocks before the so-called "January effect." The January effect is the term for the typical seasonal gain in stocks most Januaries.
Trending: Get the Best Investing Research Today to Grow Your Money
While talk of a Santa Claus rally always happens this time of year, the discussions are pronounced this year. Here's why...
Why Investors Expect a Strong 2016 Santa Claus Rally
Many are expecting a strong Santa Claus rally in 2016 because U.S. stocks have already staged an impressive run over the last couple of weeks.
Since Donald Trump won the White House on Nov. 8, major U.S. indexes have notched several records.
The S&P 500 is up 2.5% since Election Day. The small-cap Russell 2000 Index has surged more than 10%. The Dow has pushed through and stayed comfortably around the 19,000 level, spawning talk of Dow 20,000.
Investors and traders have widely interpreted Trump's victory as a benefit to businesses and stocks. The president-elect's aim to cut corporate taxes, relax regulations in the financial sector, and spend $1 trillion on infrastructure is expected to result in higher economic growth.
Before last month, the indices were looking at single-digit returns for 2016. Now, double-digit returns seem like a given. The Dow and the Russell 2000 currently have year-to-date gains of 10.28% and 17.60%, respectively. Meanwhile, the S&P 500 is higher by 7.87%, and the Nasdaq has risen 7.55% so far this year.
Still, several analysts warn that equities have risen too far too fast and are due for a pullback...
BlackRock's Russ Koesterich said last week that he believes U.S. markets "need time to digest recent gains."
On average, analysts don't see stocks going much higher in the next few months.
The average year-end target on the S&P 500 is 2,209.00, according to a recent CNBC survey of 15 market strategists. The broad-based benchmark currently sits at 2,204.71.
Additionally, the S&P 500 has declined an average 2.7% in the first year of a Republican president's first term on five occasions dating back to 1945, according to CFRA Research.
Markets also haven't priced in shortcomings from possible protective trade policies. Among Trump's campaign pledges are a 45% tariff on goods imported from China, a wall along the U.S.-Mexico border, and even withdrawing the United States from international groups such as the World Trade Organization.
A Santa Claus rally may have come early this year. Yet given the optimistic outlook for the U.S. economy and new money ready to be put to work, a traditional Santa Claus rally for 2016 is still a very distinct possibility.
Up Next: Snapchat could start trading in March 2017. And it's already the buzz of Wall Street. Here's everything you need to know about investing in Snapchat...
Follow us on Twitter @moneymorning and like us on Facebook.
Related Articles: